Main Weapon
From Inkipedia, the Splatoon wiki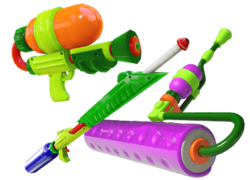 "
Your go-to weapon can be short-range, long-range, or just plain messy (like the Splat Roller). Each has its own benefits and weaknesses, so there's something for every play style!
"

— Splatoon's official website,

[1]
The Main Weapon is the primary type of weapon players use in Splatoon. Each Main Weapon has its own set of Sub Weapons and Special Weapons.

List of Main Weapons
List of Weapons in Splatoon
Image
Main Weapon
Type
Sub
Special
Release Date
Unlock Level
Cost
Splattershot Jr.
Shooter
Splat Bomb
Bubbler
Launch
1
0
Splattershot
Shooter
Burst Bomb
Bomb Rush
Launch
2
500
Custom Splattershot Jr.
Shooter
Disruptor
Echolocator
Launch
2
800
Splat Roller
Roller
Suction Bomb
Killer Wail
Launch
3
1,000
Splat Charger
Charger
Splat Bomb
Bomb Rush
Launch
3
1,000
Hero Shot Replica
Shooter
Burst Bomb
Bomb Rush
Launch
3
1,200
Hero Roller Replica
Roller
Suction Bomb
Killer Wail
Launch
3
1,200
Hero Charger Replica
Charger
Splat Bomb
Bomb Rush
Launch
3
1,200
Tentatek Splattershot
Shooter
Suction Bomb
Inkzooka
Launch
4
2,000
Kelp Splat Charger
Charger
Sprinkler
Killer Wail
Launch
4
2,500
.52 Gal
Shooter
Splash Wall
Killer Wail
Launch
5
3,000
N-ZAP '85
Shooter
Splat Bomb
Echolocator
June 1st, 2015
5
3,500
Slosher
Slosher
Burst Bomb
Inkstrike
August 5th, 2015
5
5,600
Classic Squiffer
Charger
Point Sensor
Bubbler
Launch
6
5,000
Heavy Splatling
Splatling
Splash Wall
Inkstrike
August 5th, 2015
6
6,800
Krak-On Splat Roller
Roller
Squid Beakon
Kraken
Launch
7
3,000
Aerospray MG
Shooter
Seeker
Inkzooka
Launch
7
4,500
Splash-o-matic
Shooter
Suction Bomb
Bomb Rush
June 13th, 2015
7
3,900
Jet Squelcher
Shooter
Splash Wall
Inkstrike
Launch
8
4,000
Inkbrush
Roller
Sprinkler
Inkstrike
June 5th, 2015
8
4,800
N-ZAP '89
Shooter
Sprinkler
Inkstrike
July 18th, 2015
8
4,200
Mini Splatling
Splatling
Suction Bomb
Inkzooka
September 5th, 2015
8
7,200
Blaster
Blaster
Disruptor
Killer Wail
Launch
9
3,500
L-3 Nozzlenose
Shooter
Disruptor
Killer Wail
June 17th, 2015
9
5,800
Neo Splash-o-matic
Shooter
Burst Bomb
Inkzooka
July 22nd, 2015
9
6,200
Tri-Slosher
Slosher
Disruptor
Bubbler
September 26th, 2015
9
7,500
Heavy Splatling Deco
Splatling
Point Sensor
Kraken
November 7th, 2015
9
9,200
Splattershot Pro
Shooter
Splat Bomb
Inkstrike
Launch
10
8,000
Carbon Roller
Roller
Burst Bomb
Inkzooka
June 27th, 2015
10
6,600
H-3 Nozzlenose
Shooter
Suction Bomb
Echolocator
September 12th, 2015
10
7,500
Slosher Deco
Slosher
Splash Wall
Kraken
November 25th, 2015
10
8,300
.52 Gal Deco
Shooter
Seeker
Inkstrike
Launch
11
4,500
New Squiffer
Charger
Ink Mine
Inkzooka
Launch
11
4,500
Inkbrush Nouveau
Roller
Ink Mine
Bubbler
August 1st, 2015
11
5,900
Luna Blaster
Blaster
Ink Mine
Inkzooka
June 24th, 2015
11
7,700
Hydra Splatling
Splatling
Splat Bomb
Echolocator
November 21st, 2015
11
11,600
.96 Gal
Shooter
Sprinkler
Echolocator
Launch
12
7,600
Octobrush
Roller
Squid Beakon
Kraken
July 18th, 2015
12
8,500
Sploosh-o-matic
Shooter
Squid Beakon
Killer Wail
July 7th, 2015
12
7,500
Sloshing Machine
Slosher
Splat Bomb
Bomb Rush
November 28th, 2015
12
13,500
Splatterscope
Charger
Splat Bomb
Bomb Rush
Launch
13
4,200
Aerospray RG
Shooter
Ink Mine
Inkstrike
Launch
13
9,300
L-3 Nozzlenose D
Shooter
Burst Bomb
Kraken
August 28th, 2015
13
6,600
Carbon Roller Deco
Roller
Seeker
Bomb Rush
October 3rd, 2015
13
7,600
Zink Mini Splatling
Splatling
Disruptor
Bubbler
December 12th, 2015
13
9,400
Rapid Blaster
Blaster
Ink Mine
Bubbler
Launch
14
9,600
.96 Gal Deco
Shooter
Splash Wall
Kraken
July 7th, 2015
14
9,700
Range Blaster
Blaster
Splash Wall
Inkstrike
August 1st, 2015
14
8,000
H-3 Nozzlenose D
Shooter
Point Sensor
Inkzooka
October 30th, 2015
14
8,300
Custom Jet Squelcher
Shooter
Burst Bomb
Kraken
Launch
15
7,900
Dynamo Roller
Roller
Sprinkler
Echolocator
Launch
15
10,000
Bamboozler 14 Mk I
Charger
Splash Wall
Killer Wail
August 28th, 2015
15
6,200
Luna Blaster Neo
Blaster
Splat Bomb
Bomb Rush
October 30th, 2015
15
8,700
Tri-Slosher Nouveau
Slosher
Seeker
Echolocator
December 19th, 2015
15
9,900
Dual Squelcher
Shooter
Splat Bomb
Echolocator
Launch
16
9,800
Octobrush Nouveau
Roller
Splat Bomb
Inkzooka
January 1st, 2016
16
9,500
Rapid Blaster Pro
Shooter
Seeker
Inkzooka
October 17th, 2015
16
11,200
Custom Blaster
Blaster
Point Sensor
Bubbler
Launch
17
10,600
Kelp Splatterscope
Charger
Sprinkler
Killer Wail
Launch
17
7,800
Custom Range Blaster
Blaster
Splat Bomb
Kraken
October 10th, 2015
17
10,800
Bamboozler 14 Mk II
Charger
Disruptor
Echolocator
November 18th, 2015
17
8,300
E-liter 3K (

NA

)
E-Litre 3K (

EU/OC

)
Charger
Burst Bomb
Echolocator
Launch
18
12,500
Custom Dual Squelcher
Shooter
Squid Beakon
Killer Wail
June 27th, 2015
18
12,800
Neo Sploosh-o-matic
Shooter
Point Sensor
Kraken
November 11th, 2015
18
10,200
Sloshing Machine Neo
Slosher
Point Sensor
Inkzooka
January 9th, 2016
18
28,500
Rapid Blaster Deco
Blaster
Suction Bomb
Bomb Rush
Launch
19
14,800
Custom E-liter 3K (

NA

)
Custom E-Litre 3K (

EU/OC

)
Charger
Squid Beakon
Kraken
June 17th, 2015
19
14,200
E-liter 3K Scope (

NA

)
E-Litre 3K Scope (

EU/OC

)
Charger
Burst Bomb
Echolocator
July 22nd, 2015
19
13,400
Forge Splattershot Pro
Shooter
Point Sensor
Inkzooka
Launch
20
19,800
Gold Dynamo Roller
Roller
Splat Bomb
Inkstrike
Launch
20
25,000
Custom E-liter 3K Scope (

NA

)
Custom E-Litre 3K Scope (

EU/OC

)
Charger
Squid Beakon
Kraken
October 10th, 2015
20
22,600
Rapid Blaster Pro Deco
Shooter
Disruptor
Killer Wail
December 25th, 2015
20
18,200
Custom Hydra Splatling
Splatling
Sprinkler
Bubbler
January 16th, 2016
20
29,900
Wasabi Splattershot
Shooter
Splat Bomb
Inkstrike
April 13th, 2016
20
4,300
Berry Splattershot Pro
Shooter
Suction Bomb
Bomb Rush
April 13th, 2016
20
26,500
Tempered Dynamo Roller
Roller
Seeker
Killer Wail
April 13th, 2016
20
36,800
Permanent Inkbrush
Roller
Splat Bomb
Kraken
April 13th, 2016
20
8,200
Soda Slosher
Slosher
Splat Bomb
Inkzooka
April 13th, 2016
20
14,600
Fresh Squiffer
Charger
Suction Bomb
Kraken
April 13th, 2016
20
7,200
Bamboozler 14 Mk III
Charger
Burst Bomb
Inkstrike
April 13th, 2016
20
9,100
Refurbished Mini Splatling
Splatling
Burst Bomb
Bomb Rush
April 13th, 2016
20
13,400
Sploosh-o-matic 7
Shooter
Splat Bomb
Inkzooka
June 8th, 2016
20
16,400
Aerospray PG
Shooter
Burst Bomb
Kraken
June 8th, 2016
20
20,000
N-ZAP '83
Shooter
Point Sensor
Kraken
June 8th, 2016
20
7,000
Grim Range Blaster
Shooter
Burst Bomb
Killer Wail
June 8th, 2016
20
14,000
Cherry H-3 Nozzlenose
Shooter
Splash Wall
Bubbler
June 8th, 2016
20
12,400
CoroCoro Splat Roller
Roller
Splash Wall
Inkzooka
June 8th, 2016
20
5,000
Bento Splat Charger
Charger
Splash Wall
Killer Wail
June 8th, 2016
20
4,700
Bento Splatterscope
Charger
Splash Wall
Killer Wail
June 8th, 2016
20
11,500
Heavy Splatling Remix
Splatling
Sprinkler
Killer Wail
June 8th, 2016
20
17,900
Octoshot Replica
Shooter
Suction Bomb
Inkzooka
August 5th, 2015
40
0
Gallery
Stats
Weapon

Range

Damage

Fire Rate (f)

Seconds to Splat

Ink Consumption (%)

Mobility (DU/f)

Painting Rate (p/sec)

.52 Gal
2.3
52
9
0.166
1.2
0.60
30.95
.96 Gal
3.1
52
12
0.216
2.5
0.40
31.31
Aerospray
2
24.5
4
0.283
0.5
0.72
45.25
Dual Squelcher
3.1
28
6
0.316
1.2
0.60
34.40
H-3 Nozzlenose
3.1
41
10
0.183
1.6
0.45~0.96
28.59
Jet Squelcher
4.1
31
8
0.416
1.6
0.60
28.56
L-3 Nozzlenose
2.6
29
6
0.300
1
0.50~0.96
34.10
N-ZAP
2.3
28
5
0.266
0.8
0.80
35.00
Splash-o-matic
2
28
5
0.266
0.7
0.72
42.36
Splattershot
2.3
35
6
0.216
0.9
0.72
34.40
Splattershot Jr.
2
28
5
0.266
0.5
0.72
39.44
Splattershot Pro
3.3
42
8
0.283
1.9
0.50
30.22
Sploosh-o-matic
1.3
38
5
0.183
0.7
0.72
44.21
Blaster
1.9
125
50
0.167
8
0.45
16.25
Luna Blaster
1.4
125
40
0.167
6
0.50
20.67
Range Blaster
2.6
125
60
0.167
10
0.40
14.22
Rapid Blaster
3
80
35
0.717
8
0.62
18.57
Rapid Blaster Pro
3.4
80
40
0.800
10
0.58
18.66
Carbon Roller
0.8
125
31
0.166
3.5
1.44
25.39 (Roll: 12.67)
Dynamo Roller
2.8
125
67
0.766
20
0.96
36.92 (Roll: 11.52)
Splat Roller
1.1
125
42
0.350
9
1.20
28.87 (Roll: 12.48)
Inkbrush
1
28
7
0.266~0.383
2
1.92
76.07 (Roll: 4.61)
Octobrush
1
37
11
0.216~0.400
3.2
1.68
53.55 (Roll: 6.05)
Bamboozler
4.3
80
26/FC
0.433
7
0.40~0.72
33.26
E-liter 3K
7.1

S

:7.7
180
100/FC
1.667
30
0.15~0.72
18.43

S

:20.80
Splat Charger
5.5

S

:6.1
160
66/FC
1.100
15
0.20~0.72
22.91

S

:24.62
Squiffer
3.8
140
51/FC
0.850
10.5
0.30~0.72
22.55
Slosher
2.7
70
30
0.716
7
0.50
28.13
Sloshing Machine
2.5
76
34
0.783
7
0.80
26.40
Tri-Slosher
2.3
62
26
0.650
6
0.70
30.31
Heavy Splatling
3.8
28
4/bullet 220/FC

1.466

22.5 (37 bullets)
0.55~0.70
25.32
Hydra Splatling
4.5
35
4/bullet 352/FC

2.400

35 (55 bullets)
0.40~0.60
19.74
Mini Splatling
2.6
28
4/bullet 100/FC

0.666

15 (19 bullets)
0.70~0.80
39.73
| Blaster | Blast Damage Diameter | Blast Paint Diameter | Near Damage | Mid Damage | Far Damage |
| --- | --- | --- | --- | --- | --- |
| Blaster | 75 | 68 | 80 | 65 | 50 |
| Luna Blaster | 80 | 80 | 80 | 65 | 50 |
| Range Blaster | 70 | 64 | 80 | 60 | 50 |
| Rapid Blaster | 70 | 56 | 80 | 50 | 25 |
| Rapid Blaster Pro | 70 | 56 | 80 | 50 | 25 |
Names in other languages
Language
Name
Meaning
 Japanese
メインウェポン
Mein Wepon
Main Weapon
 Italian
Arma primaria
Primary weapon
References
Weapons in Splatoon
Main
Shooters
.52 Gal(Deco) · .96 Gal(Deco) · Aerospray MG(RG, PG) · Dual Squelcher(Custom)


H-3 Nozzlenose(D, Cherry) · Jet Squelcher(Custom) L-3 Nozzlenose(D) · N-ZAP '85('89, '83)
Splash-o-matic(Neo) · Splattershot(Hero, Octoshot, Tentatek, Wasabi) · Splattershot Jr.(Custom)
Splattershot Pro(Forge, Berry) · Sploosh-o-matic(Neo, 7)
Blaster(Custom) · Luna Blaster(Neo) · Range Blaster(Custom, Grim) · Rapid Blaster(Deco)
Rapid Blaster Pro(Deco)

Rollers
Carbon Roller(Deco) · Dynamo Roller(Gold, Tempered) · Splat Roller(Hero, Krak-On, CoroCoro)

Chargers
Bamboozler 14 Mk I(Mk II, Mk III) · Classic Squiffer(New, Fresh) · E-liter 3K(Custom)


E-liter 3K Scope(Custom) · Splat Charger(Hero, Kelp, Bento) · Splatterscope(Kelp, Bento)

Sloshers
Slosher(Deco, Soda) · Sloshing Machine(Neo) · Tri-Slosher(Nouveau)