Weapon
From Inkipedia, the Splatoon wiki
"
As an Inkling, you can use weapons and ink your turf. Be sure to experiment with different weapon sets!
"

— Splatoon official site
Weapons are tools used in Splatoon to spread ink and splatter enemy Inklings. They can be purchased from Ammo Knights with Cash earned from online multiplayer matches. Weapons are always in a predefined set of a Main Weapon, a Sub Weapon, and a Special Weapon. Sub Weapons, or secondary weapons, consume considerably more ink than Main Weapons and usually serve specialized purposes limited to specific combat situations. Special Weapons are powerful weapons that can only be used after filling up the Special Gauge by covering enough ground with ink.
All weapons have two versions: the original, and an alternate with a different Sub and Special Weapon setup and a slightly different appearance. With the addition of Sheldon's Picks, some weapons gained a third version with yet another set of Sub and Special Weapons.
Shooters
Blasters
Blasters are an unofficial Sub Class of Shooters that fire large, slow globs of Ink that explode in mid-air. While they are poor at Inking turf, they excel at splatting enemies. As a result, Blaster users may struggle with Turf Wars, but can be very valuable in Ranked Battles. They are especially good at Tower Control, being able to simply pummel the tower from up close with their wide blast radius.
Rollers
Brushes
Brushes are an unofficial subclass of Rollers. They are characteristically much faster and more mobile than conventional rollers, but do not do nearly as much in the way of contact damage, making squishing enemies virtually impossible. However, instead of flinging Ink, Brushes quickly swipe from side to side, flicking many smaller globs. This rapid-fire flick is their primary means of spreading Ink and attacking enemies, making them ideal for fast, close-combat action.
Classes
Sub Classes are a way to distinguish different weapons of one weapon type. For example the Aerospray RG and the Dual Squelcher are both considered Shooter weapons but differ in many ways. A more explicit example would be the Splat Roller compared to the Inkbrush. Those are both considered Rollers, although the Inkbrush is far from being a Roller. These Sub Classes are not officially recognized in-game, but since they have noticeably different playstyles, they are worth unofficially recognizing. Thus, this section shows all types of Sub Classes existing in the game so far.
Shooter Sub Classes
Traits
Sub Class
Example(s)
mid range, mid accuracy, mid - high fire rate

---

Standard Shooter
Splattershot, N-ZAP '85
short range, low accuracy, very high fire rate

---

Spray
Splattershot Jr., Aerospray MG
long range, high accuracy, low - mid fire rate

---

Long Range
Splattershot Pro, Jet Squelcher
short - mid range, very high accuracy, low - mid fire rate, projectile killing with 1 hit, explosion with 2

---

Slow Blaster
Blaster, Luna Blaster
long range, very high accuracy mid - high fire rate, projectile killing with 2 hits, explosion killing with 3

---

Quick Blaster
Rapid Blaster, Rapid Blaster Pro
mid - long range, good accuracy, fires a burst of 3 shots at the same time on one click

---

Burst
L-3 Nozzlenose, H-3 Nozzlenose
Roller Sub Classes
Traits
Sub Class
Example(s)
covering much turf while rolling, mid - slow running speed, strong projectiles, low splash rate

---

Standard Roller
Splat Roller, Dynamo Roller
covering little turf while rolling, quick running speed, weak projectiles, high splash rate, attack animation differs from the Roller's

---

Brush
Inkbrush, Octobrush
Charger Sub Classes
Traits
Sub Class
Example(s)
very long range, mid - slow charging, strong shots that don't necessarily need to be fully charged to splat, bad mobility

---

Standard Charger
Splat Charger, E-liter 3K
mid range, quick charging, weaker shots that have to be fully charged or shot twice to splat, good mobility

---

Quick Charger
Classic Squiffer, Bamboozler 14 Mk I
Slosher Sub Classes
Traits
Sub Class
Example(s)
mid - long range, two shots needed to splat, shoots about 3 times in 2 seconds

---

Standard Slosher
Slosher
short - mid range, hurls ink in three directions, does more damage at close range

---

Tri-Slosher
Tri-Slosher
Splatling Sub Classes
Traits
Sub Class
Example(s)
long range, high damage, high fire rate, long charge time

---

Standard Splatling
Heavy Splatling
short range, high damage, high fire rate, short charge time

---

Quick Splatling
Mini Splatling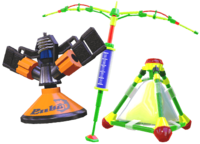 List of Weapon Sets
In Splatoon, each weapon comes as a predefined set. For example, the standard Splat Roller comes with the Suction Bomb and the Killer Wail as its sub and special weapons, respectively. It is impossible to have a Splat Roller with Seekers and the Inkstrike, as there is no predefined set for the Splat Roller that includes them.
However, there are alternates of every set. An example of this is the Krak-On Splat Roller, which uses the Squid Beakon and Kraken rather than the Suction Bomb and Killer Wail that the classic Splat Roller sports.
List of Weapon Sets in Splatoon
Image
Main Weapon
Type
Sub
Special
Release Date
Unlock Level
Cost
Splattershot Jr.
Shooter
Splat Bomb
Bubbler
Launch
1
0
Splattershot
Shooter
Burst Bomb
Bomb Rush
Launch
2
500
Custom Splattershot Jr.
Shooter
Disruptor
Echolocator
Launch
2
800
Splat Roller
Roller
Suction Bomb
Killer Wail
Launch
3
1,000
Splat Charger
Charger
Splat Bomb
Bomb Rush
Launch
3
1,000
Hero Shot Replica
Shooter
Burst Bomb
Bomb Rush
Launch
3
1,200
Hero Roller Replica
Roller
Suction Bomb
Killer Wail
Launch
3
1,200
Hero Charger Replica
Charger
Splat Bomb
Bomb Rush
Launch
3
1,200
Tentatek Splattershot
Shooter
Suction Bomb
Inkzooka
Launch
4
2,000
Kelp Splat Charger
Charger
Sprinkler
Killer Wail
Launch
4
2,500
.52 Gal
Shooter
Splash Wall
Killer Wail
Launch
5
3,000
N-ZAP '85
Shooter
Splat Bomb
Echolocator
June 1st, 2015
5
3,500
Slosher
Slosher
Burst Bomb
Inkstrike
August 5th, 2015
5
5,600
Classic Squiffer
Charger
Point Sensor
Bubbler
Launch
6
5,000
Heavy Splatling
Splatling
Splash Wall
Inkstrike
August 5th, 2015
6
6,800
Krak-On Splat Roller
Roller
Squid Beakon
Kraken
Launch
7
3,000
Aerospray MG
Shooter
Seeker
Inkzooka
Launch
7
4,500
Splash-o-matic
Shooter
Suction Bomb
Bomb Rush
June 13th, 2015
7
3,900
Jet Squelcher
Shooter
Splash Wall
Inkstrike
Launch
8
4,000
Inkbrush
Roller
Sprinkler
Inkstrike
June 5th, 2015
8
4,800
N-ZAP '89
Shooter
Sprinkler
Inkstrike
July 18th, 2015
8
4,200
Mini Splatling
Splatling
Suction Bomb
Inkzooka
September 5th, 2015
8
7,200
Blaster
Blaster
Disruptor
Killer Wail
Launch
9
3,500
L-3 Nozzlenose
Shooter
Disruptor
Killer Wail
June 17th, 2015
9
5,800
Neo Splash-o-matic
Shooter
Burst Bomb
Inkzooka
July 22nd, 2015
9
6,200
Tri-Slosher
Slosher
Disruptor
Bubbler
September 26th, 2015
9
7,500
Heavy Splatling Deco
Splatling
Point Sensor
Kraken
November 7th, 2015
9
9,200
Splattershot Pro
Shooter
Splat Bomb
Inkstrike
Launch
10
8,000
Carbon Roller
Roller
Burst Bomb
Inkzooka
June 27th, 2015
10
6,600
H-3 Nozzlenose
Shooter
Suction Bomb
Echolocator
September 12th, 2015
10
7,500
Slosher Deco
Slosher
Splash Wall
Kraken
November 25th, 2015
10
8,300
.52 Gal Deco
Shooter
Seeker
Inkstrike
Launch
11
4,500
New Squiffer
Charger
Ink Mine
Inkzooka
Launch
11
4,500
Inkbrush Nouveau
Roller
Ink Mine
Bubbler
August 1st, 2015
11
5,900
Luna Blaster
Blaster
Ink Mine
Inkzooka
June 24th, 2015
11
7,700
Hydra Splatling
Splatling
Splat Bomb
Echolocator
November 21st, 2015
11
11,600
.96 Gal
Shooter
Sprinkler
Echolocator
Launch
12
7,600
Octobrush
Roller
Squid Beakon
Kraken
July 18th, 2015
12
8,500
Sploosh-o-matic
Shooter
Squid Beakon
Killer Wail
July 7th, 2015
12
7,500
Sloshing Machine
Slosher
Splat Bomb
Bomb Rush
November 28th, 2015
12
13,500
Splatterscope
Charger
Splat Bomb
Bomb Rush
Launch
13
4,200
Aerospray RG
Shooter
Ink Mine
Inkstrike
Launch
13
9,300
L-3 Nozzlenose D
Shooter
Burst Bomb
Kraken
August 28th, 2015
13
6,600
Carbon Roller Deco
Roller
Seeker
Bomb Rush
October 3rd, 2015
13
7,600
Zink Mini Splatling
Splatling
Disruptor
Bubbler
December 12th, 2015
13
9,400
Rapid Blaster
Blaster
Ink Mine
Bubbler
Launch
14
9,600
.96 Gal Deco
Shooter
Splash Wall
Kraken
July 7th, 2015
14
9,700
Range Blaster
Blaster
Splash Wall
Inkstrike
August 1st, 2015
14
8,000
H-3 Nozzlenose D
Shooter
Point Sensor
Inkzooka
October 30th, 2015
14
8,300
Custom Jet Squelcher
Shooter
Burst Bomb
Kraken
Launch
15
7,900
Dynamo Roller
Roller
Sprinkler
Echolocator
Launch
15
10,000
Bamboozler 14 Mk I
Charger
Splash Wall
Killer Wail
August 28th, 2015
15
6,200
Luna Blaster Neo
Blaster
Splat Bomb
Bomb Rush
October 30th, 2015
15
8,700
Tri-Slosher Nouveau
Slosher
Seeker
Echolocator
December 19th, 2015
15
9,900
Dual Squelcher
Shooter
Splat Bomb
Echolocator
Launch
16
9,800
Octobrush Nouveau
Roller
Splat Bomb
Inkzooka
January 1st, 2016
16
9,500
Rapid Blaster Pro
Shooter
Seeker
Inkzooka
October 17th, 2015
16
11,200
Custom Blaster
Blaster
Point Sensor
Bubbler
Launch
17
10,600
Kelp Splatterscope
Charger
Sprinkler
Killer Wail
Launch
17
7,800
Custom Range Blaster
Blaster
Splat Bomb
Kraken
October 10th, 2015
17
10,800
Bamboozler 14 Mk II
Charger
Disruptor
Echolocator
November 18th, 2015
17
8,300
E-liter 3K (

NA

)
E-Litre 3K (

EU/OC

)
Charger
Burst Bomb
Echolocator
Launch
18
12,500
Custom Dual Squelcher
Shooter
Squid Beakon
Killer Wail
June 27th, 2015
18
12,800
Neo Sploosh-o-matic
Shooter
Point Sensor
Kraken
November 11th, 2015
18
10,200
Sloshing Machine Neo
Slosher
Point Sensor
Inkzooka
January 9th, 2016
18
28,500
Rapid Blaster Deco
Blaster
Suction Bomb
Bomb Rush
Launch
19
14,800
Custom E-liter 3K (

NA

)
Custom E-Litre 3K (

EU/OC

)
Charger
Squid Beakon
Kraken
June 17th, 2015
19
14,200
E-liter 3K Scope (

NA

)
E-Litre 3K Scope (

EU/OC

)
Charger
Burst Bomb
Echolocator
July 22nd, 2015
19
13,400
Forge Splattershot Pro
Shooter
Point Sensor
Inkzooka
Launch
20
19,800
Gold Dynamo Roller
Roller
Splat Bomb
Inkstrike
Launch
20
25,000
Custom E-liter 3K Scope (

NA

)
Custom E-Litre 3K Scope (

EU/OC

)
Charger
Squid Beakon
Kraken
October 10th, 2015
20
22,600
Rapid Blaster Pro Deco
Shooter
Disruptor
Killer Wail
December 25th, 2015
20
18,200
Custom Hydra Splatling
Splatling
Sprinkler
Bubbler
January 16th, 2016
20
29,900
Wasabi Splattershot
Shooter
Splat Bomb
Inkstrike
April 13th, 2016
20
4,300
Berry Splattershot Pro
Shooter
Suction Bomb
Bomb Rush
April 13th, 2016
20
26,500
Tempered Dynamo Roller
Roller
Seeker
Killer Wail
April 13th, 2016
20
36,800
Permanent Inkbrush
Roller
Splat Bomb
Kraken
April 13th, 2016
20
8,200
Soda Slosher
Slosher
Splat Bomb
Inkzooka
April 13th, 2016
20
14,600
Fresh Squiffer
Charger
Suction Bomb
Kraken
April 13th, 2016
20
7,200
Bamboozler 14 Mk III
Charger
Burst Bomb
Inkstrike
April 13th, 2016
20
9,100
Refurbished Mini Splatling
Splatling
Burst Bomb
Bomb Rush
April 13th, 2016
20
13,400
Sploosh-o-matic 7
Shooter
Splat Bomb
Inkzooka
June 8th, 2016
20
16,400
Aerospray PG
Shooter
Burst Bomb
Kraken
June 8th, 2016
20
20,000
N-ZAP '83
Shooter
Point Sensor
Kraken
June 8th, 2016
20
7,000
Grim Range Blaster
Shooter
Burst Bomb
Killer Wail
June 8th, 2016
20
14,000
Cherry H-3 Nozzlenose
Shooter
Splash Wall
Bubbler
June 8th, 2016
20
12,400
CoroCoro Splat Roller
Roller
Splash Wall
Inkzooka
June 8th, 2016
20
5,000
Bento Splat Charger
Charger
Splash Wall
Killer Wail
June 8th, 2016
20
4,700
Bento Splatterscope
Charger
Splash Wall
Killer Wail
June 8th, 2016
20
11,500
Heavy Splatling Remix
Splatling
Sprinkler
Killer Wail
June 8th, 2016
20
17,900
Octoshot Replica
Shooter
Suction Bomb
Inkzooka
August 5th, 2015
40
0
Trivia
Names in other languages
Language
Name
Meaning
 Japanese
ブキ
Buki
Weapon
 Spanish (NOE)
Arma
Weapon
 Italian
Arma
Weapon
Weapons in Splatoon
Main
Shooters
.52 Gal(Deco) · .96 Gal(Deco) · Aerospray MG(RG, PG) · Dual Squelcher(Custom)


H-3 Nozzlenose(D, Cherry) · Jet Squelcher(Custom) L-3 Nozzlenose(D) · N-ZAP '85('89, '83)
Splash-o-matic(Neo) · Splattershot(Hero, Octoshot, Tentatek, Wasabi) · Splattershot Jr.(Custom)
Splattershot Pro(Forge, Berry) · Sploosh-o-matic(Neo, 7)
Blaster(Custom) · Luna Blaster(Neo) · Range Blaster(Custom, Grim) · Rapid Blaster(Deco)
Rapid Blaster Pro(Deco)

Rollers
Carbon Roller(Deco) · Dynamo Roller(Gold, Tempered) · Splat Roller(Hero, Krak-On, CoroCoro)

Chargers
Bamboozler 14 Mk I(Mk II, Mk III) · Classic Squiffer(New, Fresh) · E-liter 3K(Custom)


E-liter 3K Scope(Custom) · Splat Charger(Hero, Kelp, Bento) · Splatterscope(Kelp, Bento)

Sloshers
Slosher(Deco, Soda) · Sloshing Machine(Neo) · Tri-Slosher(Nouveau)