Competitive
:
Splatoon Showdown Series
From Inkipedia, the Splatoon wiki
Unofficial!
This article discusses content that is not part of the official
Splatoon series
canon but is part of the community or competitive gaming space.
Splatoon​
Splatoon Showdown Series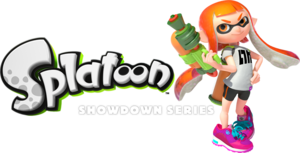 The Splatoon Showdown Series (SSS) were a series of Splatoon online tournaments held from November 5th through December 3rd, 2016.[1] They were the first North American Splatoon online tournaments sponsored by Nintendo of America.
History
The SSS tournament series was officially announced on October 25th, 2016.[2] A partnership between Nintendo of America and Battlefy, the tournament series was organized with the assistance of the Leagues Under the Ink staff, with matches being broadcast live on the Leagues Under the Ink's official Twitch channel.[3][4] The tournaments were divided into the respective Regular Battle mode and Ranked Battle modes available in the game. The order for the modes played for each tournament were as follows: Turf War, Tower Control, Splat Zones, and Rainmaker.
The tournament series was only opened for the North American continent and saw the inclusion of official Splatoon merchandise as prizes for the top three teams in each of the individual tournaments.
Standings
Turf War
The standings for the event are as follows:[5]
Tower Control
The standings for the event are as follows:[6]
Place
Team
1st
who?
2nd
Kairos
3rd
Spec's Cuties
4th
Charles Junior
5th
Synergy
Komodo (forfeited)
Unknown
SpeedRunsLive
Splat Zones
The standings for the event are as follows:[7]
Rainmaker
The standings for the event are as follows:[8]
Place
Team
1st
Synergy
2nd
THΞ∞SΛVΛGΞs
3rd
Hanran
4th
Leviathan
5th
Unknown
Old SND
who?
SpeedRunsLive
References