Fries vs. McNuggets
From Inkipedia, the Splatoon wiki
Fries vs. McNuggets​
Fries vs. McNuggets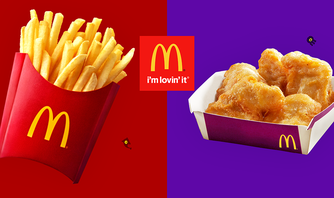 Team
  Fries
  McNuggets
Region
Japan
Start
9 September 2017, 06:00 UTC
End
10 September 2017, 06:00 UTC
Score method
category tally
Result type
combined
Popularity
71.42%
28.58%
Wins
%
Expression error: Unrecognized punctuation character "{".%
Solo wins
49.9%
50.1%
Team wins
49.61%
50.39%
Normal clout
%
Expression error: Unrecognized punctuation character "{".%
Pro clout
%
Expression error: Unrecognized punctuation character "{".%
Score
1
2
Winner
McNuggets
Region
Start
22 September 2023, 18:21 UTC
End
23 September 2023, 18:21 UTC
Popularity
%
Expression error: Unrecognized punctuation character "{".%
Wins
%
Expression error: Unrecognized punctuation character "{".%
Solo wins
%
Expression error: Unrecognized punctuation character "{".%
Team wins
%
Expression error: Unrecognized punctuation character "{".%
Normal clout
%
Expression error: Unrecognized punctuation character "{".%
Pro clout
%
Expression error: Unrecognized punctuation character "{".%
Score
Expression error: Unexpected < operator.
Expression error: Unexpected < operator.
Winner
Region
Start
22 September 2023, 18:21 UTC
End
23 September 2023, 18:21 UTC
Popularity
%
Expression error: Unrecognized punctuation character "{".%
Wins
%
Expression error: Unrecognized punctuation character "{".%
Solo wins
%
Expression error: Unrecognized punctuation character "{".%
Team wins
%
Expression error: Unrecognized punctuation character "{".%
Normal clout
%
Expression error: Unrecognized punctuation character "{".%
Pro clout
%
Expression error: Unrecognized punctuation character "{".%
Score
Expression error: Unexpected < operator.
Expression error: Unexpected < operator.
Winner
Fries vs. McNuggets (マックフライポテト vs チキンマックナゲット) was a Splatfest event in Splatoon 2. It was held in Japan only. It was announced on 1 September 2017. The results were given on 10 September 2017.
Details
The theme was two food items from the fast food restaurant McDonald's: french fries and Chicken McNuggets.
Fries vs. McNuggets featured the third Shifty Station layout, Goosponge.
Results with exact counts were released through SplatNet.
Detailed results for Fries vs. McNuggets
Region
Participants
Solo wins
Team wins
Alpha
Bravo
Alpha
Bravo
Alpha
Bravo
JP
759,521
303,872
893,956
897,405
51,411
52,210
Trivia
McNuggets is generically changed to "Nuggets" for the ink colors of this Splatfest in Private Battles.
Gallery
Dialogue
Announcement
ヒメ's Dialogue
イイダ's Dialogue
Region
ヒメ
「マクドナルド プレゼンツ! ご一緒にいかがですか? サイドメニュー対決ーー!!」
(McDonald's Presents: Shall we go eat? The clash of side items!!)
イイダ
「ワ~! スゴ~イ!!」
(Wow! Amazing!)
NOJ
ヒメ
「対決するのは、外はカリッと中はホクホク 不動のベストセラー「マックフライポテト」と!」
(The face-off is between the crunchy-on-the-outside, soft-on-the-inside, uncontested bestselling McFries and...)
イイダ
「ゴールデンブラウンの衣に、中はジュワッとジューシー!「チキンマックナゲット」になります!」
(The golden-brown-on-the-outside, sizzling-and-juicy-on-the-inside, Chicken McNuggets!)
NOJ
ヒメ
「アタシは やっぱマックポテトかなー カリッとアガッたのを、ガッと食べんのいーよなー!」
(I've gotta go with the McFries. They're so freshly fried and crunchy I wanna chow down!)
イイダ
「センパイ、一緒に行くときいっつもマックポテト注文しますよね~」
(Senpai, whenever we go together, you always do order the McFries~)
NOJ
ヒメ
「そーいうイイダは、かならずマックナゲット頼んでるだろ?」
(And you, Marina, always order the McNuggets, don't you?)
イイダ
「ソースをディップするのが楽しいし、 ジュワッと美味しいんですよね~ そういえば…」
(Dipping them in sauce is fun, and they're so steaming hot and delicious~ By the way...)
NOJ
ヒメ
「-」
イイダ
「センパイ、ぜったいワタシに「1コちょーだい!」って 言うじゃないですか~ センパイも頼めばいいのに…」
(Senpai, don't you dare say to me "Let me have one!" You can just order your own!)
NOJ
ヒメ
「... ... ...」
イイダ
「-」
NOJ
ヒメ
「アタシはすぐに オナカいっぱいになるから イイダから1コもらうくらいでちょーどいんだよ!」
(I always get full really quick, so what's it matter if I take just one of yours?)
イイダ
「エェ~…」
(Mmm?)
NOJ
ヒメ
「-」
イイダ
「前スロッシャー出して「これにポテト大盛りで!」って、店員さん困らせてたの誰でしたっけ…?」
(Who was it last time who bothered the staff by pulling out her Slosher and shouting "Fill this up with a huge helping of fries!"?)
NOJ
ヒメ
「グ… あの後「ナゲットだったらいけますか~?」 ってコッソリ聞いてたの 知ってっかんな!」
(Gah... I know that afterwards you secretly asked them if they could fill yours with nuggets too!)
イイダ
「ア… ヒメセンパイ見てたんですか…」
(Ah... you saw that, Pearl-senpai...?)
NOJ



Results
ヒメ's Dialogue
イイダ's Dialogue
Region
ヒメ
「ゲッ?! まじかよ~~~!」
(Huh?! Really...?!)
イイダ
「きゃ~!「チキンマックナゲット」~~~!!」
(Yeaaaah! Chicken McNuggets!)
NOJ
ヒメ
「「マックフライドポテト」もがんばったの、知ってるかんな! もーちょいだったかー!」
(McFries, I know we tried so hard! We just came up a little short!)
イイダ
「「チキンマックナゲット」のみなさん、やりましたね!も~、うれしくて急にオナカ減ってきちゃいました~」
(And to all on Team Chicken McNuggets, we did it, huh! I'm happy and my tummy is too!)
NOJ
ヒメ
「-」
イイダ
「ねえセンパイ、この後マックナゲット食べに行きませんか?」
(Hey Pearl-senpai, After this won't you come eat some McNuggets with me?)
NOJ
ヒメ
「しゃーねーな、今日くらいはイイダのナゲット話に 付き合ってやるか!」
(It can't be helped, I guess I'll join you today with all your talk about it.)
イイダ
「-」
NOJ



Top 100
Fries
McNuggets
Names in other languages
Language
Name
Meaning
 Japanese
マックフライポテト vs. チキンマックナゲット
Makkufuraipoteto vs Chikinmakkunagetto
McFries vs. Chicken McNuggets
Private Battle: Fries vs. Nuggets
Language
Name
Meaning
 Japanese
マックフライポテト vs. チキンマックナゲット
Makkufuraipoteto vs Chikinmakkunagetto
McFries vs. Chicken McNuggets
 Dutch
Friet vs. Kipnuggets
Fries vs. Chicken nuggets
 French (NOA)
Frites vs. Nuggets
Fries vs. Nuggets
 French (NOE)
Frites vs. Croquettes
Fries vs. Croquettes
 German
Pommes vs. Nuggets
French fries vs. Nuggets
 Italian
Patatine vs. Nugget
Fries vs. Nugget
 Russian
Картофель фри vs. крокеты
Kartofel' fri vs. krokety
French fries vs. croquettes
 Spanish (NOA)
Papas fritas vs. Nuggets
French fries vs. Nuggets
 Spanish (NOE)
Patatas fritas vs. Nuggets
French fries vs. Nuggets
See also
External links