Hello Kitty vs. Cinnamoroll
From Inkipedia, the Splatoon wiki
Hello Kitty vs. Cinnamoroll​
Hello Kitty vs. Cinnamoroll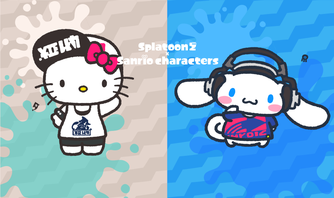 Team
  Hello Kitty
  Cinnamoroll
Region
Japan
Start
19 May 2018, 06:00 UTC
End
20 May 2018, 06:00 UTC
Score method
category tally
Result type
combined
Popularity
39.24%
60.76%
Wins
%
Expression error: Unrecognized punctuation character "{".%
Solo wins
50.96%
49.04%
Team wins
54.39%
45.61%
Normal clout
%
Expression error: Unrecognized punctuation character "{".%
Pro clout
%
Expression error: Unrecognized punctuation character "{".%
Score
2
1
Winner
Hello Kitty
Region
Start
7 December 2023, 09:45 UTC
End
8 December 2023, 09:45 UTC
Popularity
%
Expression error: Unrecognized punctuation character "{".%
Wins
%
Expression error: Unrecognized punctuation character "{".%
Solo wins
%
Expression error: Unrecognized punctuation character "{".%
Team wins
%
Expression error: Unrecognized punctuation character "{".%
Normal clout
%
Expression error: Unrecognized punctuation character "{".%
Pro clout
%
Expression error: Unrecognized punctuation character "{".%
Score
Expression error: Unexpected < operator.
Expression error: Unexpected < operator.
Winner
Region
Start
7 December 2023, 09:45 UTC
End
8 December 2023, 09:45 UTC
Popularity
%
Expression error: Unrecognized punctuation character "{".%
Wins
%
Expression error: Unrecognized punctuation character "{".%
Solo wins
%
Expression error: Unrecognized punctuation character "{".%
Team wins
%
Expression error: Unrecognized punctuation character "{".%
Normal clout
%
Expression error: Unrecognized punctuation character "{".%
Pro clout
%
Expression error: Unrecognized punctuation character "{".%
Score
Expression error: Unexpected < operator.
Expression error: Unexpected < operator.
Winner
Hello Kitty vs. Cinnamoroll (ハローキティ vs シナモロール) was a Splatfest event in Splatoon 2. It was held in Japan only. It was announced on 10 May 2018. The results were given on 20 May 2018.
Details
Hello Kitty vs. Cinnamoroll was the first round in a three-round tournament. The theme of the tournament was four Sanrio characters: Hello Kitty, Cinnamoroll, My Melody, and Pompompurin. The winner of this round, Hello Kitty, went on to face off against the second round's winner in the final round.
In promotional art, characters were equipped with gear from the Splatoon universe. Hello Kitty has the Splat Dualies, King Flip Mesh, and White King Tank. Cinnamoroll has the Luna Blaster, Studio Headphones, and Navy Deca Logo Tee.
Hello Kitty vs. Cinnamoroll featured the 3rd Shifty Station layout, Goosponge.
Trivia
Pearl and Marina's outfits in the promotional Splatfest artwork directly reference the LittleTwinStars characters.

Pearl is dressed up as Lala and Marina is dressed up as Kiki. Lala carries a star wand, while Kiki carries a star on his back, held with the pink ribbon tied to his dress.
Gallery
Dialogue
Japanese
Announcement
ヒメ's Dialogue
イイダ's Dialogue
Region
ヒメ


「33rd サンリオキャラクター大賞 連動フェス! どっちがかわいい? 人気者ナンバーワン決定戦ー!」
(It's the 33rd Sanrio Character grand prize Splatfest! Which one is cuter? The battle to find out who's number one in popularity-!)
イイダ


「きゃ~! かわいい~♪」
(Waaah! So cute!)
NOJ
ヒメ


「サンリオの人気4キャラクターによる トーナメント戦らしいぞ! 今回はその第1試合だ!」
(This tournament features four of Sanrio's most popular characters! Here is the first match!)
イイダ


「ナンバーワンを フェスで決めるんですね~ これは機材のメンテ しっかりしなくっちゃ!」
(So the #1 character is decided during this splatfest~ I'm gonna need to upgrade my gear!)
NOJ
ヒメ


「そんじゃー、アタシとイイダがセコンドにつく キャラクターを紹介するぞ! 今回対決するのは…」
(Now, Marina and I will introduce the characters in a second! This time we'll face off against…)
イイダ
「-」
NOJ
ヒメ


「ヒメサイドは キャラクター大賞の最多首位を ほこる、クイーン オブ カワイイ!「ハローキティ」と!」
(On Pearl's side is the Queen of Kawaii, the most awarded character of the year! Hello Kitty and…)
イイダ


「イイダサイドは 2017年キャラクター大賞首位! キング オブ カワイイ!「シナモロール」になります!」
(On Marina's side is the 2017 Character of the Year! King of Kawaii! Cinnamoroll is here!)
NOJ
ヒメ
「-」
イイダ


「シナモンといえば、白くてふわふわでクルクルしっぽの イメージがありますけど、青い目がカワイイんですよ~」
(Cinnamon's image is well known for his white, fluffy, curly tail but he also has cute blue eyes!)
NOJ
ヒメ


「なるほどねー、キティちゃんは なんつってもリボンが トレードマークだしカワイイし、やっぱリボン最強だろ!」
(Ah, I see! Kitty-chan has a super cute trademark ribbon, and it's the best ribbon of them all!)
イイダ
「-」
NOJ
ヒメ
「-」
イイダ


「ムム、じゃあセンパイこれ知ってます? シナモンって 大きな耳をパタパタさせて 空飛べるんですよ~♪」
(Mhm, then senpai, do you know this? Cinnamon can flap his big ears to fly through the sky!)
NOJ
ヒメ


「うおっ! マジかよ?! バトルでスンゲー有利じゃん! っつーか反則だろ!」
(Whoa! Seriously? That's a huge advantage in a battle! I mean, that's against the rules!)
イイダ
「-」
NOJ
ヒメ
「-」
イイダ


「ウフフ♪ 空から一気に スーパーカワイイチャクチ! これは かわいさMAXですね~♪」
(Huhuhu! Super cute chuckles from up in the sky! That's cuteness to the max~♪)
NOJ
ヒメ


「でも、あの見た目だと「ふわもち~」って感じで チャクチしそうだな…」
(But looking like that, they're going to be chuckling at his "fluffiness" instead…)
イイダ
「-」
NOJ
ヒメ
「-」
イイダ


「たしかにっ! でも それもカワイイです~♪」
(Maybe! But it's still cute!~♪)
NOJ
ヒメ


「その点 キティちゃんはリンゴ3コ分の体重を いかして、超高速スライド出来そうだな!」
(On that note, Kitty can use her three apples' worth of weight to slide around at super speed!)
イイダ
「-」
NOJ
ヒメ
「-」
イイダ


「それだけ軽いと ステージの外まで 飛んでっちゃいそうですね…」
(With a weight that light, she's going to fly right off the stage...)
NOJ
ヒメ


「そだな… でも、スライドで場外まで転がってく キティちゃんもスンゲーかわいくねーか?」
(But wouldn't Kitty-chan look so cute rolling and sliding off the stage?)
イイダ
「-」
NOJ
ヒメ
「-」
イイダ


「ずっと ながめてたいですね~」
(I'd just want to keep looking at it~)
NOJ
ヒメ


「そういや、イイダ知ってっか? キティちゃんって DJもやってんだよ!」
(Oh yeah, did you know Marina? Kitty-chan is a DJ too!)
イイダ
「-」
NOJ
ヒメ


「けっこうゴリゴリのDJプレイかますらしいぜ! チャンスがあるなら 曲作ってもらいてーなー」
(I hear she's going to be a pretty heavyweight DJ! If I get the chance, I'd love to have her write a song for me.)
イイダ


「ちょ?! エ… ア… センパイ???」
(W-Wait! Uh… ah… Senpai???)
NOJ
ヒメ


「ジョーダンだよ、ジョーダン! テンタクルズの曲は イイダが作ってこそ出るカラーだかんな!」
(I'm joking, it's just a joke! Off the Hook's songs are more colorful when they're written by Marina!)
イイダ
「-」
NOJ
ヒメ
「-」
イイダ


「んもうっ! すっごいビックリしましたよ~! ビックリしすぎて ちょっとナミダでちゃった…」
(Geez! I was so surprised! I was so shocked that I almost teared up a little...)
NOJ
ヒメ


「おお… もー泣くなよイイダー わるかったよ ホラ、フェス楽しんでこーぜ! な?」
(Oh... hey, don't cry, Marina! I'm sorry for that. Let's just enjoy the Splatfest, okay?)
イイダ
「-」
NOJ
ヒメ
「-」
イイダ


「オロオロしてる ヒメセンパイもカワイイ…」
(Pearl-senpai is cute even when she's flustered…)
NOJ



Introduction
ヒメ's Dialogue
イイダ's Dialogue
Region
ヒメ
「いよいよ始まる サンリオトーナメント第1試合!かわいい対決フェス 始まったぞーーー!」
(The Sanrio Tournament is about to begin... Game 1! The Cute Showdown Fest has begun!)
イイダ
「ロビー前のタッチパネルから投票して、参加してくださ~い!」
(Vote through the touch screen in front of the lobby and get involved!)
NOJ



Results
ヒメ's Dialogue
イイダ's Dialogue
Region
ヒメ


「「ハローキティ」の勝ちーーー!!」
(Hello Kitty wins!)
イイダ


「う~ん… あと少しだったのに~…」
(Aaah… we were so close…)
NOJ
ヒメ


「「ハローキティ」派のみんな、ありがと! キュートなバトル、イカしてたぞ!」
(Thank you, everyone on team "Hello Kitty"! It was a cute battle, and so lively, too!)
イイダ
「「シナモロール」派のみなさんも とてもがんばってましたよ~」
(Everyone on Team Cinamoroll did a very good job, too~)
NOJ
Notes: Marina is off-screen for this dialogue. Pearl is making a pun on the word いかした, "was lively" by emphasizing イカ, "squid"
ヒメ


「みんなキティちゃんの おっきなリボンに メロメロだったかんなー」
(Everyone was really, really excited about Kitty's giant ribbon.)
イイダ
「-」
NOJ
ヒメ
「-」
イイダ


「ウウ… フェスの曲に合わせてゆれるリボンの かわいさは 反則級ですよ~」
(The cuteness of her ribbon swaying to the festival music was almost a foul play~)
NOJ
ヒメ


「でも、1回戦突破したばっかだしこれからこれから! カワイイチャンピョンまで あと1勝!」
(But we made it through the first round, and we're still just getting started! One more win to crown the Kawaii Champion!)
イイダ
「-」
NOJ
ヒメ
「-」
イイダ


「カワイイチャンピオンの道のりって 大変なんですね~」
(The road to becoming a cute champion is tough, isn't it~?)
NOJ
ヒメ


「さてと、第2試合はいつやるんだっけ?」
(Now, when do we play the second game?)
イイダ
「-」
NOJ
ヒメ
「-」
イイダ


「なんと?! 次の土曜日 26日に開催するらしいです~」
(What?! They are going to hold it next Saturday, on the 26th~!)
NOJ
ヒメ


「うおっ! 2週連続か! これは浸透圧アゲっぱなしでいくしかねーな!」
(Whoa! Two weeks in a row! I'm going to have to keep my osmotic pressure up!)
イイダ
「-」
NOJ
ヒメ


「ん、まてよ? じゃあ第2試合の組み合わせは いつ発表すんだ?」
(Hm, wait up? So when do we announce the pairings for the second match?)
イイダ
「-」
NOJ
ヒメ
「-」
イイダ


「え~っと… 23日です! 水曜日ですね!!」
(Le~t's see... the 23rd! It's on Wednesday!)
NOJ
ヒメ


「おお! じゃあフェスに参加してたら 早めに スーパーサザエをもらわねーとな!」
(Ooh! I'll have to get my super sea snails quickly after this Splatfest!)
イイダ
「-」
NOJ
ヒメ
「-」
イイダ


「次のフェスが発表されちゃったら スーパーサザエもらえないですもんね~」
(When the next Splatfest is already announced, you'll miss out on these super sea snails~)
NOJ
ヒメ


「だな! そんじゃー フェスに参加した人は 広場で スーパーサザエ もらえっから!」
(Yeah, true! So those who participated in this Splatfest need to get their super sea snails at the plaza!)
イイダ


「次のフェスもお楽しみに!」
(Please look forward to the next Splatfest!)
NOJ



Results if Cinnamoroll were to win
ヒメ's Dialogue
イイダ's Dialogue
Region
ヒメ
「-」
イイダ


「きゃ~! 「シナモロール」~~~!!」
(Waaah! "Cinnamoroll"~!!)
NOJ
ヒメ


「ゲッ?! まじかよーーー!」
(Wha-?! Seriously?!)
イイダ
「-」
NOJ
ヒメ
「-」
イイダ


「「シナモロール」派のみなさん、やりましたね!ふわふわキュートな立ち回り ステキでした~♪」
(We did it, Team Cinamoroll! His cute and fluffy turnabout was very impressive!)
NOJ
ヒメ


「「ハローキティ」派もがんばったの、 知ってるからな!もーちょいだったかー!」
(Team Hello Kitty also did their best! It was so close!)
イイダ


「みなさんシナモンのかわいさに メロメロでしたね~♪」
(Everyone was super thrilled with Cinnamon's cuteness~♪)
NOJ
Notes: Pearl is off-screen for this dialogue.
ヒメ


「あの吸いこまれそうな青い目、反則級のかわいさだろー…」
(They were pulled in by those blue eyes, that level of cute should be against the rulesー…)
イイダ
「-」
NOJ
ヒメ
「-」
イイダ


「まだ、1回戦突破したばかり、 これからですよ~!カワイイチャンピオンまで あと1勝!」
(We've made it through the first round, but it's just the beginning~! One more win for the Kawaii Champion!)
NOJ
ヒメ


「さてと、第2試合はいつやるんだっけ?」
(Now, when do we play the second game?)
イイダ
「-」
NOJ
ヒメ
「-」
イイダ


「なんと?! 次の土曜日 26日に開催するらしいです~」
(What?! They are going to hold it next Saturday, on the 26th~!)
NOJ
ヒメ


「なんと?! 次の土曜日26日に開催するらしいです~」
(Whoa! Two weeks in a row! I'm going to have to keep my osmotic pressure up!)
イイダ
「-」
NOJ
ヒメ


「ん、まてよ? じゃあ第2試合の組み合わせは いつ発表すんだ?」
(Hm, wait up? So when do we announce the pairings for the second match?)
イイダ
「-」
NOJ
ヒメ
「-」
イイダ


「え~っと… 23日です! 水曜日ですね!!」
(Le~t's see... the 23rd! It's on Wednesday!)
NOJ
ヒメ


「おお! じゃあフェスに参加してたら 早めに スーパーサザエをもらわねーとな!」
(Ooh! I'll have to get my super sea snails quickly after this Splatfest!)
イイダ
「-」
NOJ
ヒメ
「-」
イイダ


「次のフェスが発表されちゃったら スーパーサザエもらえないですもんね~」
(When the next Splatfest is already announced, you'll miss out on these super sea snails~)
NOJ
ヒメ


「だな! そんじゃー フェスに参加した人は 広場で スーパーサザエ もらえっから!」
(Yeah, true! So those who participated in this Splatfest need to get their super sea snails at the plaza!)
イイダ


「次のフェスもお楽しみに!」
(Please look forward to the next Splatfest!)
NOJ



Top 100
Names in other languages
Private Battle
Language
Name
Meaning
 Japanese
ハローキティ/シナモロール
harō kiti/shinamorōru
-
 Dutch
Hello Kitty / Cinnamoroll
-
 French
Hello Kitty/Cinnamoroll
-
 German
Hello Kitty/Cinnamoroll
-
 Italian
Hello Kitty/Cinnamoroll
-
 Russian
Hello Kitty / Cinnamoroll
-
 Spanish
Hello Kitty/Cinnamoroll
-
See also
External links
References