Learning Curve
From Inkipedia, the Splatoon wiki

This article or section involves non-English content
Things may have an official name in another language, but currently have no official English name.
English translations of these names are unofficial.
Note: The track name comes from the Japanese release of Splatune 3.
Learning Curve​
Learning Curve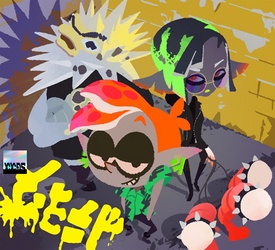 Learning Curve is a song by C-Side.
Description
Learning Curve is C-Side's version of Battle Defeat. If the player wins a battle, Rinse/Repeat will play instead, and the player's team along with their emotes, weapons, fits, and splashtags with be showcased. Learning Curve is more of an upbeat battle song, though it still conveys gloominess like in Splatoon. 12 seconds in, the guitar and bass cut out and replaced by a solo drum track, similar to Rinse/Repeat, Ageshio Notte Mōteru and Shinsan Name Manta.
Samples and interpolations
Shinsan Name Manta
Main article: Shinsan Name Manta
The solo drum track at the end of Learning Curve has similar drum beats to that of Shinsan Name Manta, but with some minor differences and also uses different drum samples.
Etymology
A learning curve is a person's progress in gaining experience, Learning Curve might be a play on the fact that a player can get experience from failure.
Names in other languages
| Language | Name | Meaning |
| --- | --- | --- |
|  Japanese | Learning Curve | Learning Curve |
Trivia
Learning Curve is the only defeat song which does not only use an electric beat to convey sadness.