Merchandise
From Inkipedia, the Splatoon wiki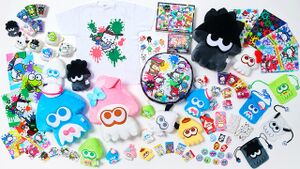 The real world!
This article or section discusses subjects found
in real life
.
Merchandise is the name given to a wide variety of branded consumer products marketed in the merchandising practice. Most of the merchandise is sold exclusively to the Japanese market.
Official products may have the Nintendo Seal of Quality or the markup '© [YEAR] Nintendo' to ensure it is licensed by Nintendo.
Below are lists of known merchandise and manufacturers of official Splatoon branded products.
Lists of known merchandise
List of known manufacturers
Doshisha
Empty
Furuta
Keys Factory
Little Buddy
MaxGames
Nobel
RDI
Sanei
Sun Art
The Elei Promotions Group Ltd
Top Seika
References
↑ Tweets about official merchandise being sold locally