Muck Warfare
From Inkipedia, the Splatoon wiki





Muck Warfare​
Muck Warfare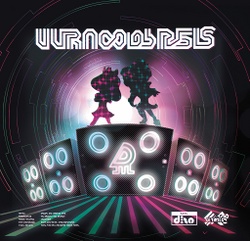 Muck Warfare is a song performed by Off the Hook.
Description
Muck Warfare is an energetic electronic pop song featuring eccentric, electronic instrumentals. In live performances of this song, Marina is seen on the keytar. It was one of three songs that had a chance of playing during Splatfest Regular Battles in Splatoon 2. It can also be heard in Squid Beatz 2 after hearing it in a Splatfest at least once, though this requirement has been removed since Version 5.2.0, with a maximum score of 169 and 333 in Normal and Hard modes, respectively.
See also: Muck Warfare
The song is also featured in the soundtrack for Super Smash Bros. Ultimate, and by default, it has a chance of playing on Moray Towers, where a special Splatfest version of the stage is used if played. It can also be heard in the Sounds section in the Vault menu.
Lyrics
The booklet included with Splatune 2 gives the official lyrics for Muck Warfare. The lyrics are nonsensical; the Japanese hiragana and katakana simply give the pronunciation. According to a Famitsu interview,[1] the former is used to indicate Pearl's lyrics in Inkling language, whereas the latter is used to indicate Marina's lyrics in Octarian language.
Muck Warfare Lyrics
"

Astafmeya dennuhi
Irabi miya zurunadi
Distikumiya yugannazui
Deraestef panjayobi
Sherauste


Churibahinaie yaimare
Jarudanmiresrai chorapene
Dirennu saidamira yogonabe
Deraestef panjayobi


Auna.na.na yashijuminaha ha.ha
Di.di.di keshufunirakoma masana
Ke.ke.ke keshufuyorogajo jo.jo
Anfu dinmina minajin
Shanashana buranashana


Keremariteremarichanerarineraji
Rani estanebi
Yomashasta shoade

"
"

アスタフメヤ デンヌヒ
イラビ ミヤ ズルナディ
ディスティクミヤ ユガンナズィ
デラエステフ パンジャヨビ
シェラウステ


ちゅりばひないえ やいまれ
じゃるだんみれすらい ちょらぺね
でぃれんぬ さいだみら よごなべ
でらえすてふ ぱんじゃよび


アウナ.ナ.ナ ヤッシジュミナハ ハ.ハ
ディ.ディ.ディ ケシュフニラコマ マサナ
ケ.ケ.ケ ケシュフヨロガジョ ジョ.ジョ
アヌフ ディンミナ ミナジン
シャナシャナ ブラナシャナ


けれまりてれまりちゃねらりねらじ


らに えすたねび
よましゃすた しょあで

"
---
Other versions
Muck Warfare (Album)
On Splatune 2 and Octotune, a slightly different version of Muck Warfare is used. The version in albums has slightly louder vocals than the in-game version, and an altered version of the eight-note jingle heard throughout the song.
Muck Warfare (Live)
During live performances, an extended version of Muck Warfare is used. Although each performance is different due to the live bands, they all share the same structure, generally looping once, giving Marina a keytar solo before the second chorus, extending the second chorus, and giving the song a definitive end. The version used in live performances uses the same version of the altered eight-note jingle heard in the album version.
At Tentalive at Tokaigi 2019, a brief introduction is given to all the band members before Marina's keytar solo, allowing each of them to perform a short solo on their respective instruments.
Etymology
Muck Warfare generally refers to the mess made when fighting with ink during Splatfest battles.
Names in other languages
| Language | Name | Meaning |
| --- | --- | --- |
|  Japanese | レッド・ホット・エゴイスト | Red Hot Egoist |