Popalicious Station
From Inkipedia, the Splatoon wiki
"The fun don't stop!"
Popalicious Station
Pop all the balloons before they escape!​
"The fun don't stop!"
Popalicious Station
Pop all the balloons before they escape!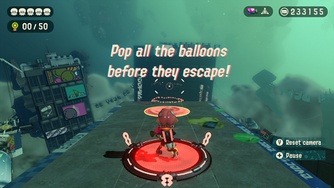 Station
F05
Test Fee
 500
Lives
× 5
Weapons
and rewards

 

Rec 

 1,100
 1,300
 1,500

Mem cake
Sheldon
Music
#14 crush
Popalicious Station is a test in Splatoon 2's paid downloadable content, Octo Expansion. This station is unlocked after clearing either Stamped-Up Station or Duh-Oh Station.
Access
The player must clear either F04C05 Stamped-Up Station or F06 Duh-Oh Station to access this test. The shortest way to access this station is to clear F04C05 Stamped-Up Station.
Walkthrough
Overview
The player must pop 50 balloons. Throughout the test, all the balloons will float away if they are not popped quickly enough. Some balloons move in circles, making them more difficult to pop. Once all balloons in a group are popped, the next group appears.
First Area
The player starts on a platform separate from the rest of the stage, with a Launchpad that leads to the main platform. Upon landing, three balloons will appear. Directly ahead on the other side of the grate, a single balloon will appear.
Second Area
Ahead four balloons will appear, as well as one to the left. Going forward will not lead to another part of the stage, so it is recommended to pop the group of four before the singular balloon. After popping all five balloons, six balloons will appear forward of the singular balloon, which are above Sanitized Octowashers.
Directly ahead are a group of eight balloons arranged in a rectangle. Afterward, a single balloon spawns to the right.
Third Area
Use the Bounce Pads behind the wall to reach the balloon, depending on your weapon of choice, and hop over the wall to a set of 8 balloons. After popping the balloons, move to your right to find a single balloon. Upon popping, to your left, three balloons will appear. After popping, one balloon will appear, and an Octowasher will be present again. Beyond the Octowasher is a second balloon, and after popping, leads to a single balloon that spawns four balloons when popped. Continue on after the four and pop the three balloons that appear one after the other, using the Gusher to reach the third. After popping, at your right, three balloons will appear, one alone, then the other two together. After being popped, jump down to the next balloon in the lowest area. Upon being popped, three balloons will be present behind crates. There will then be one balloon that will float along the path, and after popping, will spawn another balloon past two Bounce Pads and an Octowasher. Past that, two balloons will spawn in past two Octowashers going in circles. Once popped, go past a wall of crates to the final balloon.
Tips
To be added.
Gallery
Quotes

Translation needed
Identify and add the regions the English quotes are from.
edit
English
| | | |
| --- | --- | --- |
| " | Please pop all 50 target balloons. | " |
| | | |
| --- | --- | --- |
| " | If you leave a single balloon unpopped, you'll fail. | " |
| | | |
| --- | --- | --- |
| " | And the balloons will float away quickly, so don't waste any time. | " |
| | | |
| --- | --- | --- |
| " | A balloon got away - test failed. | " |
| | | |
| --- | --- | --- |
| " | Halfway there - stay focused! | " |
| | | |
| --- | --- | --- |
| " | Just a few left - get it done! | " |
| | | |
| --- | --- | --- |
| " | The balloons are escaping! Hurry! | " |
Trivia
The subtitle is a reference to the Pringles slogan "Once you pop, the fun don't stop".
The level in this station is the same as the Return of the Octarians, although the player is traveling in reverse.
Names in other languages

Translation needed
Add/complete Japanese, and French (NoA and NoE) translations
edit
Language
Name
Meaning
 Dutch
Opschieten nu het nog kan
Knalfuif
Maak alle ballonnen kapot voordat ze wegvliegen!
Hurry up now it still can[note 1]
Pop party[note 2]
Destroy all balloons before they fly away!
 German
Sei bloss schnell!
Ballon-Boulevard
Lass alle Ballons zerplatzen, bevor sie wegfliegen!
Just be fast!
Balloon-boulevard
Let all the balloons pop, before they fly away!
 Italian
Bersagli sfuggenti
Calle Caligine
Fai scoppiare tutti i palloncini prima che volino via!
Elusive targets
Fog Street
Pop all the balloons before they fly away!
 Russian
...Лови, пока не улетел!
Перестройкино
Плюхни шарики, пока не улетели!
...Lovi, poka ne uletel!
Perestroykino
Plyukhni shariki, poka ne uleteli!
...Catch before it flies away!
Rebuild Town Station
Splat the balloons before they fly away!
 Spanish
Quien no corre, vuela
Las Brumas
Revienta los globos antes de que se escapen.
Who does not run, flies
The Mists
Blow up the balloons before they escape.
Translation notes
↑ "Opschieten" is also a pun on "op schieten" (to shoot at).
↑ "Knalfuif" comes from "knallen" (to pop) and "fuif" (party). Using "knal-" as a prefix in words is used to intensify it in a positive way.