Toru Minegishi
From Inkipedia, the Splatoon wiki

The real world!
This article or section discusses subjects found
in real life
.
Toru Minegishi​
Toru Minegishi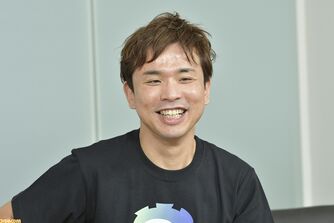 Full name
Toru Minegishi
Native name
峰岸透 (みねぎし とおる)
Pseudonym
Born
1975 (Age 44-45)
Shibukawa, Japan
Died
Occupation
Composer
Role(s)
Composer
Sound director
Instrument(s)
First game
Splatoon
Latest game
Splatoon 3
Splatoon games worked on
Toru Minegishi is a composer who has been working for Nintendo since 1998 and is the sound director and lead composer for Splatoon and Splatoon 2, and also continues to compose music for Splatoon 3. He has composed a number of songs performed by various fictional bands appearing in the games, such as Squid Squad, Hightide Era, Turquoise October, and Wet Floor.
Song Credits
Others
Player Make
Inkopolis Tutorial
Plaza
Splatfest Theme Announce
Splatfest Final Result Announce
Get Jingle
Defeat – Jingle
Nintendo Switch Presentation 2017 Trailer
Inkopolis Tutorial
Splatfest – Theme Announcement
Splatfest Victory! – Jingle
Splatfest Defeat
Splatfest – Final Results
Others
Opening ~ MC1 (1st Concert)
Color Pulse (1st Concert)
Acid Hues (1st Concert)
Muck Warfare (1st Concert)
Ebb & Flow (1st Concert)
Now or Never! (1st Concert)
Others
Other credits
Interviews
English
Japanese
External links