Actually it's Commander Tartar's Theme
Jump to navigation
Jump to search
Actually it's Commander Tartar's Theme​
Actually it's Commander Tartar's Theme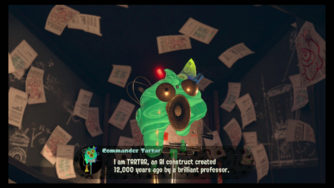 This page or section is under construction.




Please excuse its informal appearance while it is being worked on. We hope to have it completed as soon as possible!
Can you help us get it done?
This article or section involves non-English content




Things may have an official name in another language, but currently has no official English name.
English translations should be seen as unofficial or pseudo-canonical.
Note: Actually it's Commander Tartar's Theme is translated from its Japanese name.
Actually it's Commander Tartar's Theme is a song from the Octo Expansion.
Description
This song is played in a cutscene where the Telephone introduces itself as Commander Tartar and declares its plan to destroy and recreate all life on Earth with the NILS Statue.

The song is a heavily distorted version of Telephone's Theme, starting as the normal song (albeit with breaks every two beats), but then slows down and distorts. Then, slowed-down demonic noises play alongside said distorted vocal.
In-game, there's an extra part that's not heard on the Octotune version, consisting of repeated vocal intro and percussions.
Names in Other Languages
Language
Name
Meaning
 Japanese
実はタルタル総帥のテーマ
Jitsuwa Tartar Sōsui no Theme
Actually it's Commander Tartar's Theme