Ammo Knights Enhancifier
Jump to navigation
Jump to search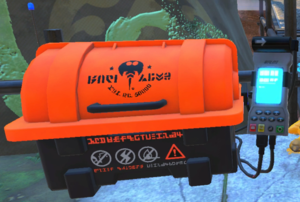 The Ammo Knights Enhancifier is a device in Octo Canyon, found near Cuttlefish Cabin in Tentakeel Outpost. Owned by Sheldon, it can be used to upgrade Agent 4's main weapons and Ink Tank as well as unlock additional sub weapons.
Use
Like in Octo Valley, the Hero Shot and Ink Tank can be upgraded to increase fire rate and Ink capacity respectively. The Burst Bomb and Seeker can no longer be unlocked, replaced by the Curling Bomb and Autobomb. Sub weapons can no longer be upgraded, but additional main weapons can now be upgraded. Unlike the Hero Shot, they can only be upgraded once.
After all upgrades have been purchased, Agent 4 can exchange

 1500 Power Eggs for a random ticket for use at the Crust Bucket. This option is unlimited, and the player can buy as many tickets as they can afford.
Upgrade list
Main article: Octo Canyon data
Purchasing each of the upgrades in the Enhancifier costs both

 Power Eggs and

 Sardinium.
Upgrade
Description
Cost
Hero Set
Hero Shot
Lv. 2
Increases fire rate. Watch your ink consumption!
 

2

 

800

Lv. 3
 

3

 

1500

Ink Tank
Lv. 2
Increases Ink Tank capacity, allowing you to use lots of ink.
 

2

 

1000

Lv. 3
 

2

 

1500

Splat Bomb
Already unlocked.
-
Curling Bomb
Moves straight while inking the ground before exploding. You can adjust how far it goes by holding it before releasing.
 

2

 

500

Autobomb
A bomb that flies to distant targets when thrown. Explodes automatically when it nears its target.
 

2

 

500

Other Weapons
Hero Roller
Lv. 2
Increases Power when flinging and rolling. Also increases speed at which you fling.
 

3

 

1500

Hero Charger
Lv. 2
Reduces charge time and allows you to execute a full-charge attack even faster.
 

3

 

1500

Hero Dualies
Lv. 2
Increases fire rate. Watch your ink consumption!
 

3

 

1500

Hero Brella
Lv. 2
Increases brella protection and shortens brella recovery time.
 

3

 

1500

Hero Splatling
Lv. 2
Reduces charge time and allows you to execute a full-charge attack even faster.
 

3

 

1500

Hero Blaster
Lv. 2
Increases fire rate. Watch your ink consumption!
 

3

 

1500

Hero Slosher
Lv. 2
Increases fling speed and power.
 

3

 

1500

Herobrush
Lv. 2
Increases fling speed and power. Also increases run speed while inking.
 

3

 

1500
Names in other languages
Language
Name
Meaning
 Japanese
カンブリボックス
Kamburi Bokkusu
Cambrian Box
 Dutch
Armada-Optimatron
Ammo Knights, from Latin optima, plural form of optimum (the best), and Greek -tron, a suffix denoting an instrument.
 French (NOE)
Opimatron
 German
Kalmarsenal-Kiste
Ammo Knights Box
 Italian
Potenziatron
 Russian
Терминал «Меч и Хвост»
Terminal «Mech i Khvost»
Terminal «Ammo Knights»
 Spanish (NOA)
Forja Todatinta
Ammo Knights Forge
 Spanish (NOE)
Mejoratrón de la armería
Armory Improve-a-tron