Area 3
From Inkipedia, the Splatoon wiki

This article or section is
incomplete
or is missing information.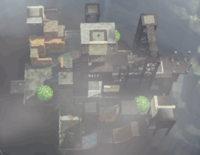 Area 3 is the third area of Octo Valley in Splatoon. Agent 3 unlocks this area after completing all missions in Area 2 and completing The Dreaded Octonozzle!, in which access is gained through an Inkrail. It has six standard kettles and one boss kettle.
Locations
Mission #10: Inkrail Skyscape

Location: Head right and there are 2 steep ramps. Use the ramps, jump on the platform nearest to Agent 3, then jump to the left where there is more platform. Another ramp can be found, leading Agent 3 to swim up the wall. Swim up the wall and reveal the hidden Kettle.
Mission #11: Inkvisible Avenues

Location: The kettle is located on a high platform directly to the left of the entrance to Area 3. Various obstacles including climbing up walls will have to be passed in order to reach it, however.
Mission #12: Flooder Junkyard

Location: Use the same path for reaching Mission 10. As Agent 3 reaches Area 3, head right, there are 2 steep ramps. Use the ramps and Jump on the Platform. Then go right. Paint the wall and use it to reach the higher platform, also a Inkrail can be found, even a small wall. Climb up the wall reveal the hidden Kettle leading to mission 12.
Mission #13: Shifting Splatforms

Location: Located on an elevated area at Area 3 on the left side of the area. Go left when first approaching area, passing the brick walls. There is a ramp to access and get up it. Mission 13 should be behind Agent 3 when above the ramp.
Another way of reaching Mission 13, head to the 2 ramps on the right side of the area, make it to the platform and there should be a small wall in front of Agent 3. Going past the small wall, go around the center of the tower, and behind it is the kettle to Mission 13.
Mission #14: Octoling Assault

Location: Located on the 2nd level of the tower in Area 2. When on the 2nd level, find platforms resembling a staircase, then the grate path will take Agent 3 to Mission 14.
Mission #15: Undeniable Flying Object

Location: Upon entering Area 3, Mission 15 is the only kettle found inside the monument like tower. It's also next to the ramp if players wanna escape from that route instead of walking back.
Mission B3: The Rampaging Octowhirl!

Location: The Boss Kettle is located in the center tower, but the player must ink up the walls on the side, swim up to the grate platforms, and climb carefully to the top to reach it. Be warned that there are walls to climb up from grates, and turning to a squid too early could lead the player to drop back down to the ground.
Gallery

This article or section needs more images!
You can help the wiki by
adding some
to keep it looking fresh!