Badge
From Inkipedia, the Splatoon wiki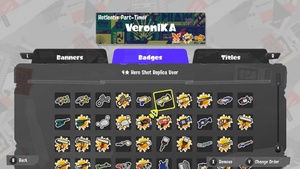 For badges earned for inking turf in Splatoon 2, see Weapon badge.
In Splatoon 3, a variety of badges can be earned through achievements and playing the game, and up to three of them can be displayed at once on the bottom-right corner of a player's Splashtag.
Badges are awarded for fulfilling certain criteria such as getting 50 Turf War wins, earning 10,000 Grizzco points and defeating DJ Octavio in Return of the Mammalians. Some badges have multiple tiers, such as 4- and 5-star weapon freshness. Some Splatfest-related achievements, such as reaching Ruler rank, also reward badges.
Lists of badges
There are currently 415 badges as of version 4.0.0, and the following tables of badges are arranged in the order that they appear in the Splashtag menu.
Weapon freshness
These badges are obtained for raising a main weapon's freshness to 4 and 5 stars respectively.
Special weapon wins
If a player wins a match with a special weapon a certain number of times, they obtain normal, silver and gold badges.
Battle
Brands
If a player accumulates 30 and 100 stars for gear of a specific brand, they recieve a normal and golden badge respectively. Excluded are pieces of gear not featured in shops like the Splatfest Tee or amiibo-branded pieces of gear.
Purchased items
Shell-Out Machine
Spent <Number> Cash on the Shell-Out Machine
Note
300,000
3,000,000
30,000,000
Hit the Shell-Out Machine Jackpot[7] <Number> Times
4
8
16
[8]
Level
Level
Reached Level <Number>
30
50
100
200
300
400
500
600
700
800
900
999
Salmon Run Next Wave
Lifetime Grizzco Points
<Number> Grizzco Point Club
10,000
100,000
9,999,999
Miscellaneous
Image
In-game description
MAX Hazard Level Cleared
Story Mode
Tableturf Battle
Tableturf Rank
Reached Tableturf Rank <Number>
30
40
50
100
200
300
400
500
600
700
800
900
999
Card collection
Collected <Number> Tableturf Battle Cards
90
120
150
Miscellaneous
Image
In-game description
How to obtain
Tableturf Battle Dojo Max Level Champ
Defeat every character on Level 3 at least once
Trivia
It is possible to obtain the Crab-N-Go concessions badges without participating in any battles with a bonus active, as the game only tracks how many tickets have been used.
It is assured to obtain the Murch and Spyke Orders badges without purchasing any of the orders, as the game only tracks how many orders have been sent in.
In a promotional image for badges, the player has 5★ weapon badges for weapons they don't have the 4★ badge in, which is impossible as a 5★ badge's requirement is an extension of the 4★ badge's.
As of Version 2.0.0, it is possible to obtain all 4 badges relating to Tricolor Battles during a single Splatfest, as players are not locked to be attackers or defenders.
In Version 3.0.0, the 4★ and 5★ Splash-o-matic, Sploosh-o-matic, Rapid Blaster, and Rapid Blaster Pro badges were graphically updated, with tweaks made to the weapons' coloring.
During Fresh Season 2023, the Z+F badge could technically be obtained for free as the catalog during the season only included gear from Z+F, with the total star value equating more than 30 stars, the amount of stars needed to get a brand badge.
Names in other languages
Language
Name
Meaning
 German
Abzeichen
Badge
 Russian

Значок


Znachok
Badge
Notes