Baseball vs. Soccer
From Inkipedia, the Splatoon wiki
Baseball vs. Soccer​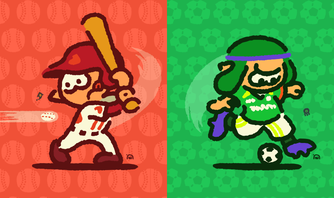 Team

 

Baseball

 

Soccer
Region
North America and Oceania
Start

7 April 2018

, 04:00 UTC
End

8 April 2018

, 04:00 UTC
Score method
category tally
Result type
combined
Popularity
40.01%
59.99%
Wins
%
Expression error: Unrecognized punctuation character "{".%
Solo wins
50.81%
49.19%
Team wins
50.95%
49.05%
Normal clout
%
Expression error: Unrecognized punctuation character "{".%
Pro clout
%
Expression error: Unrecognized punctuation character "{".%
Score
2
1
Winner
Baseball
Region
Start

25 September 2023

, 16:39 UTC
End

26 September 2023

, 16:39 UTC
Popularity
%
Expression error: Unrecognized punctuation character "{".%
Wins
%
Expression error: Unrecognized punctuation character "{".%
Solo wins
%
Expression error: Unrecognized punctuation character "{".%
Team wins
%
Expression error: Unrecognized punctuation character "{".%
Normal clout
%
Expression error: Unrecognized punctuation character "{".%
Pro clout
%
Expression error: Unrecognized punctuation character "{".%
Score
Expression error: Unexpected < operator.
Expression error: Unexpected < operator.
Winner
Region
Start

25 September 2023

, 16:39 UTC
End

26 September 2023

, 16:39 UTC
Popularity
%
Expression error: Unrecognized punctuation character "{".%
Wins
%
Expression error: Unrecognized punctuation character "{".%
Solo wins
%
Expression error: Unrecognized punctuation character "{".%
Team wins
%
Expression error: Unrecognized punctuation character "{".%
Normal clout
%
Expression error: Unrecognized punctuation character "{".%
Pro clout
%
Expression error: Unrecognized punctuation character "{".%
Score
Expression error: Unexpected < operator.
Expression error: Unexpected < operator.
Winner
Baseball vs. Soccer was a Splatfest event in Splatoon 2. It was held in North America and Oceania. It was announced on 30 March 2018. The results were given on 8 April 2018.
Details
The full name of each choice was "BASEBALL" and "SOCCER". The team name portion of Splatfest titles was "Baseball" and "Soccer".
Baseball vs. Soccer featured the 9th Shifty Station layout, Grapplink Girl.
Gallery
Dialogue
English
Announcement
Pearl's Dialogue
Marina's Dialogue
Region

Pearl


"-"

Marina


"Which sport do you prefer? Baseball or soccer?"
NOA

Pearl


"Let's hear it, Marina. Which side are you on?"

Marina


"Soccer for sure."
NOA

Pearl


"-"

Marina


"The teamwork! THE TENSION!"
NOA

Pearl


"The snoring! Soccer is BOOOORING!"

Marina


"-"
NOA

Pearl


"I'd rather watch ink dry...at the post office...WITH SHELDON."

Marina


"-"
NOA

Pearl


"-"

Marina


"Oh, because baseball is so exciting..."
NOA

Pearl


"-"

Marina


"A starfish moves faster than a game of baseball!"
NOA

Pearl


"At least baseball players don't flop on the ground at the lightest contact!"

Marina


"At least soccer is a real sport played by athletes who are actually athletic!"
NOA

Pearl


"-"

Marina


"Baseball is the most contrived artificial sport ever created."
NOA

Pearl


"-"

Marina


""Try to throw this ball past that player, but only in this small area...""
NOA

Pearl


"-"

Marina


""And if she hits it, pick it up and throw it at her, but only if she's stealing a-""
NOA

Pearl


"You don't know how to play baseball, do you?"

Marina


"-"
NOA

Pearl


"-"

Marina


"What? Of course I do! You just grab, uh...the club and smack in a touchdow-"
NOA

Pearl


"-"

Marina


"OK FINE. I don't know how to play baseball..."
NOA

Pearl


"Which sport do you like more? Head to the Splatfest terminal and pick a side!"

Marina


"-"
NOA



Results
Pearl's Dialogue
Marina's Dialogue
Region

Pearl


"BLAM! Team baseball knocks it out da paaaark!"

Marina


"Buh..."
NOA

Pearl


"Gimme a beat, Marina!"

Marina


"-"
NOA

Pearl


"-"

Marina


"Boom, pshh. Boom, boom, pshh..."
NOA

Pearl


"BASEBALL IS IN THE PLACE, Y'ALL!"

Marina


"-"
NOA

Pearl


"They fall but we stay tall 'cuz we ain't small! HAH!"

Marina


"-"
NOA

Pearl


"Up top, sluggers!"

Marina


"We'll get 'em next time, strikers."
NOA

Pearl


"If you participated in the Splatfest, your prizes are waiting in the Square!"

Marina


"-"
NOA



Spanish (Latin America)
Announcement
Perla's Dialogue
Marina's Dialogue
Region

Perla


«-»

Marina


«¿Cuál deporte prefieres? ¿Beisbol o futbol?»
(Which sport do you prefer? Baseball or soccer?)
NOA

Perla


«Adelante, Marina, ¿cuál es tu favorito?»
(Go on, Marina, which one's your favorite?)

Marina


«La respuesta es obvia, ¡el futbol!»
(The answer is obvious: soccer!)
NOA

Perla


«-»

Marina


«¡Es genial! ¡La acción constante, el trabajo en equipo, la PRECISIÓN!»
(It's great! The constant action, the teamwork, the PRECISION!)
NOA

Perla


«¡Los bostezos! ¡El futbol es la cosa más aburrida!»
(The yawns! Soccer is the most boring thing!)

Marina


«-»
NOA

Perla


«Preferiría escuchar a Jairo describir todos sus diseños... con lujo de detalle.»
(I'd rather listen to Sheldon describe all of his designs... in full detail.)

Marina


«-»
NOA

Perla


«-»

Marina


«Sí, claro, como si el beisbol fuera el deporte ráfaga.»
(Yes, of course, as if baseball is a booming sport.)
NOA

Perla


«-»

Marina


«¡Una carrera de estrellas de mar es más emocionante que un partido de beisbol!»
(A starfish race is more exciting than a baseball match!)
NOA

Perla


«¡Al menos los beisbolistas no se tiran al piso si los toca el viento!»
(At least the baseball players don't throw themselves at the floor if the wind touches them!)

Marina


«¡Al menos para jugar futbol uno debe ser atlético!»
(At least to play soccer one has to be athletic!)
NOA

Perla


«-»

Marina


«El beisbol es el deporte más complicado y artificial jamás creado.»
(Baseball is the most complicated and artificial sport ever created.)
NOA

Perla


«-»

Marina


«"Lanza la bola hacia este jugador, pero solo dentro de esta zona chiquitita".»
("Throw the ball towards this player, but only inside of this little little zone.")
NOA

Perla


«-»

Marina


«"Y si la golpea, recógela y aviéntasela, pero solo si se está robando la..."»
("And if it's hit, get it back and throw it, but only if they're stealing the...")
NOA

Perla


«No tienes ni idea de cómo se juega el beisbol, ¿verdad?»
(You have no idea how baseball is played, right?)

Marina


«-»
NOA

Perla


«-»

Marina


«¡Obvio que sí! La raqueta se usa para pegarle a la bola y anotar una canasta...»
(Of course! The racket is used to hit the ball and score a slam dunk...)
NOA

Perla


«-»

Marina


«Está bien, está bien, lo acepto. No conozco las reglas del beisbol.»
(Alright, alright, I accept it. I don't know the rules of baseball.)
NOA

Perla


«¿Ustedes qué deporte eligen? ¡Vayan a la terminal de voto y elijan un equipo!»
(Which sport do you choose? Go to the vote terminal and choose a team!)

Marina


«-»
NOA



Results
Perla's Dialogue
Marina's Dialogue
Region

Perla


«¡El Equipo Beisbol se voló la barda y se llevó el partido!»
(Team Baseball flew over the wall and took the game!)

Marina


«Ugh...»
NOA

Perla


«¡Márcame el ritmo, Marina!»
(Drop me a beat, Marina!)

Marina


«-»
NOA

Perla


«-»

Marina


«Bum, bum, plas... Bum, bum, plas...»
(Boom, boom, pssh... Boom, boom, pssh...)
NOA

Perla


«¡El beisbol es el campeón!»
(Baseball is the champion!)

Marina


«-»
NOA

Perla


«En la corte del rey de los deportes, no hay lugar para clavados y reproches.»
(On the king of the sport's court, there's no place for dives and accusations.)

Marina


«-»
NOA

Perla


«¡Aplausos para los jonroneros!»
(A round of applause for the homerunners!)

Marina


«Que no decaigan los ánimos, equipo. La próximo vez venceremos.»
(Don't be discouraged, team. We'll get 'em next time!)
NOA

Perla


«¡Si participaron en el festival, recojan sus premios en el centro!»
(If you participated in the Splatfest, collect your prizes at the Square!)

Marina


«-»
NOA



Top 100
Names in other languages
| Language | Name | Meaning |
| --- | --- | --- |
|  Spanish (NOA) | Béisbol vs Futbol | Baseball vs Soccer |

Translation needed
The section or page is missing non-English translations or material from other localizations
edit
Private Battle
Language
Name
Meaning
 Japanese

野球/サッカー


Yakyū / Sakkā
Baseball / Soccer
 Dutch

Honkbal / Voetbal

Baseball / Soccer
 French (NOA)

Baseball/Soccer

 French (NOE)

Baseball/Football

 German

Baseball/Fußball

Baseball/Football
 Italian

Baseball/Calcio

Baseball / Soccer
 Russian

Бейсбол / футбол


Beysbol / futbol
Baseball / football
 Spanish

Béisbol/Fútbol
See also
External links