Beaker's Depot
Jump to navigation
Jump to search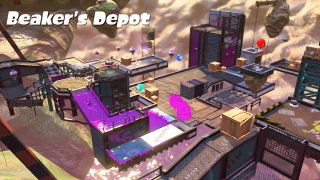 Beaker's Depot is the third section of Octo Canyon of Splatoon 2. The area holds 5 Kettles and one boss kettle. The area also holds some mechanics, such as Ride rails, Propellers, Grapplinks, and moving platforms. The only obstacle that are against Agent 4 are Sprinklers.
Missions
Collectables
At the entry of this sector, go on the propeller and shoot at the grapplink. Find a way to get on the tower-like platforms. Once founded, there is a small crate that holds the Sardinium.
There is a balloon in the gap of Mission 10. Pop the balloon to continue the search of the Scroll. The next set of balloons are near the ride rail which leads Agent 4 back to the entry. The third balloon is on the path of the ride rail. Get on the ride rail to reach the balloon. The same is with the fourth balloon, but it is continuing the ride rail path. The fifth Balloon goes back to the foyer of the sector. The sixth balloons comes in 3, but they separate quickly. The seventh balloon is at the propeller to reach missions 12 and 15. The Last balloon is now in a hiding place, there is a small crate and an armored crate.
This article or section needs more images!
You can help the wiki by

adding some

to keep it looking fresh!
Trivia
Names in other languages
To do:
Add/Complete Japanese, French (NoA and NoE), German, Italian, Russian and Spanish (NoA and NoE) translations

edit
Language
Name
Meaning
 Dutch
Medusamagazijn
Jellyfish warehouse[note 1]
 French (NOE)
Bastion Branchies
 German
Schnabel-Depot
 Italian
Bastione Branchia
 Russian
Стройбаза «Красный Клюв»
Stroybaza «Krasnyy Klyub»
 Spanish (NOE)
Bastión Branquia
Translation notes
↑ A "Medusa" is the term of non-polyp form of cnidarians.