Blog:Custom Idols
From Inkipedia, the Splatoon wiki
Heyo! So I made some custom Splatoon stars, and I was wondering if you could help me with some Splatfest ideas? I'll give more info on them, but for right now, I'M OUTA HERE! See ya.
Kids of Cephopolis​
Kids of Cephopolis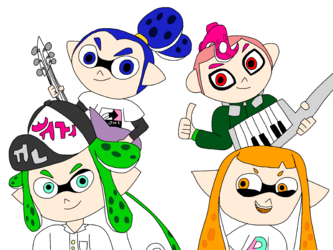 Species
Inkling
Height
Hair color
Green (Squidden)
Pink (Inky), Orange in debut album
Eye color
Teal
Orange
Age
19 (Squidden)
20 (Inky)
Gender
Male (Squidden)
Female (Inky)
Relations
Location
Inkopolis Central
Shop
Members
About the band
Kids of Cephopolis is my custom Splatoon Idols. They first started as a small band, like perhaps Squid Squad, but popularity began increasing. Before their big popularity, they made a cover of Now or Never, and other minor battle songs. After they hit popularity, they did demo covers of other songs to practice singing for a crowd. They now do Splatfest songs and Inkopolis News.
Squidden
Squidden is one half of the Singing duo part of Kids of Cephopolis. He has a mysterious presence, but he is actually calm, kind, and pretty laid back. He's a good singer and can also play the guitar. He prefers the Splat Brella. He met Inky by pure coincidence, and they hit it off well due to common interests. He likes skirts because they're comfy and easy to wear, nothing more.
Inky
Inky is the other half of the Singing duo part of Kids of Ceohopolis. She is fun loving and wild! She also sometimes likes to poke fun at Squidden. She's very talented vocally and plays piano quite well. She also enjoys painting in her spare time. She has a bit of a temper. She prefers the Roller. She also has relations with Squidward. She likes shorts, because she doesn't risk people looking up her skirt (if she wore one).
Squidward
William Squidward Splatson is the blue inkling that plays the electric guitar. His music is usually used for Normal battles, but will sometimes be used for Splatfest music. He is Inky's love interest. He is 22 years of age.
Benjamin
Benjamin Dovyr, or Ben, plays the keyboard. After popularity struck their band, he got a keytar. He has a crush on Marina, as well as a brotherly friendship with Squidward. He occasionally refers to Squidward as "Senpai" meaning "upperclassmen". He is 22 years of age.
Kenneth
Kenneth, or Ken for short, is the drummer for Kids of Cephopolis, he is an inkling who developed wrong. He looks like a normal inkling with the same skin color as his ink. He is Inky's older brother, and is 25 years of age. Ever since he was young, he had always wanted to be a drummer. When he found out about his younger sister's band, he decided to join as a drummer upon her asking.
Splatfests so far (feel free to add any)
 

Ferris Wheels vs.

 

Roller Coasters

 

Strawberries vs.

 

Watermelons

 

Spork vs.

 

Foon (Which weird utensil is best?)

 

Long hair vs.

 

Short hair

 

Skirts vs.

 

Shorts

 

Truth vs.

 

Ideals (What is better for the fate of Squid-manity?)
Splatfest Quotes
(Callie is Squidden, Marie is Inky)
Ferris wheels vs. Roller Coasters
Callie's Dialogue
Marie's Dialogue
Region
Callie:
"What ride is BETTER?"
Marie:
"Roller Coasters or... Ferris wheels? Really?"
NOA
Callie:
"Yes, Ferris wheels. They're nice, quiet, and soothing. Perfect for after a match."
Marie:
"Yeah, perfectly BORING. I like nonstop fun, ok? THAT relaxes me."
NOA
Callie:
"HOW DOES THAT RELAX YOU?!?!?"
Marie:
"It just does. It's super fun and fast and incredible. Perfect for after a match."
NOA
Callie:
"I think you're mistaken for FERRIS WHEELS."
Marie:
"The only thing I like about Ferris wheels is seeing Inkopolis from afar. And even that's kinda lame."
NOA



Ferris wheels wins
Callie's Dialogue
Marie's Dialogue
Region
Callie:
"Yes! Ferris wheels!"
Marie:
"I thought we would be too speedy for you guys..."
NOA
Callie:
"Well, you were at one point. But we played it simple. You played too complex."
Marie:
"WHAT?!? DUDE! THAT WAS SAVAGE!!"
NOA
Callie:
"Well, its the truth."
Marie:
"-"
NOA
Callie:
"You did put up an inkredible match, though."
Marie:
"Hahah, puns."
NOA



Roller Coasters wins
Callie's Dialogue
Marie's Dialogue
Region
Callie:
"-"
Marie:
"Roller Coasters for the WIN!"
NOA
Callie:
"Congratulations, I guess."
Marie:
"I guess we were too fast for you!"
NOA
Callie:
"Does this mean there will be no more Ferris wheels?"
Marie:
"It does."
NOA
Callie:
"-"
Marie:
"No wait! I was just kidding!"
NOA



Strawberry vs. Watermelon
Callie's Dialogue
Marie's Dialogue
Region
Callie:
"The next fest is here!"
Marie:
"Which fruit fills you with yum? Strawberry or Watermelon?"
NOA
Callie:
"Simple. It's Strawberries. Nice, sweet strawberries."
Marie:
"Strawberries aren't sweet. They're some sorta new, weird flavor. Bleh. Watermelons are better."
NOA
Callie:
"Are they formal? Are they often used as cake flavors? Do they even have flavors?"
Marie:
"Well, no, no, and YES!!! P.S. I hate formal things."
NOA
Callie:
"Well, I like strawberries more."
Marie:
"This is like comparing apples to oranges. We all know oranges are clearly better."
NOA



Strawberry wins
Callie's Dialogue
Marie's Dialogue
Region
Callie:
"Ngyes! Strawberries win!"
Marie:
"The melons shall be forgotten... *sigh*"
NOA
Callie:
"Hey, do you like chocolate?"
Marie:
"Yes, but not strawberries. I know what you're up to."
NOA
Callie:
"I was just gonna put it on a watermelon to make you realize something."
Marie:
"Realize what? That it would be delish?"
NOA
Callie:
"That it would be the exact opposite."
Marie:
"Yeah, sure."
NOA



Watermelon wins
Callie's Dialogue
Marie's Dialogue
Region
Callie:
"Aww..."
Marie:
"Melonheads for the wiiiin!"
NOA
Callie:
"Good game, good game."
Marie:
"Get gradually watermeloned!"
NOA
Callie:
"Is that even a word?"
Marie:
"No. No it is not."
NOA
Callie:
"Why did you even say that?"
Marie:
"Obscure pop-culture reference…?"
NOA



Spork vs. Foon
Callie's Dialogue
Marie's Dialogue
Region
Callie:
"Spork vs... foon? Excuse my Inkling, but what the CARP is a FOON?!?"
Marie:
"You don't know about the joy that is foons?"
NOA
Callie:
"The... what?"
Marie:
"Foons are amazing, they're perfect for slowly eating ice cream, nibble by nibble!"
NOA
Callie:
"Well, in the grand scheme of things, sporks are more useful."
Marie:
"In what grand scheme, the grand scheme of propaganda? Foons are obviously better."
NOA
Callie:
"Nevermind, just pick your side..."
Marie:
"Yep, pick team foon!"
NOA
Callie:
"What was that about propaganda?"
Marie:
"SQUIDDEN!!"
NOA



Foon Wins
Callie's Dialogue
Marie's Dialogue
Region
Callie:
"Aww..."
Marie:
"YES, FOOOOOOOOOONSAH!!!!"
NOA
Callie:
"Congratulations, but I still think sporks are better."
Marie:
"Sorry, can't have an opinion."
NOA
Callie:
"But I-"
Marie:
"Nope, we won."
NOA
Callie:
"That- you- ARGH!!"
Marie:
"Sorry, Squids. Splatfest rules are rules."
NOA



Spork wins
Callie's Dialogue
Marie's Dialogue
Region
Callie:
"Sporks! Yes!"
Marie:
"Nooooo!! My tiny fork-end spoons..."
NOA
Callie:
"Sporks just make more sense, y'know?"
Marie:
"I guess you're right..."
NOA
Callie:
"They're the perfect balance of spoon and fork. Foon shows how a design can be messed up."
Marie:
"Yeah... BUT CONGRATS TO TEAM FOON ANYWAY FOR BEING CHAOTIC!!"
NOA
Callie:
"UH, INKY?"
Marie:
"Sorry, got too excited."
NOA