Blog:Inkipedia 2.0
From Inkipedia, the Splatoon wiki

It's here. It's finally here. Inkipedia 2.0.
What is it?
Although we haven't undergone an actual system update, I feel like this warrants the "2.0" branding simply because it's so major. As you've noticed, this post wasn't posted under a user namespace, or even the Inkipedia namespace. Drumroll, please...
Features
Blogs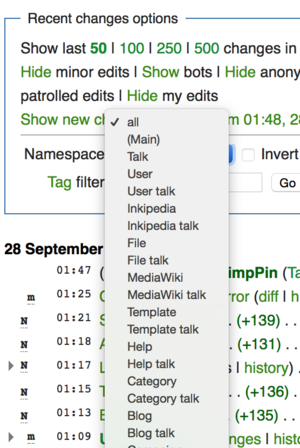 We've added, thanks to Prod, an entirely new Blog namespace. Yes, that's right, you can create blog posts now. Make any blog that relates to Inkipedia or Splatoon by creating a page named Blog:(The title of your blog post), and sign each post with your signature so you can say it's yours. You can even comment on other users' blogs editing the Blog talk namespace, found in the Discussion tab of every blog post! Go ahead and give it a try here! And if you're totally against the idea of blogs, you can hide them from recent changes using the handy drop-down menu and the "invert selection" checkbox.
Feel free to post a chronological list of your blog posts in a user subpage, such as this one here.
Blogs were agreed upon by the Inkipedia Administrators as a communications tool and a way to share thoughts and talents without interfering with the wiki's content. We're hoping that through blogs, the community will continue to grow, and we encourage you to make some in the near future!
Inkipedia and Splatoon Wikia Merge
Yep, you heard that right! The leadership of both Inkipedia and the Splatoon Wikia have decided that the best course of action for our respective communities going forward is to begin a merge. This is enormous news, and shows a lot of courage from all involved parties.
Here are the specifics:
The Wikia community will join Inkipedia on our independent website.
Missing information on Inkipedia that is available on the Wikia will be added.
Three of the Wikia administrators (PlayR489, SkittlesBeats, and Xavthedragon) will receive temporary patroller rights.
More information about the merge will be added in a future blog post, but we hope to implement it within the next month.
Pikan
Short for "Pikipedia analyzer", but don't let the name fool you: this tool is for Inkipedia! With it, a button with the text "Check for problems" will appear at the top of the textbox whenever you edit an article. Using that is completely optional, but if you press it, it'll show any problems that it finds with the text. This ranges from finding Wikia leftovers, to warning that "Splatoon" isn't italicized, to suggesting better ways to organize the page's code. If you don't see it, try refreshing the page and skipping the cache, which should be done with Ctrl + F5.
You can find more information on Pikan here.
---
That's all for now, folks. If you have any questions, comments, or other feedback, make sure to leave a comment in the comments section!