Competitive
:
Booyah Battle 4
From Inkipedia, the Splatoon wiki
Unofficial!
This article discusses content that is not part of the official
Splatoon series
canon but is part of the community or competitive gaming space.
Splatoon​
Booyah Battle 4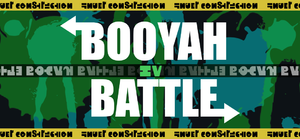 Booyah Battle 4 was a Splatoon online tournament held on November 14th, 2015.[1] Notably, it ended in a tie between Team Nintendome and The Squid Box due to a server maintenance from Nintendo during the Grand Finals.[2]
It was the fourth tournament in the Booyah Battle tournament series.
Standings
The standings for the event are as follows:[3]
References