Catalog
From Inkipedia, the Splatoon wiki
| | | |
| --- | --- | --- |
| " | Earn Catalog Points in battle or on the job to get your hands on inkredible items! | " |
The catalog is an item in Splatoon 3 that can be obtained from Harmony at Hotlantis. It allows the player to unlock various seasonal rewards, primarily for customization.
Description
The catalog is a free in-game seasonal collection of rewards the player can unlock through accumulating points in-game. It can be received from Hotlantis upon reaching level 4. Catalog rewards include exclusive emotes, gear, locker room items, and Splashtag banners, titles, and badges,[1] as well as food tickets and ability chunks.[1][2] Its structure can be compared to the Battle pass system of similar games.
Catalog Points
When the player earns experience from online battles and job shifts in Salmon Run Next Wave, they will receive the same amount in Catalog Points, which will increase their catalog level, allowing them to progress through the catalog. Catalog Points can also be earned through achievements. If a player raises their catalog level during a Splatfest Sneak Peek, they will receive a conch shell.[3] Catalog Point gains after a Splatfest battle are increased by 20%.
Seasons
Following Splatoon 3's launch, a new catalog will be distributed every three months for two years. In the Splatoon 3 Nintendo Direct, each planned catalog is labeled after a season and year. New weapons will be added to the game in updates around the same time as catalogs.[2]
Drizzle Season 2022
This article or section is a stub.


You can help the wiki by adding to it.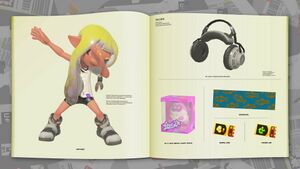 This will be the first released catalog upon Splatoon 3's launch. Runs from 09/09/2022 to 11/30/2022. Titles, Cards, Food & Drink Tickets, and Banners given will be random unless specifically shown in the catalog.
Items Level 1 - 25
Level
Item Type
Name
Icon
1
Banner
2
Title
3
Emote
The Lowdown
4
Food Ticket
Double EXP
5
Headgear
Studio Headphones
6
Clothing
White Tee
7
Shoes
Pink Trainers
8
Pack of Cards
9
Sticker
EET-TPT-SM Sticker
10
Decoration
Yellow Squid Bumper
11
Food Ticket
12
Pack of Cards
13
Banner
14
Sticker
SG-BNHPHN Graffiti
15
Emote
No Chill
16
Drink Ticket
17
Pack of Cards
18
Title
19
Headgear
Air Gills DX
20
Clothing
Tentatek Tandem
21
Shoes
Punk Pinks
22
Sticker
SG-ATN-DPC Sticker
23
Pack of Cards
24
Food Ticket
25
Mystery Box
Items Level 26 - 50
Items Level 51 - 75
Items Level 76 - 100
References