Catalog
From Inkipedia, the Splatoon wiki
| | | |
| --- | --- | --- |
| " | Earn Catalog Points in battle or on the job to get your hands on inkredible items! | " |
The catalog is an item in Splatoon 3 that can be obtained from Harmony at Hotlantis. It allows the player to unlock various seasonal rewards, primarily for customization.
Description
The catalog is a free in-game seasonal collection of rewards the player can unlock through accumulating points in-game. It can be received from Hotlantis upon reaching level 4. Catalog rewards include exclusive emotes, gear, locker room items, and Splashtag banners, titles, and badges,[1] as well as food tickets and ability chunks.[1][2] Its structure can be compared to the battle pass system of similar games.
Catalog Points
With a catalog, the player can accumulate Catalog Points to increase its level. Each level requires 9,500 Catalog Points. When the player earns experience from online battles and job shifts in Salmon Run Next Wave, they receive the same amount in Catalog Points too. They can also earn Catalog Points through achievements.
If the player raises their catalog level during a Splatfest Sneak Peek, they receive a conch shell to spend on the Shell-Out Machine.[3] Catalog Points received after Splatfest Battles or Big Run are multiplied by 1.2×.
Seasonal catalogs
Following Splatoon 3's launch, a new catalog is distributed every three months for two years. In the Splatoon 3 Nintendo Direct, each planned catalog is labeled after a season and year. New weapons plan to be added to the game in updates around the same time as catalogs. [2]
Some of the catalog gear must first be unlocked through leveling up the appropriate catalog. The other pieces of gear can be obtained through Shops beforehand, in which case reaching the catalog level that would give the gear instead gives the player the gear's cost in Cash.
Drizzle Season 2022
Main article: Drizzle Season 2022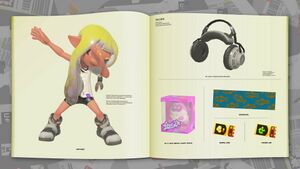 This is the first released catalog upon Splatoon 3's launch, available from launch until 1 December 2022 at 00:00 UTC. Titles, Tableturf Battle cards, food and drink tickets, and banners given are random unless specifically shown in the catalog.
* Only unlockable through catalog. Once unlocked it can be bought in shops to raise the star power or ordered through Murch.
Chill Season 2022
Main article: Chill Season 2022
This season began on 1 December 2022.
* Only unlockable through catalog. Once unlocked it can be bought in shops to raise the star power or ordered through Murch.
Catalog 2 and onward
Maxing out a catalog replaces the seasonal catalog with a new one giving a Mystery Box for every ten levels gained. Maxing out this catalog repeats the process until the end of a season where the total amount of levels will be revealed to the player why getting the new seasonal catalog.
Level
Item Type
Name
Icon
Every 10

 10,000

, ticket, or ability chunks
Mystery Box
Gallery
References