Ce vs. Pa
Jump to navigation
Jump to search
Ce vs. Pa​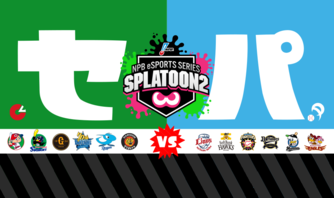 Team

 

Ce

 

Pa
Region
Japan
Start

11 May 2019

, 06:00 UTC
End

12 May 2019

, 06:00 UTC
Score method
category tally
Shared results?
Yes
Popularity
55.39%
44.61%
Wins
{{{region 1 alpha wins}}}%
Expression error: Unrecognized punctuation character "{".%
Solo wins
{{{region 1 alpha solo wins}}}%
Expression error: Unrecognized punctuation character "{".%
Team wins
{{{region 1 alpha team wins}}}%
Expression error: Unrecognized punctuation character "{".%
Normal clout
48.69%
51.31%
Pro clout
48.36%
51.64%
Score
1
2
Winner
Pa
Region
Start

1 July 2019

, 00:09 UTC
End

2 July 2019

, 00:09 UTC
Popularity
{{{region 2 alpha popularity}}}%
Expression error: Unrecognized punctuation character "{".%
Wins
{{{region 2 alpha wins}}}%
Expression error: Unrecognized punctuation character "{".%
Solo wins
{{{region 2 alpha solo wins}}}%
Expression error: Unrecognized punctuation character "{".%
Team wins
{{{region 2 alpha team wins}}}%
Expression error: Unrecognized punctuation character "{".%
Normal clout
{{{region 2 alpha normal clout}}}%
Expression error: Unrecognized punctuation character "{".%
Pro clout
{{{region 2 alpha pro clout}}}%
Expression error: Unrecognized punctuation character "{".%
Score
Expression error: Unexpected < operator.
Expression error: Unexpected < operator.
Winner
Region
Start

1 July 2019

, 00:09 UTC
End

2 July 2019

, 00:09 UTC
Popularity
{{{region 3 alpha popularity}}}%
Expression error: Unrecognized punctuation character "{".%
Wins
{{{region 3 alpha wins}}}%
Expression error: Unrecognized punctuation character "{".%
Solo wins
{{{region 3 alpha solo wins}}}%
Expression error: Unrecognized punctuation character "{".%
Team wins
{{{region 3 alpha team wins}}}%
Expression error: Unrecognized punctuation character "{".%
Normal clout
{{{region 3 alpha normal clout}}}%
Expression error: Unrecognized punctuation character "{".%
Pro clout
{{{region 3 alpha pro clout}}}%
Expression error: Unrecognized punctuation character "{".%
Score
Expression error: Unexpected < operator.
Expression error: Unexpected < operator.
Winner
Ce vs. Pa was a Splatfest event in Splatoon 2. It was held in Japan only. It took place from 11 May 2019 to 12 May 2019. It was announced on 3 May 2019 at 08:00 UTC in-game. The results were given on 12 May 2019.
Details
The Splatfest is part of a collaboration between Nintendo and the NPB (Nippon Professional Baseball), the highest-level professional baseball league in Japan, under the latter's eSports brand, NPB eSports.
As part of this collaboration, several preliminary events will be held, and each team in the NPB will also select a team from the top 12 of the Splatoon Koshien (Japanese Splatoon championships) to be seeded teams. The seeded teams and top finishers of the preliminary events will then face off in a finals tournament on 18 May 2019 and 19 May 2019.
Ce vs. Pa featured the twenty-second Shifty Station layout, The Chronicles of Rolonium.
Trivia
Gallery
Dialogue
Japanese
Ce (セ) vs. Pa (パ) Announcement
ヒメ's Dialogue
イイダ's Dialogue
Region

ヒメ:
「NPB プレゼンツ! どちらを応援する? セ VS パーー!」
(NPB presents! Which do you cheer for? Ce versus Pa--!)

イイダ:
「おお~、伝統を感じるお題ですね~♪」
(Ohh~, this feels like a traditional theme~♪)
NOJ

ヒメ:
「対決するのは、 「セ・リーグ」こと セントラル・リーグと!」
(The opponents will be: "Ce League" the central league and..!)

イイダ:
「「パ・リーグ」こと パシフィック・リーグです!」
("Pa League" the Pacific league!)
NOJ

ヒメ:
「これは… 「野球」のお題ってことか?」
(It says here... the theme is "baseball"?)
イイダ:
「-」
NOJ
ヒメ:
「-」

イイダ:
「あ、 カミ様の続報によると そうみたいですよ♪」
(Ah, it looks like there's a follow-up message from the God machine♪)
NOJ
ヒメ:
「-」

イイダ:
「え~と 「セ・リーグ」と「パ・リーグ」は それぞれ リーグ発足70年となりました!」
(Let's see~ The "Ce League" and "Pa League" 70th establishment anniversaries are both coming up!)
NOJ
Notes: The current two-league system for baseball in Japan was started in the 1950 season, but the two-league system was declared (and the divisions announced) in the end of 1949.

ヒメ:
「おー 歴史のあるプロリーグなんだな!」
(Ohh- that's a pro league that has some history!)
イイダ:
「-」
NOJ
ヒメ:
「-」

イイダ:
「野球って ワタシあんまりルールとか知らなくって… ヒメセンパイは くわしいんですか?」
(I don't really know what baseball rules are like... Pearl-senpai, do you know any more details?)
NOJ

ヒメ:
「アタシも やったことはねーんだけどさ 試合観戦って ケッコーおもしれーぞ!」
(I don't know what to do either, but watching a match is really interesting!)
イイダ:
「-」
NOJ
Notes: By "I don't know what to do", Pearl means she doesn't know how to play the game

ヒメ:
「試合前も みんなでワイワイ 盛り上がれっし ルールわかんなくても 楽しめんだよなー!!」
(With everyone's energy and excitement before the game, you can have fun even without understanding the rules-!!)
イイダ:
「-」
NOJ

ヒメ:
「最後の最後まで どっちが勝つかわかんねーのが ナワバリバトルみたいで スゲーアツイしさー」
(Not knowing who's going to win until the very end reminds me of Turf War and makes me really heat up--)
イイダ:
「-」
NOJ

ヒメ:
「あと スタンドからみんなで応援するっつーのも ライブみたいな一体感あって いーもんだぜ!」
(Then, everyone cheering from the stands gives the same feeling of unity I get from a live show!)
イイダ:
「-」
NOJ
ヒメ:
「-」

イイダ:
「ナワバリバトルみたいな ハラハラ感と ライブみたいな一体感… スッゴイ楽しそ~♪」
(Like a Turf War that gives the same feeling of unity as a live show in your insides... Sounds like amazing fun~♪)
NOJ
ヒメ:
「-」

イイダ:
「あ! じゃあ今度ワタシも 試合を観に 連れてってくださいよ~!」
(Ah! So, please take me to watch a match this time~!)
NOJ

ヒメ:
「それがさー 聞いてくれよイイダー! アタシは スタンド席に入っちゃダメって言われんだよ!!」
(The thing is- Listen up, Marina-! They told me I'm not allowed to sit in the stands!!)
イイダ:
「-」
NOJ
ヒメ:
「-」

イイダ:
「エ~~?! そんなのヒドイ!! ど~してです?」
(Ehh~~?! That's awful!! Wh~y did they?)
NOJ

ヒメ:
「スタンドでさ、 みんなで応援歌を歌ってたらさー スタッフが来て アタシだけVIPルームに通されて…」
(In the stands, when everyone starts singing a support song, the staff comes and takes me alone to the VIP room...)
イイダ:
「-」
NOJ
ヒメ:
「-」

イイダ:
「ア~… … … 応援してたら テンションMAX になっちゃったんですね…」
(Ah~ ... ... ... When you cheer, you become energetic to the max, huh...)
NOJ

ヒメ:
「バトってんの観てたら テンションアガるに 決まってんだろーがよ!!」
(Looking at the batting, it's a given that the energy level will rise!!)
イイダ:
「-」
NOJ
ヒメ:
「-」

イイダ:
「こ~なったら 次の試合は球場の音響設計を ワタシが全面セットアップしますから!」
(If that's so, I will set up all the acoustics in the stadium for the next match!)
NOJ

ヒメ:
「マジかよ?! やるじゃんイイダ!!」
(Seriously?! You'll do it, Marina!!)
イイダ:
「-」
NOJ
ヒメ:
「-」

イイダ:
「ヒメセンパイといっしょに サイコーの試合観戦する ためですからね~ ガンバっちゃいます♪」
(Because watching the game together with Pearl-senpai is the BEST, right~ I'll do my best♪)
NOJ



Results
ヒメ's Dialogue
イイダ's Dialogue
Region
ヒメ:
「-」

イイダ:
「きゃ~! 「パ・リーグ」~~~!!」
(Whoa~! "Pa League"~~~!!)
NOJ

ヒメ:
「ゲッ?! まじかよーーー!」
(Huh?! You gotta be kidding---!)
イイダ:
「-」
NOJ
ヒメ:
「-」

イイダ:
「「パ・リーグ」派のみなさん、やりましたね! チームの雰囲気バッチリのバトル ステキでした~♪」
(Everyone on team "Pa", you did it! The team atmosphere was totally great during the battles~♪)
NOJ

ヒメ:
「「セ・リーグ」派もがんばったの、 知ってるからな! もーちょいだったかー!」
(Team "Ce" did their best, too, I know it! It was so close-!)
イイダ:
「-」
NOJ
ヒメ:
「-」

イイダ:
「あ!センパイセンパイ、 こんど試合観戦する球場の 音響セッティング バッチリ完了しました~!」
(Ah! Senpai, senpai, I completely finished setting up the acoustics for the stadium where we'll watch the game this time~!)
NOJ

ヒメ:
「ヨッシャー! じゃあイイダと一緒に試合観戦できるな!」
(Alright-! So, I can go watch a game together with Marina!)
イイダ:
「-」
NOJ
ヒメ:
「-」

イイダ:
「そういえば ヒメセンパイのお家だったら 球団を経営してたりしないんですか?」
(Speaking of which, doesn't Pearl-senpai's family own a baseball team?)
NOJ

ヒメ:
「ん? 球団経営はしてねーけど 「シオカラ・プリンセスリーグ」は やってんぞ」
(Hm? We don't own a team, but the "Inkopolis Princess League" is ours.)
イイダ:
「-」
NOJ
ヒメ:
「-」

イイダ:
「まさかの リーグ運営?!!」
(No way, the whole league?!!)
NOJ



Results if Ce were to win
ヒメ's Dialogue
イイダ's Dialogue
Region

ヒメ:
「「セ・リーグ」の勝ちーーー!! ヨッシャーーー!」
("Ce League" wins---!! Alright---!)

イイダ:
「う~ん… あと少しだったのに~…」
(Um~ph... It was so close~...)
NOJ

ヒメ:
「「セ・リーグ」派のみんな、ありがと! チームワークが光る立ち回り イカしてたぜ!」
(Everyone on team "Ce", thank you! Your teamwork was bright all around and lively!)

イイダ:
「「パ・リーグ」派のみなさんも とてもがんばってましたよ~」
(Everyone in team "Pa" also totally did their best~!)
NOJ
Notes: Pearl makes a pun on the word いかした, "to be lively", by emphasizing イカ, "squid"
ヒメ:
「-」

イイダ:
「あ!センパイセンパイ、 こんど試合観戦する球場の 音響セッティング バッチリ完了しました~!」
(Ah! Senpai, senpai, I completely finished setting up the acoustics for the stadium where we'll watch the game this time~!)
NOJ

ヒメ:
「ヨッシャー! じゃあイイダと一緒に試合観戦できるな!」
(Alright-! So, I can go watch a game together with Marina!)
イイダ:
「-」
NOJ
ヒメ:
「-」

イイダ:
「そういえば ヒメセンパイのお家だったら 球団を経営してたりしないんですか?」
(Speaking of which, doesn't Pearl-senpai's family own a baseball team?)
NOJ

ヒメ:
「ん? 球団経営はしてねーけど 「シオカラ・プリンセスリーグ」は やってんぞ」
(Hm? We don't own a team, but the "Inkopolis Princess League" is ours.)
イイダ:
「-」
NOJ
ヒメ:
「-」

イイダ:
「まさかの リーグ運営?!!」
(No way, the whole league?!!)
NOJ



Top 100
Japan
Ce
Pa
See also
External links