Champion vs. Challenger
From Inkipedia, the Splatoon wiki
Champion vs. Challenger​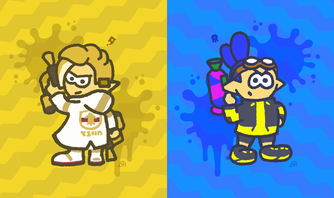 Team

 

Champion

 

Challenger
Region
Japan
Start

3 February 2018

, 06:00 UTC
End

4 February 2018

, 06:00 UTC
Score method
category tally
Result type
combined
Popularity
40.75%
59.25%
Wins
%
Expression error: Unrecognized punctuation character "{".%
Solo wins
49.23%
50.77%
Team wins
50.09%
49.91%
Normal clout
%
Expression error: Unrecognized punctuation character "{".%
Pro clout
%
Expression error: Unrecognized punctuation character "{".%
Score
1
2
Winner
Challenger
Region
Start

18 March 2023

, 22:50 UTC
End

19 March 2023

, 22:50 UTC
Popularity
%
Expression error: Unrecognized punctuation character "{".%
Wins
%
Expression error: Unrecognized punctuation character "{".%
Solo wins
%
Expression error: Unrecognized punctuation character "{".%
Team wins
%
Expression error: Unrecognized punctuation character "{".%
Normal clout
%
Expression error: Unrecognized punctuation character "{".%
Pro clout
%
Expression error: Unrecognized punctuation character "{".%
Score
Expression error: Unexpected < operator.
Expression error: Unexpected < operator.
Winner
Region
Start

18 March 2023

, 22:50 UTC
End

19 March 2023

, 22:50 UTC
Popularity
%
Expression error: Unrecognized punctuation character "{".%
Wins
%
Expression error: Unrecognized punctuation character "{".%
Solo wins
%
Expression error: Unrecognized punctuation character "{".%
Team wins
%
Expression error: Unrecognized punctuation character "{".%
Normal clout
%
Expression error: Unrecognized punctuation character "{".%
Pro clout
%
Expression error: Unrecognized punctuation character "{".%
Score
Expression error: Unexpected < operator.
Expression error: Unexpected < operator.
Winner
Champion vs. Challenger (王者 vs 挑戦者) was a Splatfest event in Splatoon 2. It was held in Japan only. It was announced on 26 January 2018. The results were given on 4 February 2018.
Details
This Splatfest was a reference to the Square King Cup arc in the Splatoon manga, with the teams being represented by Emperor as the champion and Goggles as the challenger.
Champion vs. Challenger featured the 7th Shifty Station layout, Cannon Fire Pearl.
Gallery
Dialogue
Announcement
ヒメ's Dialogue
イイダ's Dialogue
Region
ヒメ:
「コロコロカップ開催記念! どっちを応援する? 王者VS挑戦者――!」
(The CoroCoro Cup commemorative Splatfest! Which do you support? Champion vs Callenger-!)
イイダ:
「おお~、 これはアツイお題ですね~♪」
(Ooh~, This is a hot subject~♪)
NOJ
ヒメ:
「対泱するのは、 その存在に! 強さにあこがれる! 応援を かがやきに変えてむかえうつ! 「 王者」と!」
(The opponents will be: That presence! Longing for strength! Brightly facing change! "Champion" and..!)
イイダ:
「いつの日か あの王座を勝ち取るために… 応援をパワーに変えていどむ! 「挑戦者」です!」
(Aiming to someday win that throne... Support becomes power! "Challenger"!)
NOJ
ヒメ:
「-」
イイダ:
「やっぱり、 応援するなら「挑戦者」ですよね~! ひたむきに努力する姿が 応援したくなります~!」
(After all, if you support anyone, it should the "Challenger"~! I want to support the figure that strives to be one's best~!)
NOJ
ヒメ:
「どっちも応援してーところだけどなー、 アタシ「 王者」を応援するかなー」
(I would support either one, but I think I will support "Champion"...)
イイダ:
「エエッ?! 何でですか~?」
(Huh?! Why is that~?)
NOJ
ヒメ:
「スポーツ中継とか観てるとさー なんかこう、 王者にグッとくんだよな! でってさ…」
(When you watch sports broadcasts and stuff, it's cool to root for the champion! Also...)
イイダ:
「-」
NOJ
ヒメ:
「王者ってーのは1人しかなれねーだろ? ずっと1ひと… 王者でいる限りは コドクな存在なんだよ」
(There can be only one champion, right? Only one... As long as she stays the champion, it's an existence of fighting)
イイダ:
「-」
NOJ
ヒメ:
「ダレか あらわれたと思ったら ソイツは 自分を倒しにきた「挑戦者」…」
(ANYONE can step up whenever they feel like it, and THEY make themselves the "Challenger"...)
イイダ:
「-」
NOJ
ヒメ:
「負けたらすべてを失う… そう思ったら 王者を応援したくなっちゃうだろ?!」
(If I am beaten I will lose everything... If you think that way, you'll root for the Champion, won't you?!)
イイダ:
「ヒメセンパイ… 完全に王者に感情が入っちゃってますね~」
(Pearl-senpai... You're so emotional for the champion~)
NOJ
ヒメ:
「-」
イイダ:
「でもセンパイ、 王者だって はじめは挑戦者だったわけじゃないですか~」
(But, Senpai, wasn't the champion once a challenger themselves~)
NOJ
ヒメ:
「ムム、 まぁそうだな…」
(Mmm, I guess so...)
イイダ:
「大勢のライバル逹とバトルして 強くなっていって 最後に王者へいどむ! 応援しがいがあります~」
(To do battle with many rivals, become stronger, and finally get to the champion! That is what I support~)
NOJ
ヒメ:
「-」
イイダ:
「それで特訓の とちゅうに出会ったコと ちょっぴりロマンスが起きたりしちゃうんですよ~♪」
(Then, a little romance with someone who was peeking on some special training~♪)
NOJ
ヒメ:
「-」
イイダ:
「気になるあのコの シオカラ節留学と大会の日が 重なっちゃて、 主人公どうする?! みたいな~♪」
(Her anxiety rising since the Calamari Inkantation student exchange day and the competition day overlap, what will our heroine do?! I want to see~♪)
NOJ
Notes: シオカラ節 "Shiokara-bushi" is the Japanese name for Calamari Inkantation
ヒメ:
「それ、 イイダが最近ハマってるって話してた ドラマのストーリーまんまじゃねーか…」
(Hey, that's the plot of that drama you recently told me you were addicted to...)
イイダ:
「あ… いや、 そうですけど~ ワタシは 挑戦し続ける方を応援したい派です!」
(Ah... Eek, that's right but~ I want to support the faction that keeps challenging!)
NOJ
ヒメ:
「なるほどねー! アタシは 王者からって1人じゃ ねーんだぞ! って気持ちで応援したい派だな!」
(I see-! I am not alone in supporting the champion! It's a faction I support with feeling!)
イイダ:
「-」
NOJ
ヒメ:
「うおお! 「チャンピョン」対「チャレンジャー」かー 燃えてきたー!!」
(Wahaha! "Champyon" versus "Challenger"- I'm on fire-!!)
イイダ:
「ヒメセンパイ、 チャンピョンじゃなくて 「チャンピオン」ですよ…」
(Pearl-senpai, it's "Champion", not "Champyon"...)
NOJ
Notes: Pearl says the teams' names in English instead of Japanese here, but she pronounces one of them incorrectly
Results
ヒメ's Dialogue
イイダ's Dialogue
Region
ヒメ:
「-」

イイダ:
「きゃ~! 「挑戦者」~~~!!」
(Whoa~! "Challenger"~~~!!)
NOJ

ヒメ:
「ゲッ?! まじかよーーー!」
(Huh?! Are you serious---!)
イイダ:
「-」
NOJ
ヒメ:
「-」

イイダ:
「「挑戦者」のみなさん、 やりましたね! チャレンジャーのハク 感じましたよ♪」
(Everyone in Team Challenger, you did it! I felt each of you "challengers"♪)
NOJ
Notes: The second time Marina says "challengers", she uses the English word
ヒメ:
「「王者」もがんばったの、 知ってるからな! もーちょいだったかー!」
(Team Champion also did their best, you know! It was so close-!)
イイダ:
「-」
NOJ
ヒメ:
「-」

イイダ:
「それにしても、 イカしたバトルばっかりでしたね~! とちゅうから 両方のチーム応援しちゃいました~!」
(Anyway, the lively battles were cool~! I was cheering for both teams from the studio~!)
NOJ
Notes: As a pun, the word "いかした", "was lively" is written with an emphasis on "イカ", squid.

ヒメ:
「わかるわかる! シンケンにバトルしてるヤツらを 観てたら どっちも応援しちゃうよなー!」
(I totally get it! Watching them battle so intensely could make you support either side-!)
イイダ:
「-」
NOJ
ヒメ:
「-」

イイダ:
「でも ヒメセンパイ、 後半は「挑戦者」チーム ばっかり応援してましたよ~!」
(But Pearl-senpai, in the second half, you were cheering on Team Challanger~!)
NOJ

ヒメ:
「そういうイイダは、 とちゅうから「王者」チームばっか 応援してたじゃん!」
(Well, you cheered for Team Champion from the crowd!)
イイダ:
「-」
NOJ
ヒメ:
「-」

イイダ:
「えっ?! ホントですか~? ま、 まあ アツいバトルは どっちを応援してめ面白いですからね~♪」
(Eh?! Really~? well, the battles were so heated that it was fun to support either side~♪)
NOJ

ヒメ:
「アハハッ! そりゃそーだな!」
(Ahaha! Just like that!)
イイダ:
「-」
NOJ



Top 100
Champion
Challenger
Names in other languages
Translation needed




The section or page is missing non-English translations or material from other localizations edit
Private Battle

| Language | Name | Meaning |
| --- | --- | --- |
|  Dutch | Kampioen vs. Uitdager | Champion vs. Challenger |
See also
External links