Competitive
:
Cloudburst
From Inkipedia, the Splatoon wiki
Unofficial!
This article discusses content that is not part of the official
Splatoon series
canon but is part of the community or competitive gaming space.
Splatoon​
Cloudburst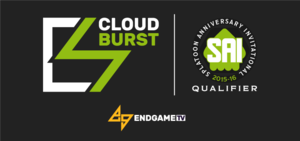 Cloudburst, also known as EndGameTV's Cloudburst: A Qualifier for the SAI, was a Splatoon online tournament held on May 22nd, 2016.[1] Alongside three other tournaments, Cloudburst functioned as a qualifier for the Splatoon Anniversary Invitational.
Standings
The standings for the event are as follows:[2]
Rules
The tournament used a double-elimination bracket with a Halo-style map rotation.
Round-dependent series were played as follows:
Best-of-3 games for Winners Rounds 1 and 2 and Losers Rounds 1 through 6.
Best-of-5 games for Winners Rounds 3 and 5 and Losers Rounds 7 through 9.
Best-of-7 games for Winners Finals, Losers Finals, and Grand Finals.
References