Cohock Charge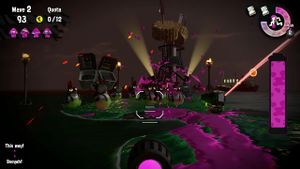 Cohock Charge is a Known Occurrence in Salmon Run.
Description
The only Lesser Salmonid that spawns during this event is the Cohock. Ink Cannons will appear to help the players defeat the horde. This event can only occur during low tide. When the cannon is colored, that indicates that you must wait your turn. The cannons consume 10% of your ink tank, allowing for 10 shots in one turn, because you cannot recover ink in the cannons.
Salmonid Field Guide
The following text is quoted from the Salmonid Field Guide.
What Happens
Cohocks will attack in large numbers from exposed sandbanks.
Mr. Grizz will deploy a cannon for you to use in dealing with these foes.
How to Get Golden Eggs
Advice from Mr. Grizz
Use the cannon well to clear the way for your coworkers!
Supplementary Information
Apparently there are special rooms in the Salmonid barracks set aside for large numbers of Cohocks to gather and practice.
Names in other languages
Language
Name
Meaning
 Japanese
ドスコイ大量発生
Dosukoi tairyōhassei
Cohock outbreak
 Dutch
Storm van Sallogs
Cohock storm
 French (NOE)
Charges de Sumoches
Cohock charges
 German
Brocken-Sturmanfall
Cochock Storm attack
 Italian
Orde di Pinne Pingui
Hordes of Cohocks
 Russian
Штурм сковорейдеров
Shturm skovoreyderov
Cohock assault
 Spanish (NOA)
Ataques de agallones
Cohocks' attacks
 Spanish (NOE)
Attaques de escamacarras
Cohocks' attacks
This article or section needs more images!
You can help the wiki by

adding some

to keep it looking fresh!