Competitive:Atramentum
From Inkipedia, the Splatoon wiki
Unofficial!




This article discusses content that is not part of the official Splatoon series canon but is part of the community or competitive gaming space.
Atramentum
Team Information
Location
North America
Captain(s)
ThatsSo
History
Created
December 15th, 2017
Player Changes
Atramentum was a competitive Splatoon 2 team. The team was formerly sponsored by professional gaming organization DAWN RISING
History
On in January of 2019, the team was sponsored by eSports, gaming, entertainment & apparel brand DAWN RISING.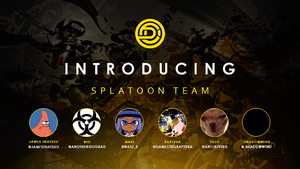 On March 31st 2019, the team chose to disband.
Members
ThatsSo
ant
Shadowind
Polysaw
Nasz
よしまP
Yo5hi
Kev1n
Leagues Under the Ink
For the main article, see Leagues Under the Ink.
Season 6
They were in Division 2.
Tournament Placements
| Tournament | Date | Place |
| --- | --- | --- |
| LUTI Season 6 Division 2 | August 23rd, 2018 | 3rd [1] |
| NNCL Lunar XIV | December 15, 2017 | 1st [2] |
| Tide Pool 6 | March 18, 2018 | 5th [3] |
| SSS 4: April InkStorms | April 7, 2018 | 5th [4] |
| Saturday Morning Coffee #18 | May 19, 2018 | 4th [5] |
| Casual Friday 23 | August 24, 2018 | 5th [6] |
| 4v4 Sundaes 11 | September 16, 2018 | 2nd [7] |
| 4v4 Sundaes 13 | September 30, 2018 | 4th [8] |
| 4v4 Sundaes 15 | October 21, 2018 | 3rd [9] [10] |
References