Competitive:Booyah Battle 2
Jump to navigation
Jump to search
Unofficial! This article discusses content that is not part of official Splatoon canon but is part of the community or competitive gaming space.
Splatoon​
Booyah Battle 2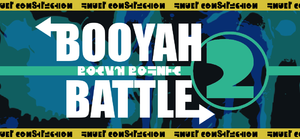 Booyah Battle 2 was a Splatoon online tournament held on September 26th-27th, 2015.[1]
It was the second tournament in the Booyah Battle tournament series.
Standings
The standings for the event are as follows:[2]
References