Competitive:Kensa .52 Gal
Jump to navigation
Jump to search
Unofficial!




This article discusses content that is not part of the official Splatoon series canon but is part of the community or competitive gaming space.
For information about the Kensa .52 Gal, see Kensa .52 Gal.
Splatoon 2
Splatoon 2
Kensa .52 Gal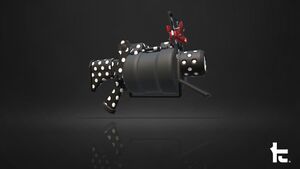 52, Gal, K-Gal, K-52
Use
Countermeasures
Any weapon that outranges the Kensa .52 Gal without sacrificing too much mobility can counter it easily. For example, the Splattershot Pro, the Dualie Squelchers, and their respective variants all counter the Kensa .52 Gal rather well.
To successfully confront a Kensa .52 Gal with a weaker or shorter ranged weapon, rely on flanking or sharking to safely approach the opponent, try to land the first shot, and exploit either the opponent's lower firing rate or slower mobility.
Any long-ranged weapon, such as a charger or most splatlings, can attack a Kensa .52 Gal from long distance with impunity until the latter gets too close.
A Kensa .52 Gal user will likely depend on both flanking and sharking to maximize the use of their weapon:

Keep track of all four members of the opposing team – which ones are present, which ones are splatted, and which ones are back at their spawn point.
Check the map periodically for opposing ink forming around flanks to anticipate a flanking attack.
To prevent sharking, check suspicious puddles of the opponents' ink, preferably with a thrown sub weapon.
Weapons that track opponents, such as Point Sensors, temporarily prevent an opponent from sharking and makes them an easier target for long-ranged teammates to pick off.

An opponent's Splash Wall is often a hindrance, but it can be worked around:

Lethal bombs are generally the most efficient means to damage and destroy opposing Splash Walls. Their explosions can also splat opponents who either stay too close to the Splash Wall or attempt to rush through it.
If wielding a Brella, refrain from launching the shield at an opposing Kensa .52 Gal user unless it is to clear out a planted Splash Wall.
An Ultra Stamp will easily destroy a Splash Wall, breaking through any chokepoints the opponent may be defending. The Ultra Stamp wielder can then proceed to splat or chase out opponents while teammates follow behind to either mount or continue a push.

If the Kensa .52 Gal user activates a Booyah Bomb in an unsafe position, try attacking them, particularly with bombs and chargers.

Tenta Missiles can splat a Booyah Bomb user in three direct hits.
A Splashdown within range can severely damage Booyah Bomb armor if not destroy it outright.
Gear abilities
Gear abilities provide different effects in battle that benefit the player with their equipped weapon. This is a guide to gear abilities in relation to the weapon. Strategy, synergy, viability, and purpose may be written here.
Main Power Up reduces the shot spread by 20% while on the ground and by 50% while in mid-air.[4]
Swim Speed Up can help close the distance towards an opponent, more quickly respond to an opponents' push, or escape unfavorable situations.
References
Grouped by weapon type, sub-grouped by weapon class. Main, sub, and special sorting.