Competitive:Squidstorm 2016
From Inkipedia, the Splatoon wiki
Unofficial!




This article discusses content that is not part of the official Splatoon series canon but is part of the community or competitive gaming space.
Splatoon​
Squidstorm 2016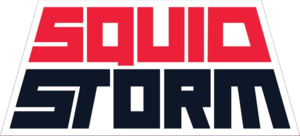 Squidstorm 2016 (SS2016) was a Splatoon LAN tournament held on July 30th-31st, 2016.[1] It was the first western Splatoon LAN major.
History

Originally going under the codename Project SQUIDFEST, plans for a Splatoon LAN major were already in the works by the EndGameTV staff as early as the winter of 2015.[2] Squidstorm 2016 was officially announced on May 28th, 2016,[3][4] being supported by communities and organizations such as Nintendo of America, smashgg, Squidboards, among many others,[5][6][7] while also receiving support from Nintendo of America's Senior Product Marketing Manager, Bill Trinen.[8][9]
In order to support the traveling fees for a handful of players attending the event, EndGameTV held a 24-hour streamathon on June 11th, 2016.[10] An official online shop was also later opened to further allow support for the event.[11][12]
Standings
The standings for the event are as follows:[13]
References