Competitive:Supernova
From Inkipedia, the Splatoon wiki
Unofficial!




This article discusses content that is not part of the official Splatoon series canon but is part of the community or competitive gaming space.
Splatoon​
Supernova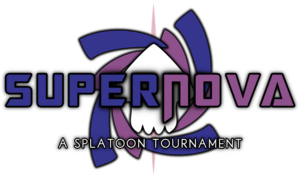 Supernova was a Splatoon online tournament held on April 10th, 2016.[1]
Standings
The standings for the event are as follows:[2]
Rules
The tournament introduced a three stage format as opposed to the double or single stage format that was already standard for tournaments in the western community.
The first stage[3] featured a round-robin style system that placed participating teams into groups of four to compete against each other. For each match, a team would play 5 games against another team; the team with the most games won at the end would take the win. Something to keep in mind is that the format was not a Best-of-5 wins, but instead all five matches needed to be played, regardless of how many games a team had won during a specific match. This is was done so that game differentials could be used more effectively to rank teams with the same win-loss ratings. The top 2 teams from each group moved on to the next stage.
The second stage[4] featured the exact same rules as the previous stage. The winning teams from the previous stage were once again placed into groups of four. However, teams who won from the same group in stage 1 were placed in different groups for stage 2. The top 2 teams from each group moved on to the next and final stage.
The third and final stage[5] featured a single-elimination bracket. Teams that had won from the same group during the second stage were separated to ensure that they didn't compete against each other in the first round of the bracket. All matches in this stage were a Best-of-5 games, with the exception of the grand finals, which were a Best-of-7. ​
References