Dexterity vs. Endurance
From Inkipedia, the Splatoon wiki
Dexterity vs. Endurance​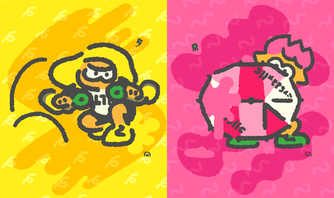 Team

 

Dexterity

 

Endurance
Region
Japan
Start

14 October 2017

, 04:00 UTC
End

15 October 2017

, 04:00 UTC
Score method
category tally
Result type
combined
Popularity
64.78%
35.22%
Wins
%
Expression error: Unrecognized punctuation character "{".%
Solo wins
48.68%
51.32%
Team wins
48.68%
51.32%
Normal clout
%
Expression error: Unrecognized punctuation character "{".%
Pro clout
%
Expression error: Unrecognized punctuation character "{".%
Score
1
2
Winner
Endurance
Region
Start

23 March 2023

, 02:42 UTC
End

24 March 2023

, 02:42 UTC
Popularity
%
Expression error: Unrecognized punctuation character "{".%
Wins
%
Expression error: Unrecognized punctuation character "{".%
Solo wins
%
Expression error: Unrecognized punctuation character "{".%
Team wins
%
Expression error: Unrecognized punctuation character "{".%
Normal clout
%
Expression error: Unrecognized punctuation character "{".%
Pro clout
%
Expression error: Unrecognized punctuation character "{".%
Score
Expression error: Unexpected < operator.
Expression error: Unexpected < operator.
Winner
Region
Start

23 March 2023

, 02:42 UTC
End

24 March 2023

, 02:42 UTC
Popularity
%
Expression error: Unrecognized punctuation character "{".%
Wins
%
Expression error: Unrecognized punctuation character "{".%
Solo wins
%
Expression error: Unrecognized punctuation character "{".%
Team wins
%
Expression error: Unrecognized punctuation character "{".%
Normal clout
%
Expression error: Unrecognized punctuation character "{".%
Pro clout
%
Expression error: Unrecognized punctuation character "{".%
Score
Expression error: Unexpected < operator.
Expression error: Unexpected < operator.
Winner
Dexterity vs. Endurance (瞬発力 vs 持久力) was a Splatfest event in Splatoon 2. It was held in Japan only. It was announced on 6 October 2017. The results were given on 15 October 2017.
Details
A more literal translation of the team names would be "Instantaneous Power" and "Staying Power".
Dexterity vs. Endurance featured the 4th Shifty Station layout, Windmill House on the Pearlie, albeit the original iteration, which featured a glass wall separating the two halves of the map, requiring teams to use the side revolving doors to traverse to opposing territory.
Results with exact counts were released through SplatNet.
Detailed results for Dexterity vs. Endurance
Region
Participants
Solo wins
Team wins
Alpha
Bravo
Alpha
Bravo
Alpha
Bravo
JP
678,455
368,871
1,040,153
1,096,688
111,796
117,850
Errors and oddities
The Inkling (language) script on the tees (which have always been designed to be familiar enough to users to be read as the team names) were marked with the opposing team's names, with the Dexterity tees reading "ENDU RANCE", and the Endurance tees reading "INSTANT", meaning "instant power", a more literal translation of the Japanese text for the Dexterity team.
Normally after a Japanese Splatfest event concludes, SplatoonJP releases promotional art declaring the victor. No such image was provided for this event, with SplatoonJP instead opting to use in-game screenshots in their tweet.
Gallery
Dialogue
Announcement
ヒメ's Dialogue
イイダ's Dialogue
Region

ヒメ:
「第3回はこれっ! 自信があるのはどっち? 瞬発力 ⅴs 持久力!!」
(Number three is this! Which fills you with confidence? Dexterity vs Endurance)

イイダ:
「わ~! しぶ~い!!」
(Wah~! Ama~zing!!)
NOJ

ヒメ:
「対決するのは、 サッとかわして シュッと一撃! あなたのハートに 電光石火! 「瞬発力」と!」
(The opponents will be: Jumping with a "sa-" and striking with a "shu-"! Lightning bolt in your heart! "Dexterity" and..!)

イイダ:
「ヒッソリたたずみ コツコツ連射! 夢にむかって一心不乱! 「持久力」になります!」
(Quietly standing still and rapidly firing! Facing everything as in a dream, with one heart undisturbed! "Endurance"!)
NOJ

ヒメ:
「たしかにイイダ、 ガマン強いもんなぁ~ 最近ホットヨガに ハマッてるらしいけどさ」
(Certainly, Marina, you SEEM to be stronger as of late~ You also seem to be addicted to hot yoga recently...)
イイダ:
「-」
NOJ

ヒメ:
「よくあんなクソ暑い部屋にいられるよな! カラッカラに 干からびちゃいそうだぜ!」
(You go so often in that darn hot room! It's scary how crackling dry it seems!)

イイダ:
「女子力を高めているんですっ! そういうセンパイは、」
(I'm raising my girl power! You say that, senpai,)
NOJ

ヒメ:
「-」

イイダ:
「反復横とびしながら アメフラシかわしたり、 なんか、 いっつもピョンピョンしてて 素早いですよね」
(But you're constantly jumping from side to side, dodging like a sea hare, or whatever, and quickly going "pew pew", right?)
NOJ
Notes: The word アメフラシ, "sea hare", is a homophone of the word あめふらす, "to make rustling noise", so Marina's sentence also sounds like "dodging while making swooshing sounds".

ヒメ:
「フンッ! 動いてないと ソワソワしちゃうからなッ…」
(Humph! If I don't move around, I start fidgeting, y'know...)

イイダ:
「レコーディング中も いっつも イスから立って 動き回ってますもんね♪」
(In the middle of recordings you're also always standing up from your chair and walking around, aren't you♪)
NOJ

ヒメ:
「うるさい うるさーーい!!」
(Shut up shut u--p!!)

イイダ:
「ワタシは ずっと座ってられますよ!」
(I can sit down all the time!)
NOJ

ヒメ:
「…まぁ何にせよ、 サクッと勝つのは 「瞬発力」チームに決まってるっしょ!」
(...Well, whatever, the victory is clearly going to Team "Dexterity", it's already decided!)

イイダ:
「「ウサギとカメ」で 最後に勝ったのはカメです… だから 勝つのはきっと「持久力」チームですっ!」
(In "The Tortoise and the Hare", the one that won in the end is the tortoise... So, the victory will go to Team "Endurance"!)
NOJ



Results
ヒメ's Dialogue
イイダ's Dialogue
Region
ヒメ:
「-」

イイダ:
「わぁ~い! 「持久力」~~~!!」
(Wh~ee! "Endurance"~~~!!)
NOJ

ヒメ:
「えーーっ?! マジかっ…」
(Ehh--?! You gotta be kidding...)
イイダ:
「-」
NOJ
ヒメ:
「-」

イイダ:
「「持久力」のみなさん! コツコツがんばってくれて ワタシうれしいですっ!」
(Everyone on team "Endurance"! Your constant efforts have made me happy!)
NOJ

ヒメ:
「「瞬発力」のみんなも、 素早い戦い カッチョ良かったぜ!」
(Everyone on team "Dexterity", too, your quick fighting was also great!)

イイダ:
「ねえセンパイ? 今度いっしょに、 マラソンの練習しませんか…?」
(Hey, senpai? Maybe this time, we could do marathon practice together..?)
NOJ

ヒメ:
「しょーがねーなー、 いっしょにイイ汗かいて 持久力でもつけてやるかー!」
(I guess there's no helping it, let's go work up a good sweat and work on our endurance-!)

イイダ:
「やったぁ~! いっぱい走りましょうねっ セナパイ!」
(Hooray~! Let's run until we can't anymore, senpai!)
NOJ

ヒメ:
「5分だけ だからな…」
(Since it's only 5 minutes...)

イイダ:
「5分じゃ 汗かけませんよ~?!」
(You work up a sweat in 5 minutes~?!)
NOJ



Top 100
Dexterity
Endurance
Names in other languages
Translation needed




The section or page is missing non-English translations or material from other localizations edit
Private Battle

| Language | Name | Meaning |
| --- | --- | --- |
|  Dutch | Vlug vs. Volhardend | Swift vs. Tenacious |
See also
External links