Fish Stick
Jump to navigation
Jump to search
Fish Stick​
Fish Stick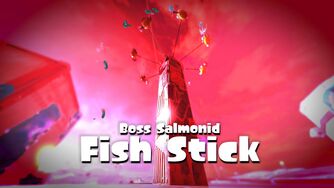 Fuuuuuture!




This article or section discusses unreleased content. Information is subject to change.
Please review our policy on rumors and leaks before adding leaked information.
The Fish Sticks are Boss Salmonids in Salmon Run Next Wave in Splatoon 3.
Description
When a Fish Stick spawns, a tall tower-like pillar is planted on the ground, with Smallfries flying around its top. While they are flying, the Smallfries slowly rain ink. If not dealt with quickly, the surrounding area will be covered with enemy ink. A Fish Stick can be defeated by spraying ink on the sides of the pillar and climbing on top to easily splat the Smallfries on the level. Once all have been splatted, the Fish Stick will drop three Golden Eggs on the pillar. The pillar remains after defeating it, presumably until the end of the wave.
Quotes
"
We have proudly classified an entirely new Boss Salmonid known as a "Fish Stick." As the name implies, flying Salmonids have been observed planting a large "stick" to gain a tactical advantage. Could it be exploited somehow? Our research continues.
"
Gallery
Names in other languages
Language
Name
Meaning
 Japanese

ハシラ


Hashira
Pillar
 Dutch
Salmonoliet
From Salmoniet ("Salmonid") and monoliet ("monolith")
 German
Mobelisk
From Obelisk
 Russian

Бурмонид


Burmonid
Drillmonid. From бур bur (drill) and salmonid
 Chinese

柱魚


Zhù yú
Pillarfish
 Korean

기둥


gidung
Pillar
References
| | |
| --- | --- |
| Boss Salmonids | Drizzler • Fish Stick • Flipper-Flopper • Flyfish • Maws • Scrapper • Steel Eel • Steelhead • Stinger |