Flipper-Flopper
Jump to navigation
Jump to search
Flipper-Flopper​
Flipper-Flopper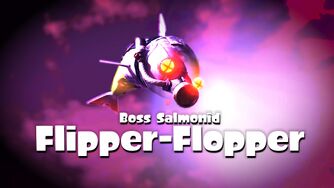 Fuuuuuture!




This article or section discusses unreleased content. Information is subject to change.
Please review our policy on rumors and leaks before adding leaked information.
Not to be confused with the gear item, the Flipper Floppers.
The Flipper-Floppers are Boss Salmonids that appear in Salmon Run Next Wave in Splatoon 3.
Description
Flipper-Floppers attack by first shooting a ring of ink towards the player, which simply lands on the ground. When the ring lands, the encircled area becomes covered in enemy ink. After a short delay the Flipper-Flopper will belly-flop onto the circled area, splatting any player who cannot escape in time. However, if the circled area is covered in player ink before the belly flop, the Flipper-Flopper's armor will break upon hitting the ground and it flops helplessly. It can then be quickly splatted in this state. If not splatted after losing its armor, the armor will presumably not return.
The whole circled area will be filled by the players' ink immediately if a certain amount of the area is inked with players' ink, similar to Splat Zones.
Quotes
"
Another new creature, known as a "Flipper-Flopper," has been observed creating a ring of ink before diving magnificently into said ring. While beautiful, this is a dangerous attack! Inklings will need to cooperate to prevent Flipper-Floppers from flipping and/or flopping.
"
Gallery
Names in other languages
Language
Name
Meaning
 Japanese

ダイバー


Daibā
Diver
 Dutch
Dompelaar
From dompelen ("to immerse in a liquid") and the suffix -aar.
 German
Sturmreifer
Stormmature
 Russian

Хулахлюп


Hulahlyup
Hula Squish. From хулахуп hulahup (hula hoop) and хлюп hlyup (squishing sound)
 Chinese

潛水魚


qiánshuǐ yú
Divingfish
 Korean

다이버


daibeo
Diver
References
| | |
| --- | --- |
| Boss Salmonids | Drizzler • Fish Stick • Flipper-Flopper • Flyfish • Maws • Scrapper • Steel Eel • Steelhead • Stinger |