Fog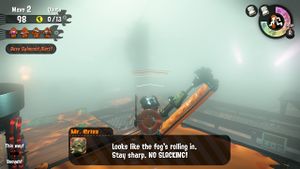 Fog is a Known Occurrence in Salmon Run.
Description
Fog will cover the battlefield during this event, making it more difficult for players to see. Additionally, Salmonids spawn all over the map instead of concentrating on a single area at a time. Although it is said to be rare, at least two Goldies will spawn during Fog, so keep an eye out for them.
Salmonid Field Guide
The following text is quoted from the Salmonid Field Guide.
What Happens
The area is covered in a dense fog, drastically reducing visibility.
Enemies will take advantage of the fog and attack from all directions.
How to Get Golden Eggs
Defeat Boss Salmonids.
The extremely rare Goldies may appear in foggy conditions.
Advice from Mr. Grizz
Try to maintain contact with your teammates at all times while in the fog.
Being alone in the fog is extremely dangerous.
Supplementary Information
Goldies are extremely rare Salmonids—only one of every 10,000 hatchlings is a Goldie.
They live longer than and possess far superior intelligence to normal Salmonid specimens.
Names in other languages
Language
Name
Meaning
 Japanese
霧
Kiri
Fog
 Dutch
Mist
Fog
 French (NOE)
Brouillard
Fog
 German
Nebel
Fog
 Italian
Nebbia
Fog
 Russian
Туман
Tuman
Fog
 Spanish
Niebla
Fog