Competitive
:
Get Kraken
From Inkipedia, the Splatoon wiki
Unofficial!
This article discusses content that is not part of the official
Splatoon series
canon but is part of the community or competitive gaming space.
Splatoon 2​
Get Kraken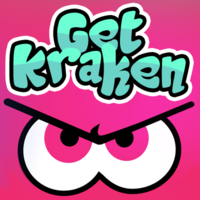 | | |
| --- | --- |
| Location | NA, EU |
| Captain | Josh, Dimitri, Pinna |
| Created | August 2015 |
| Player Changes | |
Get Kraken (gк) is a competitive Splatoon team. The team is composed of two sub-teams: Get Kraken and Got Kraken. They were in the Kid Conference of the EndGame Splatoon Premier League.
Members
Get Kraken
Dimitri
Giftigu
Jeff
Josh
Got Kraken
Charles
Hunty
Joe
Khraka
Lynn
(inactive members)
Alph
DJ
Horsebot3к
Jay
Pinna
Rudestpik
Shauna
Leagues Under the Ink
For the main article, see Leagues Under the Ink.
Season 1
They were in Division A1.
Season 2
They were in Divisions A (GROUP A) and A (GROUP B) as Got Kraken and Get Kraken respectively.
Season 3
They were in Division S (GROUP B).
Tournament Placements
Tournament
Date
Place
SCL 1
September 6th, 2015
9th [1]
Calamari Cup
September 19th-20th 2015

N/A

[2]
Booyah Battle 2
September 26th-27th, 2015
17th [3]
SCL 3
October 2nd, 2015
9th [4]
Nintendome Cash Tourney
October 3rd-4th, 2015
12th [5]
Messtival!
October 17th, 2015
5th [6]
Booyah Battle 3
October 24th-25th, 2015

N/A

[7]
SCL 5
November 1st, 2015
5th [8]
Messtival! 2
November 7th, 2015
9th [9]
Calamari Cup: Extra Hot Mix!
November 8th, 2015
9th [10]
Booyah Battle 4
November 14th, 2015
11th [11]
SCL 6
November 15th, 2015
5th [12]
Inkstorm 2
November 21st-22nd, 2015
16th [13]
S&F Low Power
December 27th, 2015
7th
Inkstorm 3
January 2nd-3rd, 2016

N/A

[14]
Calamari Cup 3
January 23rd, 2016
13th [15]
SCL 10
January 24th, 2016
9th [16]
S&F Random Restrictions
January 30th, 2016
9th [17]
Messtival! 3
February 6th, 2016
7th
SCL 11
February 20th, 2016
9th [18]
SyCup 4
February 21st/27th-28th

N/A

[19]
体育祭!Taiikusai: Athletic Festival
February 27th, 2016

3rd/5th

[20]
SCL 12
March 5th, 2016

4th/5th

[21]
InkCage
March 5th, 2016

Qualified

[22]
Booyah Battle 5
March 12th, 2016

5th/9th

[23]
SCL 13
March 19th, 2016

5th

[24]

LUTI SquidForce Playoffs

April 9th, 2016
5th [25]
Supernova
April 10th, 2016

3rd

/

N/A

[26]
Messtival! 4
April 16th-17th, 2016

9th

Oceanink Offensive
April 23th, 2016

2nd

[27]
eSPL Playoffs
April 23th-30th, 2016
7th [28]
SCL 15
April 30th, 2016

17th

[29]
Splat That!
May 7th-8th, 2016

N/A

[30]
SCL 16
May 14th, 2016

9th/33rd

[31]
Messtival! 5
May 15th, 2016

9th/17th

[32]
Supernova II
May 21st, 2016

5th/17th

[33]
Cloudburst
May 22nd, 2016

17th/25th

[34]
Splatoon Anniversary Invitational
May 28th, 2016
7th
Monsoon Splat
June 18th, 2016
3rd [35]
SCL 18
June 25th, 2016
5th [36]
2urficane
July 2nd, 2016
9th [37]
SCL 19
July 9th, 2016

9th

[38]
LimitBreak
July 16th, 2016

5th

SCL 20
July 23rd, 2016
13th [39]
Monsoon Splat Two
July 24th, 2016

5th

[40]
SCL 21
August 6th, 2016
2nd [41]

LUTI SquidForce Playoffs

August 14th-21st, 2016
5th/

N/A

[42] [43]
SCL 22
August 20th, 2016

7th/25th

[44]
Oceanink Offensive (August Open)
August 26th, 2016

3rd

[45]
Inkstorm 4
August 27th-28th, 2016

N/A

[46] [47]
Spyke It Up!
September 2nd, 2016
3rd [48]
Turning the Tides
September 10th, 2016
3rd [49]
SCL 24
September 17th, 2016

25th

[50]
Bleck n Spoon Weekly #3
September 29th, 2016

3rd

[51]
Friday Night Splatdown 3
September 30th, 2016
5th [52]
SCL 25
October 1st, 2016

5th/9th

[53]
Bleck n Spoon Weekly #4
October 5th, 2016

5th

[54]
Bleck n Spoon Weekly #5
October 13th, 2016
3rd [55]
Friday Night Splatdown 5
October 14th, 2016

N/A

[56]
Just Another Saturday Tournament
October 15th, 2016
9th [57]
SCL 26
October 29th, 2016

9th

[58]
Monsoon Weekly #3
October 30th, 2016

12th

[59]
Bleck n Spoon Weekly #7
November 3rd, 2016

5th

[60]

LUTI Forge Playoffs

November 28th-December 11th, 2016

N/A

[61]
NNCL Astral VIII
December 2nd, 2016

5th

[62]
Supernova III
December 3rd, 2016

N/A

[63]
Monsoon Weekly #5
December 4th, 2016

5th

[64]
SCL 28
December 10th, 2016

5th

[65]
Monsoon Weekly #7
December 18th, 2016

16th

[66]
References