Gloves
Jump to navigation
Jump to search
Gloves​
Gloves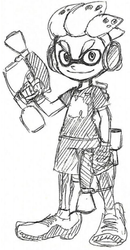 | | |
| --- | --- |
| Species | Inkling |
| Height | |
| Hair color | Neon green |
| Eye color | Neon green |
| Age | |
| Gender | Male |
| Relations | |
| Location | |
| Shop | |
| Members | |
"
This'll be the coolest.
"

— Gloves in the match against Team Retro-Gamer
Appearance
Gloves is a male Inkling from the Splatoon manga with the "Slick" hairstyle. He always has the "freshest" gear and wears the Squidfin Hook Cans, Black V-Neck Tee, Yellow-Mesh Sneakers, and loose shorts with leggings. He wields the Splat Dualies. Before he became trendy, he wore the Samurai Gear and used the Bamboozler 14 Mk I. He takes the role of Agent 4 in volume 12 of the manga and uses the Hero Dualie Replicas and wears the Splatoon 2 Hero Gear with the gloves from his Black V-Neck Tee. Sometimes, the tentacles on his hair come off because he scrapes his head against the ground when he dodge rolls, and he starts raging but eventually sticks them back on.
Personality
Gloves is very stylish and says the word "cool" frequently, but gets very mad and confused when his tentacles come off. He likes being "Trendy" and "Fresh". He seems to not get on very well with Rider as their play styles always clash, although he and Rider get upset at some of the same stuff.
Trivia
Gloves introduced the Splatoon 2 arc in the manga.
According to the Inkling Almanac, it takes Gloves half an hour to set his hair.
Gloves was given the Splat Dualies as a prototype by Emperor while training in the mountains.
In the Funny Man vs. Straight Man Splatfest, he was on Team Funny Man, but only because Half-Rim voted for him.
During the match with X-Blood, he says that he might be Rank X material, causing Vintage to get extremely upset and use X-Zone.
He enjoys bagels, as mentioned during the Hero Mode 2 arc.