Goggles (character)
Jump to navigation
Jump to search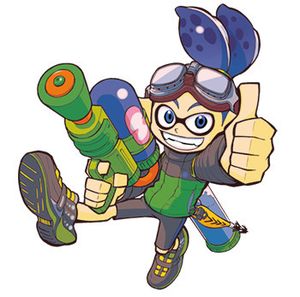 Goggles is a character from the Splatoon manga and the series' mascot, who first appeared un-named in Chapter 0, a fan-made promotional manga published in June's CoroCoro Special issue in 2015, in which he was in a different outfit, more in-sync with the promotional-art character he was based on. He has appeared in every chapter since.
Appearance
Goggles has worn 5 different outfits through the course of the manga, excluding his short-lived outfits that were only featured in 1 chapter, like his outfit changes in Chapter 3. They all (excluding the Octo Expansion gear) share the same headgear, the

Pilot Goggles, in which the character was named after. In Chapter 0, he wore the
Zink Layered LS and

Purple Hi-Horses. Throughout the CoroCoro Cup he wore the

Armor Jacket Replica and

Hero Runner Replicas. During the Hero Mode chapters, he wore the

Hero Headset Replica with his goggles,

Hero Jacket Replica and

Hero Runner Replicas.In the Square King Cup arc and onwards (excluding the Octo Expansion arc) he wore the

Eggplant Mountain Coat and
Hero Runner Replicas. In the Octo Expansion arc he wore the

Sennyu Goggles,

Sennyu Suit and

Sennyu Inksoles.
Personality
Throughout the manga, Goggles is shown to be quite naïve and often not serious, a trait that is shared with fellow teammate Bobble Hat. In the first volume of the manga, his info in the Inkling Almanac reveals that he is a restless sleeper. In addition to this, he is also shown to engage in practical jokes, mostly pantsing other Inklings (notably Rider) and getting naked in public.
Relationships
He is shown to get along well with the other members of Team Blue, despite Headphones and Specs taking offense to his actions, while Bobble Hat seems to not mind his shenanigans.
Gallery
Manga Promotional Artwork
In-game Renders
Names in other languages
Language
Name
Meaning
 Japanese
ゴーグルくん
Goggle-kun
Goggle-kun