Hit
From Inkipedia, the Splatoon wiki
This page or section is under construction.




Please excuse its informal appearance while it is being worked on. We hope to have it completed as soon as possible!
Can you help us get it done?
Hit​
Hit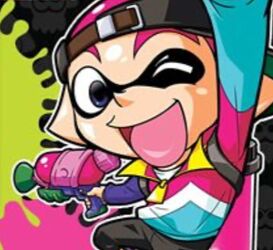 | | |
| --- | --- |
| Species | Inkling |
| Height | |
| Hair color | Pink |
| Eye color | Blue |
| Age | |
| Gender | Male |
| Pronouns | |
| Relations | |
| Location | |
| Shop | |
| Members | |
Hit is a character from Splatoon: Squid Kids Comedy Show. He is somewhat similar to Goggles from the Splatoon manga.
Description
Hit is a male Inkling with the buzz-cut hairstyle. He wears the Takoroka Visor, the Takoroka Windcrusher, and the Neon Delta Straps. He uses a lot of weapons throughout the manga, but he mainly uses the Splattershot.
Personality
Hit can be described as ridiculous. He is all over the place, and is clueless about Inkling anatomy, seeing that he tries to swim in water all the time despite Inklings only being able to swim in ink. He cares about his best friend, Maika but his attempts to help her usually fail. He is occasionally unlucky and likes to read manga. He is seen to pass gas a lot and once propelled himself into the air with his gas and, one time, his runny nose made him fly.
Trivia
Hit seems to have an abnormally large head on the cover of Squid Kids Comedy Show volume 1, similar to the "Chibi" anime style, but in the actual manga his head is normal-sized.
Names in other languages
Language
Name
Meaning
 Japanese

ヒット


Hitto
Hit
 French
Hit
-