Inkipedia
:
Administrators
From Inkipedia, the Splatoon wiki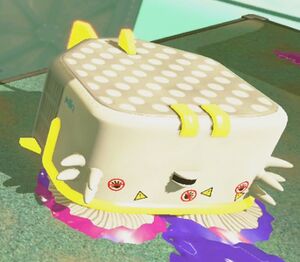 Administrators (also known as admins or sysops) are a group of experienced users who maintain the wiki through enforcing policies and the use of special functions given to them (see a list below). Given the amount of experience they have on the wiki, they are usually the best users to contact whenever you have a question.
Commonly used functions
Main article: User group rights
Deleting and undeleting pages and page histories. Administrators can also delete uploaded images and files (Log)
Locking (protecting) a page so it can not be edited or renamed by users without admin rights (Log)
Blocking users or IP addresses from editing (Log)
Automatically undoing (or rollbacking) edits by a specific user on a page
Many additional functions not listed above
Admins who join the Inkipedia Discord server will be given the wiki admin role, which allows access to the staff chat. Wiki admins that want to help the Inkipedia Discord server may request the server admin role.
Becoming an administrator
Main article: Requests for rights
It takes a lot of work and experience to become an administrator. Below are some questions to help you decide whether or not you are actually ready for adminship.
Are you online often?
Are you a good editor (with excellent use of the English language)?
Do you know intermediate-level wikicode (e.g. are you able to understand semi-complex wikicode by looking at it)?
Do you work well with other users?
Do you follow our policies?
Once you feel you are ready, and if requests for adminship are unlocked, two users must be willing to nominate you (one of which has to be a current admin). If your nomination is successful you will become a permanent admin. Good luck!
Demotion
Main article: Demotion
A user with rights can be demoted through Inkipedia's democratic demotion request process.
If an admin is demoted due to inactivity, they will still be trusted as an experienced former admin. These users have the following privileges:
They will continue to have access to the admin-only channels in Discord. As an experienced former admin, their insight, opinions, and advice are valuable to other Inkipedia users on Discord.
They may reclaim their admin rights by contacting a current admin or bureaucrat through any contact method. This bypasses the voting process used for rights requests. Former admins have the trust of the community, so voting is not necessary.
Bureaucrats have the final say regarding the status of a user. Naughty users may lose community trust and may have privileges revoked.
Current admins
An up-to-date list can be fetched using Special:ListUsers/sysop.
These users were chosen to become administrators by the community and will serve indefinite terms until they resign, become inactive, or are impeached by the community. They are identified by the bold dark green names found on the recent changes page.
Administrator name
Signature prototype
Contact
Time zone
Specializes in
Status
A22PG (talk | contribs | logs)
A22PG (talk) -
Talk page | Email
UTC+1 (

ESP

)
Spanish translations, interface, editing
Fully active
AmbientDinosaur (talk | contribs | logs)
–
Talk page
UTC+1 (

CET

)
Weapon information and table editing
Lately inactive
Anemoia (talk | contribs | logs)

A

n

e

m

o

i

a

[

T

a

l

k

!

]

Talk page | Discord
UTC+1 (

CET

)
French translations, article structure, cleanup
Fully active
eli (talk | contribs | logs)
Talk page | Twitter | Discord
UTC+9 (

JST

)
Excused
Eminence (talk | contribs | logs)
EminenceTalk
Talk page | Discord
UTC−5 (

EST

)
General organization and categorization, editing help
Excused
FancyRat (talk | contribs | logs)
FancyRat
Talk page
UTC-5 (

EST

)
Spelling, grammar, and cleanup
Fully active
Fumple (talk | contribs | logs)
>

Fumple

(-> talk)
Talk page | Email | Twitter
UTC+1 (

CEST

)
Interface, MediaWiki
Lately inactive
GloverMist (talk | contribs | logs)
GloverMist (talk)
Talk page | Twitter
UTC-0 (

GMT

)
Spelling, grammar, and general information
Fully active
GX_64 (talk | contribs | logs)

 GX_64

 (talk) 

Talk page | Discord
UTC+10 (

AEST

)
Fully active
Heddy (talk | contribs | logs)
Heddy (talk)
Talk page | Email | Discord
UTC−5 (

EST

)
Fully active
Inkrid (talk | contribs | logs)
Talk page
UTC+2 (

IST

)
Fully active
Luke26 (talk | contribs | logs)
Talk page
UTC-0 (

GMT

)
Article structure
Lately inactive
OrderSquid38 (talk | contribs | logs)

OrderSquid38

*Chat*
Talk page
UTC-6 (

CST

)
Korean translations
Fully active
Perfectionist (talk | contribs | logs)

 

 

Perfectionist

 

 

(

talk

)

Talk page
Fully active
Prod (talk | contribs | logs)
Technical support
Excused
Shahar (talk | contribs | logs)
Shahar (talk)
Talk page | Email
UTC+2 (

IST

)
Battle information and article structure
Fully active
Slate (talk | contribs | logs)

Slate

Talk

Contribs

Talk page | Twitter | Discord
UTC-0 (

GMT

)
Inkipedia vision, templates, and automation
Fully active
StarAdamStar (talk | contribs | logs)
Talk page | Twitter
UTC-8 (

PST

)
Spanish translations
Fully active
SuperHamster (talk | contribs | logs)
SuperHamster Talk
Talk page | Email
UTC-5 (

EST

)
Editing
Lately inactive
Trig Jegman (talk | contribs | logs)
Talk page | Discord
UTC-5 (

EST

)
Fully active
XarrotD (talk | contribs | logs)
XarrotD (talk)
Talk page
UTC-5 (

EST

)
Datamining and weapon data
Fully active
Yoshifan52 (talk | contribs | logs)
Yoshifan52 (talk)
Talk page
UTC-5 (

EST

)
Cleanup
Fully active
Legend
| Status | Description |
| --- | --- |
| Fully active | These are the best users to contact when you need help. They log on and edit on a regular basis. |
| Lately inactive | These users have not edited in the past month. Do not contact these users for emergencies. |
| Inactive | These users have not edited in the past six months. Do not contact these users, because they will likely be demoted soon. |
| Excused | These users are exempt or their inactivity has been excused. |
See also