iShipIt
Jump to navigation
Jump to search
iShipIt​
iShipIt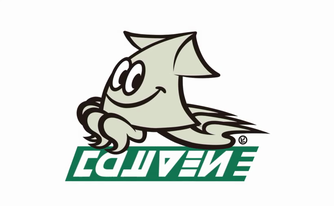 For the piece of Grizzco gear with this company's logo, see Squiddor Polo.
iShipIt is a shipping company in the Inkling world in Splatoon 2. It is the largest transport company in Inklings' world.[1] The company's logo is a white, running, smiling squid with white text on a green banner. In Version 3.1.0, the company was given an alternate logo with the squid re-colored blue and the green banner re-colored red. This version of the logo adds blue text above and off to the side of the red banner.
Splatoon 2
Squiddor's name, logo, and shipping packages can be seen in various locations in Splatoon 2.
Appearances
Trivia
The company name seems to come from the name suffix -dor/-dore (from the Old Greek δῶρον), such as "Theodor" (gift of God) or "Isidore" (Gift of Isis). If this is the case, the company's name would mean "Gift from a squid".
Gallery
Names in other languages
Language
Name
Meaning
 Japanese
イカテン急便
Ikaten Kyūbin
Ikaten Transport
イカテン急便 Ikaten Kyūbin (Ikaten Transport), is a pun on Ika (squid) and Idaten (Skanda). Idaten is known as the god of fast running in Japan.
 Dutch
Koerier
courier (no name given)
 French (NOE)
courrier
courier (no name given)
 German
Kurier
courier (no name given)
 Italian
ufficio postale calamaro
squid postal office
 Russian
Плавь-Почтамта
Plav'-Pochtamta
Ink-lettering post office
 Spanish (NOE)
mensajería
messenger service (no name given)
References