Ink Vac
Jump to navigation
Jump to search
Fuuuuuture!




This article or section discusses unreleased content. Information is subject to change.
Please review our policy on rumors and leaks before adding leaked information.
The Ink Vac is an upcoming special weapon in Splatoon 3. Its name was revealed three days after the gameplay of it in the release date trailer of Splatoon 3.
Appearance
The Ink Vac is based on a diesel-powered backpack vacuum cleaner. The backpack consists of a white ink canister and a cyan vacuum engine below it. As the Ink Vac absorbs more enemy ink, the canister gets filled by glowing ink of the Ink Vac user's color and seems to shake more intensely. The engine has some control panels and a hose connecting it to a massive nozzle. The nozzle is cyan-and-black with two handles. The Dolphin logo can be seen on the canister and the nozzle.
Splatoon 3
Splatoon 3
Ink Vac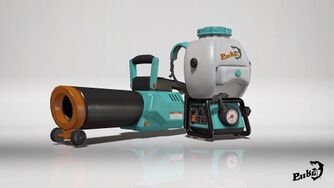 Category
Special
Class

Sub

Special

Special points

Special depletion

Range
Damage
Impact
Fire rate
Charge speed
Ink speed
Mobility
Durability
Handling
Acquirement

Level

Cost

Requirement
Specifications

Weight

Base 

damage

Base duration
Ink consumption
Base range
Rate of fire
Muzzle velocity
Base accuracy

MPU

effect

SPU

effect

SPU

effect
Other variant
Description
When deployed, the Ink Vac creates a vortex that sucks in enemy ink, which can be used to protect allies from it. Opponents caught within this vortex appear to be applied with a Toxic Mist-like effect, though it is uncertain whether it only slows them down or if it also makes them lose ink. Whenever the Ink Vac sucks ink, it creates distinctive sounds that can be heard by both teams, potentially cuing opponents to stop shooting at the vortex to prevent fueling the explosive shot at the end of the special. After a brief delay, at the end of the special's duration, the Ink Vac shoots out a projectile of ink that displays a radius upon impact (similar to the Splashdown) before exploding shortly afterwards, splatting opponents within the radius. The radius increases with more enemy ink sucked before shooting the explosive projectile.[1][2] As of the Release Date Revealed trailer, the Ink Vac appears to be a part of the Splat Charger's kit.
Quotes
"
Squid Research Lab here with breaking news! We've identified another new weapon - the formidable Ink Vac! This special device is equipped with a massive nozzle capable of inhaling the ink from an enemy's attack and sending it back via a powerful counterattack.

The more attacks it inhales, the more powerful the Ink Vac becomes. This is the sort of weapon that could provide security for an entire squad! Rest assured that our excitement is tempered by academic rigor.

"
"
The Ink Vac is equipped with a massive nozzle capable of inhaling the ink from an enemy's attack and sending it back via a powerful counterattack. The more attacks it inhales, the more powerful the Ink Vac becomes!
"

— @NintendoEurope on Twitter

[5]
Gallery
Names in other languages
Language
Name
Meaning
 Japanese

キューインキ


kyū inki
Possibly from 吸引 kyūin ("absorbtion") and 機 ki ("machine"), with a pun on the word "ink"
 Dutch
Inktdief
Ink thief; from kruimeldief ("minivac", literally "crumb thief").
 French (NOE)
Aspirencre
From aspirer ("inhale" or "suck") or aspirateur ("vacuum cleaner") + encre ("ink").
 German
Tintegrator
Ink Grater
 Italian
Vampinchiostro
 Spanish (NOE)
Aspiratinta
Vacuum Ink
 Chinese (Traditional)

吸墨機

Ink Sucking Machine
 Korean

흡입기

Inhaler
References