Ink refiller
From Inkipedia, the Splatoon wiki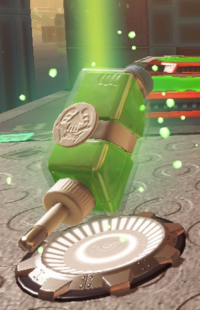 "
Those refill your ink, so grab 'em when you see 'em.
"
Ink refillers are a collectible in the Octo Expansion and Return of the Mammalians.
Description
Ink refillers are small containers of ink resembling small water bottles for pet birds and rodents. When touched, they refill the player's ink tank. They can either be sitting solitarily out in the open or continuously spawning from small pads, similar to canned specials. They often appear in levels where the player has limited ink, levels focused primarily on a specific sub weapon, or levels with timed challenges.
In Octo Expansion, ink refillers are embossed with a Kamabo Corporation logo. In Return of the Mammalians, they are instead embossed with a Cuttlegear logo.
Appearances
Gallery

This article or section needs more images!
You can help the wiki by
adding some
to keep it looking fresh!