Inkipedia:Inkling of the Month/May 2016
Jump to navigation
Jump to search
Return to Inkling of the Month overview.
See other Inkling of the Month winners here.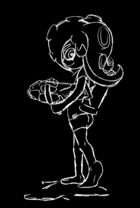 ---
May 2016's Inkling of the Month is Syl, with 6 votes.
Acceptance Speech
Thank you all very much for the votes and recognition. While I seldom edit the mainstream pages of Inkipedia, sprucing up the wiki with weapon and game mode demonstrations is something I'll be sure to continue doing for this wiki. I want to give ShrimpPin a special thanks for uploading those high quality weapon images and to Shachar for nominating me and being a nice and helpful friend. All the best to you all. <3 // Sỿl (talk) 00:09, 1 June 2016 (UTC)
Nominated by Nyargleblargle
For (5)
Against
Comments
Impressive work at the competitive side of the wiki. Made lots of edits and definetely deserve to be Inkling of the Month. 22:47, 17 May 2016 (UTC)
Both Username and Syl are helping the wiki a lot, so I am voting for both of them!
Nominated by Shahar
For (6)
Against
Comments
Helps us a lot with the weapons demonstration videos and made huge progress with them since then. I nominate him for this month as well. 18:12, 8 May 2016 (UTC)
Weapon demos are coming along really well, they make the weapon pages a lot more fun! Syl's been on the ball yo. 👍 --Bzeep! talk 23:20, 17 May 2016 (UTC)