Inkipedia:Inkling of the Month/September 2016
Jump to navigation
Jump to search
Return to Inkling of the Month overview.
See other Inkling of the Month winners here.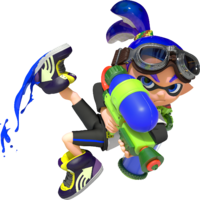 ---
September 2016's Inkling of the Month is User:KingAwesome467, with 0 votes.
Acceptance Speech
Wait I'm or was the Inkling Of the Month! I guess I was so sad after the last SplatFest I didn't have the effort to edit. Came back because of Switch and I see that I missed most of my time to shine, and I hope it's not too late for an acceptance speech. Hopefully my edits will pick back up because of Switch. I know I didn't have much competition but I appreciate Snowwarrior92 for voting for me.
Nominated by GogglesKunInkling
For (1)
(|Contribs) 16:06, 16 September 2016 (UTC)
Against (4)
I am going to have to agree with the others. Snowwarrior92 17:23, 17 September 2016 (UTC)
Comments
First-ed!, best contributor of all time, and my friend. Good luck, squiddy! (|Contribs) 12:13, 4 September 2016 (UTC)
I noticed, It's ok (|Contribs) 09:47, 7 September 2016 (UTC)
Nominated by Snowwarrior92
For (1)
Against (1)
Not gonna happen. (|Contribs) 11:49, 17 September 2016 (UTC)
Comments
An awesome editor, who has been making consistent edits. Snowwarrior92 18:47, 5 September 2016 (UTC)
A bit inactive (I know I'm one to talk), so I'm kinda on the fence. Nyargleblargle (Contribs) 23:04, 6 September 2016 (UTC)
Per Nyargle. I will take a look at their edits a bit later and make a vote. // Sỿl (talk) 20:53, 29 September 2016 (UTC)