Inkipedia:Polls
Jump to navigation
Jump to search
Polls are surveys for readers to vote and interact with the wiki and express their preferability over the options of the poll.
The polls are a way for the wiki to know the preference of the readers, are opportunities to promote articles, and give statistics about a certain subject.
About
On 17 February 2016, SuperHamster brought up the poll widget to the wiki during the Pokémon Red vs. Pokémon Blue/Green Splatfest. However, due to a placement glitch that could not be resolved, the poll was eventually abandoned.[1]
Two years later, on 24 February 2018, Shahar revived the poll widget to have it on the Main Page and is currently in charge of it.
On 29 June 2018, a poll suggestions form was added on Google Docs.
For four polls, Inkrid helped with creating unique images for the polls.
From 29 April 2019 until 24 July 2020, eleven23 was in charge of replacing polls.
New polls
The polls are usually swapped on a monthly basis. If they are event-related, they are swapped after the event.
If you want to suggest a poll, simply fill out this form.
View poll suggestions from the Google form here.
Nominate and vote for the next poll here.
Archived polls
Archived polls can be seen here. The winner of the poll is in bold blue
Widget 1: PollDaddy Extension
Which pop idol do you prefer?
(

24 February 2018

-

10 March 2018

, Submitted by Shahar)
Callie 24.28% (370 votes)
Marie 36.02% (549 votes)

Pearl 12.6% (192 votes)

Marina 27.1% (413 votes)
Total Votes: 1,524
Which class of weapons do you like the most?
(

10 March 2018

-

24 March 2018

, Submitted by Shahar)
Shooter 22.6% (434 votes)
Blaster 3.49% (67 votes)
Roller 14.79% (284 votes)
Brush 7.71% (148 votes)
Charger 7.29% (140 votes)
Slosher 4.84% (93 votes)
Splatling 6.04% (116 votes)
Dualies 26.41% (507 votes)
Brella 6.82% (131 votes)
Total Votes: 1,920
What would you like to see Inkipedia focus more on? (Answer seriously)
(

1 June 2018

-

9 June 2018

, Submitted by Shahar)
Abilities 4.37% (27 votes)
Brands 2.1% (13 votes)
Characters 11.97% (74 votes)
Competitive 11.17% (69 votes)
Format & Structure 4.37% (27 votes)
Galleries 2.91% (18 votes)
Gear 6.47% (40 votes)
Modes 1.94% (12 votes)
Quotes 3.07% (19 votes)
Single-player Campaigns 11.17% (69 votes)
Splatfest 11.33% (70 votes)
Stages 3.88% (24 votes)
Templates 1.29% (8 votes)
Weapons 13.92% (86 votes)
Other 10.03% (62 votes)

Octo Expansion(Single-player Campaign): 19
Gallery: 1
Characters: 2
Guides: 3
Trivia: 3
Music: 1
Modes: 1
Competitive: 1
Names in other languages: 1
Total Votes: 618
How do you play Splatoon 2?
(

9 June 2018

-

29 June 2018

, Submitted by Inkrid)
Handheld (with motion) 24.12% (571 votes)
Handheld (without motion) 12.04% (285 votes)

Joy-cons (with motion) 23.32% (552 votes)

Joy-cons (without motion) 6.46% (153 votes)

Pro Controller (with motion) 25.48% (603 votes)

Pro Controller (without motion) 8.58% (203 votes)
Total Votes: 2,367
Squid or Octopus?
(

8 July 2018

-

22 July 2018

, Submitted by Inkrid)

Squid Squid 45.16% (1,334 votes)

Octopus Octopus 54.84% (1,620 votes)
Total Votes: 2,954
Which Salmonid is the most annoying in Salmon Run?
(

19 August 2018

-

31 August 2018

, Submitted by Shahar)
Chum 4% (65 votes)
Smallfry 22.77% (370 votes)
Cohock 0.42% (7 votes)
Snatcher 1.72% (28 votes)
Steelhead 3.69% (60 votes)
Flyfish 38.4% (624 votes)
Steel Eel 3.88% (63 votes)
Maws 2.28% (37 votes)
Stinger 9.17% (149 votes)
Drizzler 2.4% (39 votes)
Scrapper 1.05% (17 votes)
Griller 5.54% (90 votes)
Goldie 0.8% (13 votes)
Mothership 3.26% (53 votes)
Chinook 0.62% (10 votes)
Total Votes: 1,625
Which single-player campaign do you like the most?
(

31 August 2018

-

8 September 2018

, Submitted by Shahar)
Octo Valley 8.17% (93 votes)
Octo Canyon 12.65% (144 votes)
Deepsea Metro (Octo Expansion) 79.17% (901 votes)
Total Votes: 1,625
What do you use the most: front line or back line weapons?
(

28 September 2018

-

6 October 2018

, Submitted by Shahar)
Front line weapons (close to mid range) 72.41% (866 votes)
Back line weapons (long range) 27.59% (330 votes)
Total Votes: 1,196
Trick or Treat?
(

6 October 2018

-

26 October 2018

, Submitted by Shahar)
Trick 39.42% (944 votes)
Treat 60.58% (1,451 votes)
Total Votes: 2,395
Do you have Nintendo Switch Online service?
(

26 October 2018

-

13 November 2018

, Submitted by Shahar)
Yes 84.27% (1,152 votes)
No 15.73% (215 votes)
Total Votes: 1,367
Family vs. Friends?
(

5 December 2018

-

17 December 2018

, Submitted by Shahar)
Family 66.67% (796 votes)
Friends 33.33% (398 votes)
Total Votes: 1,194
Do you have Splatoon merchandise?
(

17 December 2018

-

11 January 2019

, Submitted by Shahar)
Yes 69.34% (1,307 votes)
No 30.66% (578 votes)
Total Votes: 1,885
What is your favorite multiplayer battle theme in Splatoon 2?
(

29 January 2019

-

9 February 2019

, Submitted by Shahar)
Inkoming! - Wet Floor 14.1% (117 votes)
Rip Entry - Wet Floor 5.3% (44 votes)
Undertow - Wet Floor 1.2% (10 votes)
Don't Slip - Wet Floor 2.53% (21 votes)
Endolphin Surge - Wet Floor 5.54% (46 votes)
Shipwreckin' - Bottom Feeders 1.45% (12 votes)
Fins & Fiddles - Bottom Feeders 1.45 1.2% (10 votes)
Seafoam Shanty - Bottom Feeders 3.86% (32 votes)
Broken Coral - Ink Theory 2.05% (17 votes)
Riptide Rupture - Ink Theory 2.17% (18 votes)
Blitz It! - Chirpy Chips 15.18% (126 votes)
Wave Prism - Chirpy Chips 3.01% (25 votes)
Seasick - Diss-Pair 3.37% (28 votes)
Kinetosis - Diss-Pair 3.25% (27 votes)
Chopscrewey - SashiMori 9.04% (75 votes)
Entropical - SashiMori 26.75% (222 votes)
Total Votes: 830
Which hair style do you like the most in Splatoon 2?
(

20 March 2019

-

15 April 2019

, Submitted by TURTLE and two anonymous)
Hippie 4.82% (99 votes)
Haircut 3.45% (71 votes)
Double-Bun 3.02% (62 votes)
Wave 7.3% (150 votes)
Pigtail 2.53% (52 votes)
Banger 3.7% (76 votes)
Topknot 3.4% (70 votes)
Slick 5.59% (115 votes)
Buzz-cut 1.9% (39 votes)
Hipster 5.01% (103 votes)
Spiky-Haired 3.16% (65 votes)
Mush-Cut 4.67% (96 votes)
Tentacurl 20.91% (430 votes)
Pony 9.29% (191 votes)
Punk 10.99% (226 votes)
Afro 10.26% (211 votes)
Total Votes: 2,056
What is your favorite sub-weapon?
(

29 April 2019

-

13 May 2019

, Submitted by RollerFan)
Autobomb 13.3% (155 votes)
Burst Bomb 12.53% (146 votes)
Curling Bomb 7.55% (88 votes)
Disruptor 0.77% (9 votes)
Fizzy Bomb 9.87% (115 votes)
Ink Mine 3.86% (45 votes)
Point Sensor 1.46% (17 votes)
Seeker 3.09% (36 votes)
Splash Wall 1.8% (21 votes)
Splat Bomb 19.48% (227 votes)
Sprinkler 4.64% (54 votes)
Squid Beakon 3% (35 votes)
Torpedo 7.81% (91 votes)
Toxic Mist 2.4% (28 votes)
Total Votes: 1,165
Which special weapon from Splatoon do you want to see in Splatoon 2?
(

13 May 2019

-

26 May 2019

, Submitted by Eleven23)
Bomb Rush 1.43% (14 votes)
Bubbler 2.04% (20 votes)
Echolocator 7.23% (71 votes)
Inkstrike 25.05% (246 votes)
Inkzooka 12.63% (124 votes)
Killer Wail 27.7% (272 votes)
Kraken 23.93% (235 votes)
Total Votes: 982
Which team do you think will win the Splatoon 2 World Championships 2019?
(

27 May 2019

-

10 June 2019

, Submitted by Eleven23)
GGBoyZ [Japan] 44.62% (431 votes)
FTWin [North America] 31.57% (305 votes)
Alliance Rogue [Europe] 13.56% (131 votes)
Lime Soda (Australia) 10.25% (99 votes)
Total Votes: 966
Which Salmonid is the easiest to defeat?
(

10 June 2019

-

24 June 2019

, Submitted by Eleven23)
Chinook 6.92% (86 votes)
Chum 41.32% (526 votes)
Cohock 0.56% (7 votes)
Drizzler 0.48% (6 votes)
Flyfish 0.72% (9 votes)
Goldie 4.67% (58 votes)
Griller 0.72% (
Maws 11.18% (139 votes)
Mothership 2.41% (30 votes)
Scrapper 1.21% (15 votes)
Smallfry 10.46% (130 votes)
Snatcher 8.93% (111 votes)
Steel Eel 2.01% (25 votes)
Steelhead 0.8% (10 votes)
Stinger 6.6% (82 votes)
Total Votes: 1,243
Which Splatoon character is your favorite?
(

24 June 2019

-

21 July 2019

, Submitted by Eleven23)
Agent 3 4.35% (105 votes)
Agent 4 3.23% (78 votes)
Agent 8 12.6% (304 votes)
Annie 0.37% (9 votes)
Bisk 0.12% (3 votes)
C. Q. Cumber 3.98% (96 votes)
Callie 6.05% (146 votes)
Cap'n Cuttlefish 2.03% (49 votes)
Craymond 0.25% (6 votes)
Crusty Sean 1.49% (36 votes)
DJ Octavio 2.24% (54 votes)
Flow 0.79% (19 votes)
Inklings 2.82% (68 votes)
Iso Padre 1.62% (39 votes)
Jelfonzo 0.66% (16 votes)
Judd 1.24% (30 votes)
Lil' Judd 3.98% (96 votes)
Marie 7.46% (180 votes)
Marina 16.79% (405 votes)
Moe 0.08% (2 votes)
Mr Grizz 1.29% (31 votes)
Murch 0.54% (13 votes)
Octarians 1% (24 votes)
Octolings 5.02% (102 votes)
Pearl 16.92% (408 votes)
Salmonids 0.62% (15 votes)
Sheldon 0.79% (19 votes)
Marina 16.79% (405 votes)
Telephone 1% (24 votes)
Total Votes: 2,412
Chaos Vs Order?
(

21 July 2019

-

12 August 2019

, Submitted by Eleven23)
Chaos 51.75% (1,318 votes)
Order 48.25% (1,229 votes)
Total Votes: 2,547
Which button do you use to throw clams?
(

12 August 2019

-

2 September 2019

, Submitted by Shahar)
84.38% (1,286 votes)
15.62% (238 votes)
Total Votes: 1524
Which playable agent do you prefer?
(

2 September 2019

-

30 September 2019

, Submitted by multiple people, including Don'tHaveAInkipediaAccount, Thomas Knollenberger and eleven23)
Agent 3 19.44% (270 votes)
Agent 4 19.65% (273 votes)
Agent 8 60.91% (846 votes)
Total Votes: 1389
What would you like to see Inkipedia focus more on? (Answer seriously)
(

30 September 2019

-

21 October 2019

, Submitted by Shahar and Eleven23)
Abilities 7.86% (66 votes)
Brands 2.86% (24 votes)
Characters 19.05% (160 votes)
Competitive 9.4% (79 votes)
Format & Structure 2.74% (23 votes)
Galleries 7.02% (59 votes)
Gear 6.31% (53 votes)
Modes 1.31% (11 votes)
Quotes 4.64% (39 votes)
Single-player Campaigns 6.67% (56 votes)
Splatfest 6.79% (57 votes)
Stages 2.62% (22 votes)
Templates 1.43% (12 votes)
Weapons 12.14% (102 votes)
Other 9.17% (77 votes)

Advanced tips/strategies/techniques: 7
All of the above: 5
Areas: 1
Artwork: 1
Enemies: 1
Leaks/rumors:1
Links to alternate kits at the top of weapon pages for faster navigation: 1
Manga: 9
Music: 10
Mechanics: 1
Non-gear/weapon brands: 1
(Sanitized) Octarians, Octo Expansion, Octoloings etc.: 3
Options: 1
Salmon Run gear: 1
Specials: 1
Spelling: 1
Inklings/Squids: 1
Trivia: 3
Translating: 1
Updates: 1
Total Votes: 840
Which boss was the easiest to defeat? (Campaign)
(

21 October 2019

-

22 January 2020

, Submitted by Eleven23)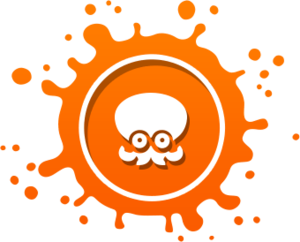 Octo Oven 38.39% (319 votes)
Octo Samurai 30.45% (253 votes)
Neo Octostomp 7.94% (66 votes)
Octo Shower 2.05% (17 votes)
DJ Octavio 21.8% (176 votes)
Total Votes: 831
Which band is your favourite?
(

22 January 2020

-

25 March 2020

, Submitted by Eleven23)
Bob Dub 0.47% (5 votes)
Bottom Feeders 1.32% (14 votes)
Chirpy Chips 9.87% (105 votes)
Dedf1sh 10.71% (114 votes)
Diss-Pair 1.69% (18 votes)
DJ Lee Fish 0.19% (2 votes)
DJ Real Sole 0.19 (2 votes)
Grizzco Industries 3.1% (33 votes)
Hightide Era 1.6% (17 votes)
Ink Theory 1.88% (20 votes)
Off The Hook 22.09% (235 votes)
Omega-3 2.91% (31 votes)
SashiMori 3.2% (34 votes)
Squid Sisters 31.67% (337 votes)
Squid Squad 2.82% (30 votes)
Turquoise October 3.48% (37 votes)
Wet Floor 2.82% (30 votes)
Total Votes: 1064
Do you own a physical or digital copy of the first Splatoon and which region? (You can select multiple answers)
(

25 March 2020

-

29 April 2020

, Submitted by Shahar)
EU (digital) 7.18% (102 votes)
EU (physical) 18.1% (257 votes)
JP (digital) 4.01% (57 votes)
JP (physical) 4.23% (60 votes)
NA (digital) 14.72% (209 votes)
NA (physical) 51.76% (735 votes)
Total Votes: 1,420
Mayo Or Ketchup?
(

29 April 2020

-

2 June 2020

, Submitted by Eleven23)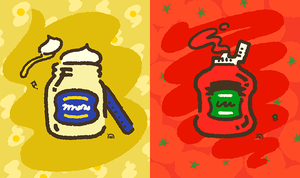 Mayo 26.08% (1,320 votes)
Ketchup 73.92% (3,742 votes)
Total Votes: 5,062
In Splatoon 2, which species and gender do you play as?
(

2 June 2020

-

21 July 2020

, Submitted by Shahar)
Inkling Girl 17.32% (963 votes)
Inkling Boy 24.44% (1,359 votes)
Octoling Girl 29.59% (1,645 votes)
Octoling Boy 28.65% (1,593 votes)
Total Votes: 5,560
Chicken or Egg? What came first and which team would you choose?
(

22 July 2020

-

24 August 2020

, Submitted by Shahar)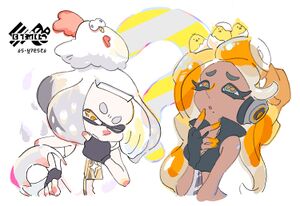 Chicken 35.7% (1,231 votes)
Egg 64.3% (2,217 votes)
Total Votes: 3,448
If you've got Splatoon, do you have motion controls __?
(

24 August 2020

-

9 October 2020

, Submitted by Shahar)
On 76.13% (319 votes)
Off 23.87% (100 votes)
Total Votes: 419 (3,408 in total but Crowd Signal account is free)
If you've got Splatoon 2, what level are you?
(

9 October 2020

-

8 November 2020

, Submitted by Shahar)
1-25 16.08% (402 votes)
26-50 36.12% (903 votes)
51-75 18.56% (464 votes)
76-99 10.76% (269 votes)
★1 (1-99) 9.72% (243 votes)
★3 and above 6.56% (164 votes)
Total Votes: 2,500 (2,524 in total but Crowd Signal account is free)
Widget 2: Strawpoll.me Integrator
What's your highest rank in Splatoon 2?
(

18 December 2020

-

31 December 2020

, Submitted by Shahar)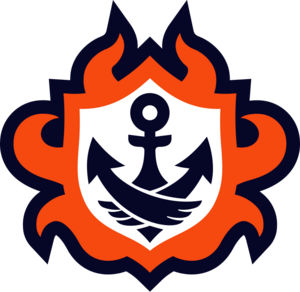 C (- to +) 9% (83 votes)
B (- to +) 16% (153 votes)
A (- to +) 19% (182 votes)
S 8% (73 votes)
S+ (0 to 9) 20% (191 votes)
X 21% (198 votes)
Total Votes: 946
Pick a side
(

1 January 2021

-

18 January 2021

, Submitted by Shahar)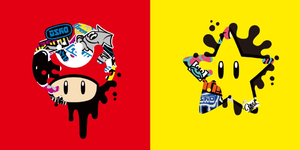 Super Mushroom 28% (540 votes)
Super Star 72% (1,392 votes)
Total Votes: 1,932
Which Shifty Station from the recent Splatfest is your favorite?
(

18 January 2021

-

5 February 2021

, Submitted by Shahar)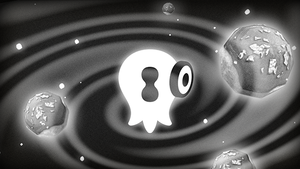 Cannon Fire Pearl 41% (512 votes)
The Bunker Games 26% (330 votes)
The Chronicles of Rolonium 18% (227 votes)
The Bouncey Twins 15% (182 votes)
Total Votes: 1251
Which Octo Canyon Boss is your favorite?
(

5 February 2021

-

2 March 2021

, Nominated by Eminence)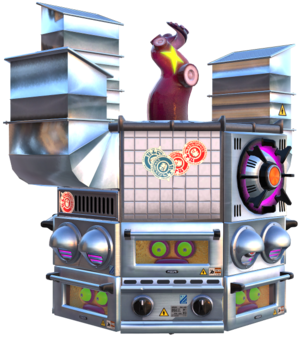 DJ Octavio 39% (1044 votes)
Octo Samurai 18% (472 votes)
Octo Shower 15% (394 votes)
Neo Octostomp 11% (298 votes)
Octo Oven 11% (287 votes)
None of the above 7% (177 votes)
Total Votes: 2,672
Which Grizzco weapon is your favourite in Salmon Run?
(

1 March 2021

-

2 April 2021

, Nominated by Yawshi Fan)

Grizzco Brella 18% (604 votes)
Grizzco Slosher 15% (518 votes)
Grizzco Charger 21% (701 votes)
Grizzco Blaster 29% (990 votes)
I rather use other weapons 11% (356 votes)
I don't play Salmon Run 6% (206 votes)
Total Votes: 3,375
What in the Splatoon 3 trailer excites you the most?
(

2 April 2021

-

1 May 2021

, Nominated by Yawshi Fan)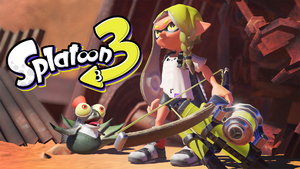 The little buddy! 10% (225 votes)
The new player customizations! 10% (237 votes)
The new setting in Splatsville! 4% (87 votes)
The new weapons and new look of returning weapons! 6% (130 votes)
The new stages and new look of returning stages! 1% (26 votes)
The new movement options! 2% (41 votes)
The new spawner drone mechanic! 2% (51 votes)
The new music! 3% (65 votes)
The new gear! 1% (18 votes)
I love it all! 58% (1338 votes)
I have something else in mind... 2% (54 votes)
I'm not really excited for Splatoon 3. 1% (33 votes)
I haven't watched the trailer yet... 1% (21 votes)
Total Votes: 2326
Who is you favorite shopkeeper?
(

1 May 2021

-

1 June 2021

, Nominated by Prinz the overlord)
Sheldon 37% (681 votes)
Annie 10% (186 votes)
Flow 9% (162 votes)
Bisk 2% (44 votes)
Crusty Sean 20% (365 votes)
Jelonzo 2% (32 votes)
Jelfonso 4% (74 votes)
I don't have a favourite/ I don't know 16% (284 votes)
Total Votes: 1828
Who do you like better? Judd? Or Lil Judd?
(

1 June 2021

-

6 July 2021

, Submitted by Squid400)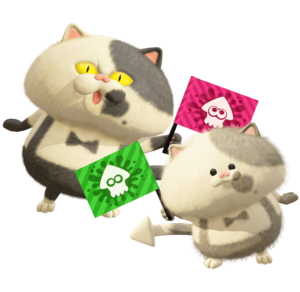 Judd 45% (848 votes)
Lil Judd 55% (1,026 votes)
Total Votes: 1,874
Rematch! Squid or Octopus?
(

6 July 2021

-

5 August 2021

, Submitted by Yawshi Fan)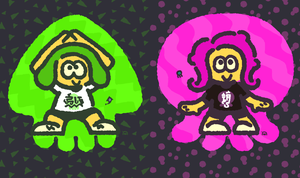 Squid 42% (767 votes)
Octopus 58% (1,069 votes)
Total Votes: 1,836
Which Salmon Run Boss is your worst enemy?
(

6 August 2021

-

11 September 2021

, Submitted by Yawshi Fan)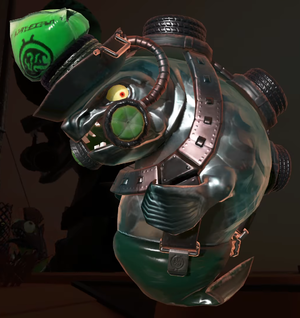 Steelhead 12% (198 votes)
Flyfish 39% (672 votes)
Steel Eel 7% (125 votes)
Drizzlez 5% (80 votes)
Stinger 11% (181 votes)
Scrapper 1% (16 votes)
Maws 3% (58 votes)
Griller 9% (151 votes)
Goldie 1% (19 votes)
Mothership 3% (57 votes)
None 3% (59 votes)
I don't play Salmon Run 6% (105 votes)
Total Votes: 1,721
Favorite type of Octo Expansion station?
(

12 September 2021

-

2 October 2021

, Submitted by Heddy)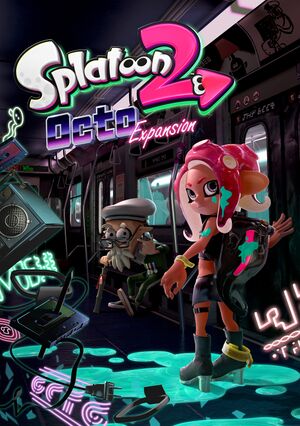 Guide the 8-ball to the goal! 15% (58 votes)
Defend the orb! 2% (8 votes)
Ride the rails and pop all the balloons! 9% (37 votes)
Defeat all the enemies before time runs out! 5% (18 votes)
Defeat the boss! 13% (52 votes)
Reach the goal with limited ink! 5% (18 votes)
Keep dodging until time runs out! 2% (6 votes)
Match the shape! 7% (28 votes)
Collect all eight data points! 19% (73 votes)
Other station type 14% (53 votes)
I have not played Octo Expansion 10% (40 votes)
Total Votes: 391
Which VS Multiplayer mode do you play the most in Splatoon 2?
(

2 October 2021

-

3 November 2021

, Submitted by Shahar)
Private Battle 2% (14 votes)
Regular Battle 52% (382 votes)
Ranked Battle 35% (260 votes)
League Battle 6% (44 votes)
Splatfest Battle (Play mostly in the events) 6% (44 votes)
Total Votes: 739
Which Splatoon 1 special do you want return/reworked in Splatoon 3 the most?
(

3 November 2021

-

7 December 2021

, Submitted by Yawshi Fan)
Bomb Rush 2% (27 votes)
Bubbler 0% (0 votes)
Echolocator 35% (260 votes)
Inkstrike 34% (421 votes)
Inkzooka 5% (66 votes)
Killer Wail 19% (242 votes)
Kraken 28% (356 votes)
None of them will fit... 0% (4 votes)
I don't know these specials... 8% (101 votes)
Total Votes: 1,250
What is your favorite final boss?
(

8 December 2021

-

11 January 2022

, Submitted by WoomyGirl85)
Octobot King I 13% (197 votes)
Octobot King II 11% (165 votes)
NILS Statue 34% (494 votes)
Inner Agent 3 42% (611 votes)
I don't know these bosses... 0% (0 votes)
Total Votes: 1,467
Which Splatoon 2 special do you want return/reworked in Splatoon 3 the most?
(

12 January 2021

-

2 February 2022

, Submitted by Yawshi Fan)
Baller 0% (0 votes)
Bomb Launcher 0% (0 votes)
Booyah Bomb 0% (1 vote)
Bubble Blower 0% (0 votes)
Inkjet 19% (107 votes)
Ink Armor 2% (13 votes)
Ink Storm 0% (0 votes)
Splashdown 29% (159 votes)
Sting Ray 0% (0 votes)
Tenta Missiles 27% (149 votes)
Ultra Stamp 22% (122 votes)
None of them would fit... 0% (0 votes)
I don't know these specials... 0% (0 votes)
Total Votes: 551
How many Super Sea Snails (in Splatoon 2) do you have in possession right now (used ones don't count)?
(

2 February 2022

-

1 March 2022

, Submitted by Yawshi Fan)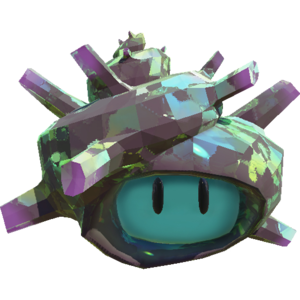 None 25% (350 votes)
1-5 18% (260 votes)
6-15 8% (119 votes)
16-40 16% (223 votes)
41-80 12% (172 votes)
81-120 6% (87 votes)
121-160 0% (0 votes)
161-200 3% (40 votes)
201 or more 12% (165 votes)
I don't have the game 0% (5 votes)
Total Votes: 1,421
Widget 3: Strawpoll.com Integrator
What are your thoughts on the return of Salmon Run in Splatoon 3?
(

2 March 2022

-

1 April 2022

, Submitted by Yawshi Fan)
I was so excited when they announced it! 47.61% (618 votes)
I'm happy it got brought back 30.35% (394 votes)
It's cool, but... 13.64% (177 votes)
I don't really care but sure I guess 4.93% (64 votes)
I would've liked it better if they did not bring it back 2.31% (30 votes)
What is Salmon Run? 1.16% (15 votes)
Total Votes: 1,298
Final Fest Rematch!
(

1 March 2022

-

2 May 2022

, Submitted by WoomyGirl85)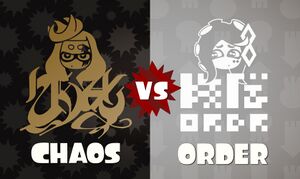 I'm Team Chaos! 54.12% (821 votes)
I'm Team Order! 45.88% (696 votes)
Total Votes: 1,517
Which Splatoon 1 or 2 idol do you relate to THE MOST?
(

2 May 2022

-

2 June 2022

, Submitted by Yawshi Fan)
Callie 18.95% (260 votes)
Marie 29.23% (401 votes)
Pearl 12.97% (178 votes)
Marina 26.02% (357 votes)
None of them 9.04% (124 votes)
Who are these people? 3.79% (52 votes)
Total Votes: 1,372
How many hours approximately do you have on Splatoon 2?
(

2 June 2022

-

4 July 2022

, Submitted by Shahar)
None 4.17% (52 votes)
1-10 2.00% (25 votes)
11-50 3.61% (45 votes)
51-100 4.57% (57 votes)
101-500 33.52% (418 votes)
501-1000 23.26% (290 votes)
1001-2000 17.56% (219 votes)
2001-3000 4.09% (51 votes)
3001-4000 2.65% (33 votes)
4001-5000 0.88% (11 votes)
5001 and above 3.69% (46 votes)
Total Votes: 1247
Which weapon from the Kensa Collection is your favourite?
(

4 July 2022

-

11 August 2022

, Submitted by Yawshi Fan)
Kensa Charger 3.44% (46 votes)
Kensa Splat Dualies 8.81% (118 votes)
Kensa Splat Roller 3.51% (47 votes)
Kensa Splatterscope 1.72% (23 votes)
Kensa Splattershot 12.25% (164 votes)
Kensa Dynamo Roller 11.35% (152 votes)
Kensa Luna Blaster 3.14% (42 votes)
Kensa Sloshing Machine 4.71% (63 votes)
Kensa Splattershot Pro 11.05% (148 votes)
Kensa L-3 Nozzlenose 1.57 (21 votes)
Kensa Octobrush 10.90% (146 votes)
Kensa Splattershot Jr. 3.73% (50 votes)
Kensa Undercover Brella 4.78% (64 votes)
Kensa .52 Gal 10.90% (146 votes)
Kensa Rapid Blaster 2.46% (33 votes)
Kensa Mini Splattling 1.87% (25 votes)
Kensa Glooga Dualies 3.81% (51 votes)
Total Votes: 1347
References