Junki Ikeuchi
From Inkipedia, the Splatoon wiki
The real world!




This article or section discusses subjects found in real life.
Junki Ikeuchi​
Junki Ikeuchi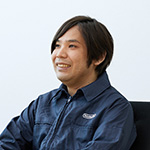 Localized Name
Junki Ikeuchi
Native Name
池内 隼生
いけうち じゅんき
Gender
Male
First Game
New Super Luigi U (overall)
Splatoon (Splatoon series)
Latest Game
Splatoon (Splatoon series)
Nintendo Labo (overall)
Occupation
Effect Designer
Planner
Role(s)
Effect Designer
Planner
Current Location
Kyoto, Japan
Junki Ikeuchi is an effect designer and planner at Nintendo. He joined in 2012.
Credits