keity.pop
From Inkipedia, the Splatoon wiki
This page or section is under construction.




Please excuse its informal appearance while it is being worked on. We hope to have it completed as soon as possible!
Can you help us get it done?
The real world!




This article or section discusses subjects found in real life.
keity.pop​
keity.pop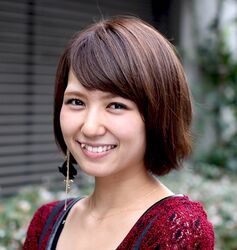 Born
5 May 1987 (age 35)
Hiroshima, Japan
Real name
Yuki Mizutani
Native name
水谷友希
née:百済友希
Pseudonym
keity.pop
Instrument(s)
Voice
First game
Splatoon
Latest game
Splatoon 3
Occupation
Voice actor
Singer
Role(s)
Callie
Common Octolings
Current location
Japan
Yuki Mizutani (née Kudara), also known by her stage name keity.pop, is the voice actress for Callie and enemy Octolings.
Song credits
Ink Me Up
Now or Never! (Splatfest version) - Splatoon
Calamari Inkantation
Gallery
Recording
Other
Trivia
According to a Famitsu interview, Mizutani was in her last month of pregnancy when she recorded Callie's solo, Bomb Rush Blush.[Citation needed]