Kid vs. Grown-Up
From Inkipedia, the Splatoon wiki
Kid vs. Grown-Up​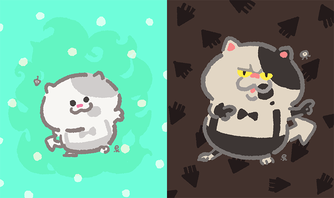 Team

 

Kid

 

Grown-Up
Region
Europe
Start

15 June 2019

, 14:00 UTC
End

16 June 2019

, 14:00 UTC
Score method
category tally
Result type
combined
Popularity
65.79%
34.21%
Wins
%
Expression error: Unrecognized punctuation character "{".%
Solo wins
%
Expression error: Unrecognized punctuation character "{".%
Team wins
%
Expression error: Unrecognized punctuation character "{".%
Normal clout
48.36%
51.64%
Pro clout
45.27%
54.73%
Score
1
2
Winner
Grown-Up
Region
Start

5 June 2023

, 09:52 UTC
End

6 June 2023

, 09:52 UTC
Popularity
%
Expression error: Unrecognized punctuation character "{".%
Wins
%
Expression error: Unrecognized punctuation character "{".%
Solo wins
%
Expression error: Unrecognized punctuation character "{".%
Team wins
%
Expression error: Unrecognized punctuation character "{".%
Normal clout
%
Expression error: Unrecognized punctuation character "{".%
Pro clout
%
Expression error: Unrecognized punctuation character "{".%
Score
Expression error: Unexpected < operator.
Expression error: Unexpected < operator.
Winner
Region
Start

5 June 2023

, 09:52 UTC
End

6 June 2023

, 09:52 UTC
Popularity
%
Expression error: Unrecognized punctuation character "{".%
Wins
%
Expression error: Unrecognized punctuation character "{".%
Solo wins
%
Expression error: Unrecognized punctuation character "{".%
Team wins
%
Expression error: Unrecognized punctuation character "{".%
Normal clout
%
Expression error: Unrecognized punctuation character "{".%
Pro clout
%
Expression error: Unrecognized punctuation character "{".%
Score
Expression error: Unexpected < operator.
Expression error: Unexpected < operator.
Winner
Kid vs. Grown-Up was a Splatfest event in Splatoon 2. It was held in Europe only. It took place from 15 June 2019 to 16 June 2019. It was announced on 5 June 2019 at 08:00 UTC in-game. The results were given on 16 June 2019.
Details
The full name of each choice was "I'd rather be a KID!" and "I'd rather be a GROWN-UP!". The team name portion of Splatfest titles was "Kid" and "Grown-Up".
Kid vs. Grown-Up featured the twenty-third Shifty Station layout, Furler in the Ashes.
Gallery

This article or section needs more images!
You can help the wiki by
adding some
to keep it looking fresh!
Reason:
Images of the Splatfest Tees Front and Back and those worn by Jellyfish
Dialogue

Translation needed
Complete French, Russian and Spanish translations.
edit
English
Kid vs. Grown-Up
Announcement
Pearl's Dialogue
Marina's Dialogue
Region

Pearl


"Yo, this one's a cinch! Would you rather be a carefree kid?"

Marina


"Or would you be a grown-up, free to do what you want, when you want?"
NOE

Pearl


"Marina, adulthood SUCKS. And I'm an adult, technically, so I know!"

Marina


"-"
NOE

Pearl


"You're not so free if you've gotta work a 9 to 5. Pearlie wanna PLAY. ALL. DAY!"

Marina


"There's more to being grown up than responsibilities! There are perks, too!"
NOE

Pearl


"-"

Marina


"For example, if I want to have cake for breakfast, that's my right as an adult!"
NOE

Pearl


"Right, but when's the last time you legit DID that? Growing up makes you boring!"

Marina


"-"
NOE

Pearl


"-"

Marina


"Oh yeah? Well, without an adult job, how could you afford those kicks?"
NOE

Pearl


"-"

Marina


"Being financially independent and having disposable income is the absolute best!"
NOE

Pearl


"I, uh, saved my pocket money? Anyway, this is upsetting. I'm gonna go nap now."

Marina


"-"
NOE

Pearl


"-"

Marina


"Aw man, I remember naps..."
NOE

Pearl


"Hey now, don't be sad, 'Rina. Look, why don't we let our listeners settle this?"

Marina


"-"
NOE

Pearl


"-"

Marina


"That's awfully mature of you, Pearl. We'll make a proper adult of you yet!"
NOE

Pearl


"You so much as try, I'm holding my breath 'til I burst, and that's a promise."

Marina


"-"
NOE

Pearl


"Which one's got your vote? Head to the Splatfest terminal and pick a side!"

Marina


"-"
NOE



Introduction
Pearl's Dialogue
Marina's Dialogue
Region

Pearl


"Which one would you rather be? A kid, or an adult?"

Marina


"Head over to the Splatfest terminal and pick a side!"
NOE



Results
Pearl's Dialogue
Marina's Dialogue
Region

Pearl


"-"

Marina


"Woohoo! Wisdom and experience win the day! The natural order is restored."
NOE

Pearl


"Wow, I didn't think you'd manage it, with your canes and your fake hips..."

Marina


"-"
NOE

Pearl


"-"

Marina


"Yeah, all right, Pearl. Preeeetty sure you're older than me."
NOE

Pearl


"Bah, you're no fun. Go browse furniture catalogs, or whatever you do for fun..."

Marina


"-"
NOE

Pearl


"-"

Marina


"Aww, Pearlie, you're so grumpy! Did someone miss naptime?"
NOE

Pearl


"The team was KID, not TODDLER!"

Marina


"-"
NOE

Pearl


"-"

Marina


"Shush now, dear. Adults are talking."
NOE

Pearl


"-"

Marina


"If you participated in the Splatfest, your prizes are waiting in the Square!"
NOE



Results if Kid were to win
Pearl's Dialogue
Marina's Dialogue
Region

Pearl


"Aww yiss! Who run the world? Kids run the world!"

Marina


"We, uh, we let you win 'cause we didn't want to hurt your feelings..."
NOE

Pearl


"You keep telling yourself that, Marina."

Marina


"-"
NOE

Pearl


"You grown-ups had your day. Now, move aside for the next generation!"

Marina


"Uhm, preeeetty sure you're older than me, Pearl..."
NOE

Pearl


"IRRELEVANT! Anyway, let's wrap this up. I have a date to keep with a ball pit."

Marina


"...I just hope they sanitize it regularly."
NOE

Pearl


"-"

Marina


"If you participated in the Splatfest, your prizes are waiting in the Square!"
NOE



Dutch
Kid (Kind) vs. Grown-Up (Volwassene)
Announcement
Lorelei's Dialogue
Mariana's Dialogue
Region

Lorelei


"Yo, deze is een makkie! Zou je een onbezorgd kind willen zijn?"
(Yo, this is easy! Would you want to be a carefree child?)

Mariana


"Of een volwassene, vrij om te doen wat je wilt, wanneer je maar wilt?"
(Or an adult, free to do what you want, whenever you want?)
NOE

Lorelei


"Mariana, volwassen zijn is ROTTIG. Dat kan ik je als volwassene verzekeren!"
(Mariana, being an adult is ROTTEN. I can assure you that as an adult!)

Mariana


"-"
NOE

Lorelei


"Zo vrij ben je niet als je van 9 tot 5 werkt. Lore wil de HELE DAG SPELEN!"
(You are not that free if you work from 9 to 5. Pearlie wants to PLAY ALL DAY!)

Mariana


"Volwassen zijn bestaat niet alleen uit verplichtingen! Er zijn ook voordelen!"
(Being an adult does not only consist of obligations! There are also benefits!)
NOE

Lorelei


"-"

Mariana


"Als ik bijvoorbeeld taart wil als ontbijt, dan mag ik dat als volwassene gewoon!"
(For example, if I want cake for breakfast, then I may just do that as an adult!)
NOE

Lorelei


"Ja, maar heb je dat ooit echt GEDAAN? Van volwassen zijn word je saai!"
(Yes, but have you ever really DONE that? You become boring from being an adult!)

Mariana


"-"
NOE

Lorelei


"-"

Mariana


"Waar moet je zonder een volwassen baan je toffe schoenen van betalen, hè?"
(With what do you have to pay your cool shoes without an adult job, huh?)
NOE

Lorelei


"-"

Mariana


"Financieel onafhankelijk zijn en geld hebben is het beste wat er is!"
(Being financially independent and having money is the best there is!)
NOE

Lorelei


"Ik heb mijn zakgeld opgespaard... Ik vind 't niet leuk meer. Ik wil een dutje doen."
(I've saved my pocket money... I do not like it anymore. I want to take a nap.)

Mariana


"-"
NOE

Lorelei


"-"

Mariana


"O ja, dutjes doen, dat was fijn..."
(Oh yes, taking naps, that was nice...)
NOE

Lorelei


"Niet zo sip, Mariana. We laten het wel aan onze kijkers over, goed?"
(Don't be sad, Marina. We leave it to our viewers, okay?)

Mariana


"-"
NOE

Lorelei


"-"

Mariana


"Dat is heel volwassen van je, Lorelei. Wat word je al een grote meid!"
(That is very mature of you, Pearl. You are becoming a big girl already!)
NOE

Lorelei


"Plaag me niet zo, anders houd ik mijn adem in tot ik ontplof, echt hoor!"
(Do not tease me like that, otherwise I will hold my breath until I explode, I mean it!)

Mariana


"-"
NOE

Lorelei


"Waarvoor kiezen jullie? Maak je keuze bij de Splatfest-stemmachine!"
(What do you choose? Make your choice at the Splatfest voting machine!)

Mariana


"-"
NOE



Results
Lorelei's Dialogue
Mariana's Dialogue
Region

Lorelei


"-"

Mariana


"Woehoe! Wijsheid en ervaring winnen weer! De natuurlijke balans is hersteld."
(Woohoo! Wisdom and experience win again! The natural balance has been restored.)
NOE

Lorelei


"Wauw, ik had niet gedacht dat het je zou lukken, met je stok en kunstheup..."
(Wow, I did not think you could do it, with your cane and artificial hip...)

Mariana


"-"
NOE

Lorelei


"-"

Mariana


"Ja hoor, Lorelei. Ik geloof toch echt dat je ouder bent dan ik."
(Of course, Pearl. I really do believe that you are older than me.)
NOE

Lorelei


"Bah, wat ben je toch saai. Ga toch lekker je administratie doen, of zoiets..."
(Bah, just how boring you are. Just go do your administration, or something...)

Mariana


"-"
NOE

Lorelei


"-"

Mariana


"Ooo, wat ben je kribbig, Lorelei! Heb je geen dutje gedaan?"
(Ooh, how grumpy you are, Pearl! Did you not take a nap?)
NOE

Lorelei


"Ik ben voor team KIND, niet team PEUTER!"
(I am for team CHILD, not team TODDLER!)

Mariana


"-"
NOE

Lorelei


"-"

Mariana


"Mondje dicht als volwassenen praten."
(Shush when adults talk.)
NOE

Lorelei


"-"

Mariana


"Deelnemers aan het Splatfest kunnen hun prijzen ophalen op het plein!"
(Participants in the Splatfest can pick up their prizes on the square!)
NOE



Results if Kid were to win
Lorelei's Dialogue
Mariana's Dialogue
Region

Lorelei


"Jippie! Wie is er de baas? Kinderen zijn de baas!"
(Jippie! Who is here the boss? Children are the boss!)

Mariana


"We... eh... hebben jullie expres laten winnen omdat we het zielig vonden..."
(We... uh... have let you deliberately win because we thought it was sad...)
NOE

Lorelei


"Klets niet, Mariana."
(Quit the lies, Marina.)

Mariana


"-"
NOE

Lorelei


"Volwassenen hebben hun tijd gehad. Aan de kant voor de volgende generatie!"
(Adults have had their time. Move aside for the next generation!)

Mariana


"Eh, ik geloof toch echt dat je ouder bent dan ik, Lorelei..."
(Uh, I really do believe that you are older than me, Pearl...)
NOE

Lorelei


"HET ZAL WEL! Mooi geweest. Ik ga naar de ballenbak."
(WHATEVER! It has been fun. I am going to the ball pit.)

Mariana


"...Ik hoop wel dat ze hem regelmatig schoonmaken."
(...I do hope that they clean it regularly.)
NOE

Lorelei


"-"

Mariana


"Deelnemers aan het Splatfest kunnen hun prijzen ophalen op het plein!"
(Participants in the Splatfest can pick up their prizes on the square!)
NOE



French (France)
Kid (Enfance) vs. Grown-Up (Âge adulte)
Announcement
Perle's Dialogue
Coralie's Dialogue
Region

Perle


« C'tte blague ! Vous préférez être un gamin qu'a besoin de s'occuper de rien... »

Coralie


« ... ou bien un adulte libre de faire tout ce qu'il veut quand il le décide ? »
NOE

Perle


« Vous laissez pas embobiner, les amis ! Être adulte, c'est la lose, croyez-moi ! »

Coralie


« - »
NOE

Perle


« Qui voudrait bosser toute la journée plutôt que passer son temps à jouer ? »

Coralie


« Y a pas que le boulot dans une vie d'adulte, y a aussi des avantages ! »
NOE

Perle


« - »

Coralie


« Par exemple, si je veux m'empiffrer de bonbons avant de diner, j'ai le droit. »
NOE

Perle


« T'as le droit, mais tu le fais même pas ! C'est ça, la tragédie de la maturité. »

Coralie


« - »
NOE

Perle


« - »

Coralie


« En attendant, sans ton salaire d'adulte, t'aurais du mal à t'acheter des pompes ! »
NOE

Perle


« - »

Coralie


« L'indépendance, ça n'a pas de prix ! »
NOE

Perle


« Ça tombe bien parce que tes arguments sont impayables... »

Coralie


« - »
NOE

Perle


« - »

Coralie


« Tu es désespérante avec tes blagues à deux sous... »
NOE

Perle


« Relax, Coralie ! Je propose qu'on laisse la majorité trancher. T'en dis quoi ? »

Coralie


« - »
NOE

Perle


« - »

Coralie


« Voilà qui est plus raisonnable ! Tu vois que tu peux être adulte, quand tu veux. »
NOE

Perle


« Traite-moi encore d'adulte et je retiens ma respiration jusqu'à ce que j'éclate ! »

Coralie


« - »
NOE

Perle


« Et vous, qu'est-ce que vous en dites ? Faites votre choix à la borne festive ! »

Coralie


« - »
NOE



Results
Perle's Dialogue
Coralie's Dialogue
Region

Perle


« - »

Coralie


« Youpi ! La sagesse et l'expérience ont triomphé. Force reste au bon droit. »
NOE

Perle


« C'est fou, ce que t'arrives à faire malgré ta canne et tes prothèses... »

Coralie


« - »
NOE

Perle


« - »

Coralie


« Je te signale que t'es plus âgée que moi, Perle. »
NOE

Perle


« Oh, t'es pas drôle. Va donc t'entraîner pour le prochain tournoi de bingo. »

Coralie


« - »
NOE

Perle


« - »

Coralie


« Oh, Perlounette ! On fait sa mauvaise tête ? On a pas assez fait dodo ? »
NOE

Perle


« Je suis dans l'équipe des enfants, je te ferais dire ! Pas des bébés ! »

Coralie


« - »
NOE

Perle


« - »

Coralie


« Oui, Perlounette. Tais-toi maintenant, tu vois bien que les grands discutent. »
NOE

Perle


« - »

Coralie


« Les prix attendent les participants au festival sur le square ! »
NOE



Results if Kid were to win
Perle's Dialogue
Coralie's Dialogue
Region

Perle


« Youpi ! C'est qui, les champions de tout l'univers ? C'est les enfaaaants ! »

Coralie


« Nan, mais... en fait, on vous a laissé gagner pour pas que vous boudiez. »
NOE

Perle


« C'est tout ce que t'as trouvé comme excuse, Coralie ? »

Coralie


« - »
NOE

Perle


« Les adultes, vous avez fait votre temps. Place aux jeunes ! »

Coralie


« Hum... Je veux pas dire, mais je crois que t'es plus âgée que moi, Perle... »
NOE

Perle


« C'est pas la question ! Pis je te laisse, y a un toboggan aquatique qui m'attend. »

Coralie


« Fais gaffe... Ce serait dommage de boire la tasse deux fois dans la même journée. »
NOE

Perle


« - »

Coralie


« Les prix attendent les participants au festival sur le square ! »
NOE



German
Kid (Kindheit) vs. Grown-Up (Erwachsene)
Announcement
Perla's Dialogue
Marina's Dialogue
Region

Perla


"Yo, dann schauen wir mal! Wärt ihr lieber ein sorgenfreies Kind?"
(Yo, let's see! Would you rather be a carefree kid?)

Marina


"Oder lieber erwachsen, mit der Freiheit, alles zu tun, wann immer ihr wollt?"
(Or rather a grown up, with the freedom to do anything whenever you want?)
NOE

Perla


"Erwachsen zu sein nervt. Glaub's mir, denn ich bin's. Zumindest vom Alter her."
(Being an adult sucks. Believe me, because I am one. At least in terms of age.)

Marina


"-"
NOE

Perla


"Hat sich was mit Freiheit bei Arbeit von 9 bis 17 Uhr. Perlalein will spielen!"
(There's no such thing as freedom at work from 9 to 5. Pearlie wants to play!)

Marina


"Man hat nicht nur Pflichten als Erwachsener, sondern auch Vorteile!"
(You don't just have responsibilities as an adult, you have benefits too!)
NOE

Perla


"-"

Marina


"Wenn ich zum Beispiel Kuchen zum Frühstück will, hält mich keiner auf!"
(For example, if I want cake for breakfast, no one stops me!)
NOE

Perla


"Aber wann hast du das je gemacht? Erwachsen werden macht langweilig!"
(But when have you ever done that? Growing up makes boring!)

Marina


"-"
NOE

Perla


"-"

Marina


"Ach ja? Und wie könntest du dir ohne Job deine Schuhe leisten?"
(Oh, yeah? And how could you afford your shoes without a job?)
NOE

Perla


"-"

Marina


"Finanziell unabhängig zu sein ist einfach das Beste!"
(Being financially independent is simply the best!)
NOE

Perla


"Ich, äh, hab mein Taschengeld gespart? Ich brauch jetzt ein Nickerchen."
(I, uh, saved up my allowance? I need a nap now.)

Marina


"-"
NOE

Perla


"-"

Marina


"Nickerchen... Das war immer toll..."
(Naps... That was always great...)
NOE

Perla


"Sei nicht traurig, Marina. Lassen wir unsere Zuschauer entscheiden!"
(Don't be sad, Marina. Let's let our viewers decide!)

Marina


"-"
NOE

Perla


"-"

Marina


"Das ist sehr erwachsen von dir, Perla. Aus dir wird noch was!"
(That's very mature of you, Perla. You'll grow up to be something!)
NOE

Perla


"Hör auf, sonst halte ich die Luft an, bis ich platze!"
(Stop it, or I'll hold my breath until I burst!)

Marina


"-"
NOE

Perla


"Für welche Seite seid ihr? Trefft eure Wahl am Splatfest-Wahlstand!"
(Which side are you on? Make your choice at the Splatfest terminal!)

Marina


"-"
NOE



Introduction
Perla's Dialogue
Marina's Dialogue
Region

Perla


"Währt ihr lieber Kind oder Erwachsener?"
(Would you rather be a kid or an adult?)

Marina


"Trefft eure Wahl am Splatfest- Wahlstand!"
(Make your choice at the Splatfest terminal!)
NOE



Results
Perla's Dialogue
Marina's Dialogue
Region

Perla


"-"

Marina


"Ja-ha! Weisheit und Erfahrung haben gesiegt! So muss es sein!"
(Ye-hes! Wisdom and experience have won! That's the way it has to be!)
NOE

Perla


"Hätte nicht gedacht, dass ihr das hinkriegt mit all euren Zipperlein..."
(I didn't think you guys could do it with all your aches and pains....)

Marina


"-"
NOE

Perla


"-"

Marina


"Schon recht, Perla. Ich bin mir ziemlich sicher, dass du älter bist als ich."
(Yeah sure, Pearl. I'm pretty sure you're older than me.)
NOE

Perla


"Püh. Spaßbremse. Mach du deine Steuererklärung oder so was."
(Bah. Buzzkill. Do your tax return or something.)

Marina


"-"
NOE

Perla


"-"

Marina


"Ach Perlalein, du bist so brummig! Heute kein Mittagschläfchen gemacht?"
(Aw Pearlie, you are so grumpy! Didn't take a nap today?)
NOE

Perla


"Mein Team war "Kindheit", nicht "Babyalter"!"
(My team was "childhood", not " baby-age"!)

Marina


"-"
NOE

Perla


"-"

Marina


"Pssst, sei leise. Die Erwachsenen unterhalten sich gerade."
(Shh, be quiet. The adults are talking right now.)
NOE

Perla


"-"

Marina


"Wer beim Splatfest dabei war, bekommt seinen Preis auf dem Inkopolis-Platz!"
(Those who participated in the Splatfest will get their prize at Inkopolis Square!)
NOE



Results if Kid were to win
Perla's Dialogue
Marina's Dialogue
Region

Perla


"Juchhu! Wer regiert die Welt? Die Kinder!"
(Whoopee! Who rules the world? The kids!)

Marina


"Wir haben euch nur gewinnen lassen, damit ihr nicht heult."
(We only let you win so you wouldn't cry.)
NOE

Perla


"Red dir das nur ein, Marina."
(Keep telling yourself that, Marina.)

Marina


"-"
NOE

Perla


"Macht Platz für die nächste Generation!"
(Make way for the next generation!)

Marina


"Ich bin mir ziemlich sicher, dass du älter bist als ich, Perla..."
(I'm pretty sure you're older than me, Pearl...)
NOE

Perla


"Völlig wurst! Kommen wir zum Ende, ich habe einen Termin in einem Bällebad!"
(I don't care! Let's come to a close, I have an appointment in a ball pit!)

Marina


"...Hoffentlich müssen wir dich da nicht ausrufen lassen."
(...Hopefully we won't have to call you out there.)
NOE

Perla


"-"

Marina


"Wer beim Splatfest dabei war, bekommt seinen Preis auf dem Inkopolis-Platz!"
(Those who participated in the Splatfest will get their prize at Inkopolis Square!)
NOE



Italian
Kid (Bambini) vs. Grown-Up (Adulti)
Announcement
Alga's Dialogue
Nori's Dialogue
Region

Alga


«Ehilà! Domanda dalla risposta scontata. Preferite essere bambini spensierati...

(Hey! Question with an obvious answer. Do you prefer being a open-minded kid...)»

Nori


«... o adulti, con la libertà di fare quello che volete e quando volete?

(... or an adult, with the freedom to do anything, anytime?»

NOE

Alga


«Pfui, essere adulti è sopravvalutato. Tecnicamente sono adulta, quindi lo so!

(Come on, being an adult is overrated. Technically I'm an adult, so I know!)»

Nori


«-»
NOE

Alga


«Sei libero se devi lavorare tutti i giorni dalle 9 alle 17? E quando si gioca? (Are you free if you have to work everyday from 9 to 17? And when's playtime?)»

Nori


«Essere adulti non vuol dire solo avere responsabilità. Ci sono anche vantaggi!

(Being an adult doesn't just mean having responsibilites. There's also the pros!)»

NOE

Alga


«-»

Nori


«Per esempio, se voglio mangiare la torta a colazione, da adulta posso farlo!

(For example, if I wanted to eat cake for breakfast, as an adult I could!)»

NOE

Alga


«E quand'è l'ultima volta che l'hai fatto davvero? Crescendo si diventa noiosi.

(And when's the last time you really did it? Growing up becomes boring,)»

Nori


«-»
NOE

Alga


«-»

Nori


«Ah, sì? E quegli stivali che indossi te li potresti permettere senza un lavoro? (Oh yeah? And those boots that you're wearing could you afford without a job?)»
NOE

Alga


«-»

Nori


«Non è fantastico essere economicamente indipendenti e avere uno stipendio?

(Isn't it fantastic being economically indipendent and having a paycheck?)»

NOE

Alga


«Io... ehm... ho messo da parte un po' di paghette. E ora vado a fare un pisolino.

(I.. uh.. set aside some pocket money. And now I'll take a nap.)»

Nori


«-»
NOE

Alga


«-»

Nori


«Oh! Che belli erano i pisolini... (Oh! How good naps were...)»
NOE

Alga


«Adesso non intristirti, Nori. Senti, lasciamo scegliere ai nostri fan, OK?

(Don't cry now, Pearl. Look, let's let our fans decide, OK?)»

Nori


«-»
NOE

Alga


«-»

Nori


«Una scelta molto matura, Alga! Tipica di un'adulta, oserei dire!

(Very mature answer, Pearl! Typical of an adult, I'd dare say!)»

NOE

Alga


«Non ti permettere! Guarda che mi metto a fare i capricci, eh!

(Don't you dare! Look, im about to throw tantrums, eh!)»

Nori


«-»
NOE

Alga


«E voi che ne pensate? Andate al terminal di voto e scegliete da che parte stare!

(And what do you think? Go to the voting terminal and pick a side!)»

Nori


«-»
NOE



Results
Alga's Dialogue
Nori's Dialogue
Region

Alga


«-»

Nori


«Sìììììì! La saggezza e l'esperienza trionfano!

(Yesss! Intellegence and experience triumph!)»

NOE

Alga


«Ma come?! Da quando i vecchietti hanno così tanta energia?!

(How?! Since when did elders have so much energy?!»

Nori


«-»
NOE

Alga


«-»

Nori


«Ehm, Alga, vorrei farti notare che tu sei più grande di me...

(Uh, Pearl, just letting you know you're older than me...)»

NOE

Alga


«Bah, che pizza! E ora che fai? Festeggi la vittoria o vai a vedere i cantieri?

(Come on, what a pizza! And now what? Celebrate the victory or are you gonna see the fields?)»

Nori


«-»
NOE

Alga


«-»

Nori


«Dai, Alguccia, non fare i capricci. Ti porto nel box delle palline colorate, OK? (Come on, Pearlie, don't throw tantrums. I'll put you in the box with the colorfull balls, okay?)»
NOE

Alga


«Ehi, il nostro era il team Bambini, mica il team Neonati!

(Hey, we were team Kids, not team Newborns!)»

Nori


«-»
NOE

Alga


«-»

Nori


«Dettagli. Comunque non te la prendere, magari quando sarai grande vincerai tu! (Details. Anyways, don't take it, maybe when you're older you'll win.»
NOE

Alga


«-»

Nori


«Se avete partecipato al festival, i vostri premi vi attendono in piazza!

(If you participated in the festival, your prizes are waiting in the plaza!)»

NOE



Results if Kid were to win
Alga's Dialogue
Nori's Dialogue
Region

Alga


«Prrrrrr! A chi appartiene il mondo? Ma ai bambini, è chiaro!

(Prrrrrr! To whom belongs the world? To the kids, that's right!)»

Nori


«Noi... ehm... vi abbiamo lasciato vincere per non farvi piangere...

(We... uh... we let you win so you don't cry.»

NOE

Alga


«Certo, come no!

(Of course, why not!)»

Nori


«-»
NOE

Alga


«Voi adulti avete fatto il vostro tempo. Fate largo alle nuove generazioni!

(You adults have had your time. Make way for the new generations!)»

Nori


«Ehm... Alga, non vorrei dirtelo, ma tu sei più grande di me...

(Uh... Pearl, I wouldn't want to tell you, but you're older than me...)»

NOE

Alga


«E allora? Dentro sono sempre una bambina adorabile e simpaticissima!

(So? Inside I'm always a cute and very nice child!)»

Nori


«E soprattutto modesta...

(And especially modest...)»

NOE

Alga


«-»

Nori


«Se avete partecipato al festival, i vostri premi vi attendono in piazza!

(If you participated in the festival, your prizes are waiting in the plaza!)»

NOE



Russian
Kid (Дети) vs. Grown-Up (Взрослые)
Announcement
Жемчик's Dialogue
Мариша's Dialogue
Region

Жемчик


«Вопрос на века, йо! Кем лучше быть — беззаботным ребенком...»
(A question of the century, yo! Who is better to be – a carefree child...)

Мариша


«Или взрослым, и быть хозяином самому себе?»
(Or an adult and be your own master?)
NOE

Жемчик


«Мариша, взрослость — это не круто. Уж поверь, я как бы сама взрослая.»
(Marina, adulthood isn't cool. Trust me, I'm kind of an adult myself.)

Мариша


«-»
NOE

Жемчик


«Работаешь с утра до вечера, какая уж тут свобода! Я хочу весь день играть!»
(You work from morning till night, what kind of freedom is that! I want to play all day!)

Мариша


«Ну, у взрослых все-таки не одни заботы. Есть и преимущества!»
(Well, adults still have more than just concerns. There are also benefits!)
NOE

Жемчик


«-»

Мариша


«Например, захотела я торт на завтрак. И никто не запретит! Я же взрослая!»
(For example, I want cake for breakfast. And no one will forbid me! I'm an adult!)
NOE

Жемчик


«Только тебе ничего такого хотеться не будет. Взрослые становятся скучными.»
(But you won't want any of that. Adults get boring.)

Мариша


«-»
NOE

Жемчик


«-»

Мариша


«Да ну! Но без взрослой работы, как ты купила бы свои модные кроссы?»
(Oh come on! But how would you buy your trendy sneakers without an adult job?)
NOE

Жемчик


«-»

Мариша


«Полная финансовая независимость и свободные средства — это супер!»
(Complete financial independence and free funds are super!)
NOE

Жемчик


«Я бы карманные деньги копила. Эх, грустно как-то. Пойду, посплю чуток...»
(I'd save pocket money. Eh, it's kinda sad. I'll go get some sleep...)

Мариша


«-»
NOE

Жемчик


«-»

Мариша


«Ой... а взрослым ведь, наверное, нельзя когда попало спать, да?»
(Oh... and adults probably shouldn't sleep at random, right?)
NOE

Жемчик


«Все это чепуха, Мариша. И вообще, пусть это лучше зрители решают!»
(It's all nonsense, Marina. And in general, let the audience decide it better!)

Мариша


«-»
NOE

Жемчик


«-»

Мариша


«Какое здравое решение, Жемчик! По-моему, ты все-таки взрослеешь!»
(What a sound decision, Pearl! I think you're growing up!)
NOE

Жемчик


«Ни в жисть! Не-хочу-не-буду!»
(No way! I-don't-want-it!)

Мариша


«-»
NOE

Жемчик


«В общем, все решится в бою. Скорее к терминалу и выберите сторону!»
(Anyway, everything will be decided in battle. Hurry to the terminal and pick a side!)

Мариша


«-»
NOE



Results
Жемчик's Dialogue
Мариша's Dialogue
Region

Жемчик


«-»

Мариша


«Ми-и-и! Мудрость и жизненный опыт победили, как и ожидалось!»
(Me-e-e! Wisdom and life experience won, as expected!)
NOE

Жемчик


«Надо же, престарелые осилили. Не тяжело было бегать?»
(Wow, the elderly managed it. Was it hard to run around?)

Мариша


«-»
NOE

Жемчик


«-»

Мариша


«Ой, Жемчик, чей бы ламантин мычал. Ты, между прочим, старше меня.»
(Oh Pearl, says the fish to the manatee. You're older than me, by the way.)
NOE

Жемчик


«Пошутить нельзя? Иди уборку делай. Или как там взрослые развлекаются...»
(Can't I joke? Go clean up. Or however adults have fun...)

Мариша


«-»
NOE

Жемчик


«-»

Мариша


«Ути-пути, какие мы сердитые! Послеобеденный сон пропустили?»
(Boo-hoo, how angry we are! Missed your afternoon nap?)
NOE

Жемчик


«Моя команда называлась ДЕТИ, а не МЛАДЕНЦЫ!»
(My team's called KIDS, not SUCKLINGS!)

Мариша


«-»
NOE

Жемчик


«-»

Мариша


«Тихо-тихо, главное не плачь.»
(There, there, please don't cry.)
NOE

Жемчик


«-»

Мариша


«А участников Сплатфеста на площади ждут призы!»
(And prizes await Splatfest participants on the square!)
NOE



Results if Kid were to win
Жемчик's Dialogue
Мариша's Dialogue
Region

Жемчик


«ХА! Я же говорила, что детьми быть круче!»
(HA! I told you it's better to be kids!)

Мариша


«Мы вам просто специально поддались. Все лучшее — детям, и все такое...»
(We just succumbed to you on purpose. All the best for the children and all that...)
NOE

Жемчик


«Да-да, лепи отговорки.»
(Yea-yea, make excuses.)

Мариша


«-»
NOE

Жемчик


«Эра взрослых закончилась! Подвиньтесь! Дети идут!»
(The age of grown-ups is over! Move over! The kids are coming!)

Мариша


«М-м-м, Жемчик... ты старше меня.»
(M-m-m, Pearl... you're older than me.)
NOE

Жемчик


«НЕ ИМЕЕТ ЗНАЧЕНИЯ! Да и вообще, закругляемся. Мне в луна-парк пора.»
(DOESN'T MATTER! And yes, we're rounding up. It's time for me to go to the amusement park.)

Мариша


«Надеюсь, под присмотром...»
(I hope under the supervision...)
NOE

Жемчик


«-»

Мариша


«А участников Сплатфеста на площади ждут призы!»
(And prizes await Splatfest participants on the square!)
NOE



Spanish (Spain)
Kid (Niños) vs. Grown-Up (Adultos)
Announcement
Perla's Dialogue
Marina's Dialogue
Region

Perla


«¡Toca decidir! ¿Preferís ser niños, sin ningún tipo de preocupación en la vida?»

Marina


«¿O mejor vivir como adultos, libres de hacer lo que queráis cuando queráis?»
NOE

Perla


«Ser adulta es un auténtico rollo, Marina. Lo sé de buena tinta porque yo lo soy.»

Marina


«-»
NOE

Perla


«No somos libres ni de broma: trabajo, responsabilidades... ¡y nada de jugar!»

Marina


«No puedes centrarte solo en lo malo: ¡ser adulta tiene muchas ventajas!»
NOE

Perla


«-»

Marina


«Por ejemplo: si quieres desayunar gominolas, ¡nadie te lo impide!»
NOE

Perla


«Sé sincera: ¿cuántas veces lo has hecho? ¡Crecer nos hace aburridos!»

Marina


«-»
NOE

Perla


«-»

Marina


«Pero... sin trabajo remunerado tampoco te podrías permitir lo que te gusta.»
NOE

Perla


«-»

Marina


«¡Tener dinero y no depender de nadie económicamente es una pasada!»
NOE

Perla


«Si hubieses ahorrado todas tus pagas, como yo... Ea, voy a echar una siesta.»

Marina


«-»
NOE

Perla


«-»

Marina


«Ah, me encantaban las siestas...»
NOE

Perla


«¡Anímate, Marina! Dejemos que sea el público quien decida qué es mejor.»

Marina


«-»
NOE

Perla


«-»

Marina


«¡Qué actitud tan madura, Perla! Eres más adulta de lo que crees.»
NOE

Perla


«No te emociones porque haya dicho eso. Pone en el guion que pregunte al público.»

Marina


«-»
NOE

Perla


«En fin... Ya sabéis: ¡pasaos por el terminal de voto y elegid un bando!»

Marina


«-»
NOE



Introduction
Perla's Dialogue
Marina's Dialogue
Region

Perla


«¿Qué tipo de vida preferís: la de niños o la de adultos?»
(What kind of life do you prefer: that of children or that of adults?)

Marina


«¡Acordaos de elegir vuestro bando en el terminal de voto!»
(Remember to choose your side in the voting terminal!)
NOE



Results
Perla's Dialogue
Marina's Dialogue
Region

Perla


«-»

Marina


«¡La madurez y la experiencia han triunfado! Como debía de ser.»
NOE

Perla


«Quién nos iba a decir que los carcamales tenían tanta energía...»

Marina


«-»
NOE

Perla


«-»

Marina


«Pero si eres la mayor de las dos, Perla...»
NOE

Perla


«Típico comentario de persona mayor... Vete a leer el listín telefónico o algo.»

Marina


«-»
NOE

Perla


«-»

Marina


«¡No seas tan cascarrabias! ¿Qué pasa, no te has echado la siesta hoy?»
NOE

Perla


«¡Un respeto! Somos el equipo infantil, no de bebés.»

Marina


«-»
NOE

Perla


«-»

Marina


«No te molestes, anda. Deja hablar a los mayores.»
NOE

Perla


«-»

Marina


«Si habéis participado en el festival, recoged vuestros premios en la plaza.»
NOE



Results if Kid were to win
Perla's Dialogue
Marina's Dialogue
Region

Perla


«¡Ser infantil ha dado sus frutos!»

Marina


«Solo os hemos dejado ganar porque no queríamos que os pusieseis tristes.»
NOE

Perla


«No te lo crees ni tú, Marina.»

Marina


«-»
NOE

Perla


«Vuestra generación está pasada de moda. ¡Abrid paso a los niños!»

Marina


«¿Se te ha olvidado que eres la mayor de las dos?»
NOE

Perla


«¡Y eso qué más da! Acabemos con esto; ¡tengo que ir a jugar un rato!»

Marina


«No tienes remedio...»
NOE

Perla


«-»

Marina


«Si habéis participado en el festival, recoged vuestros premios en la plaza.»
NOE



Top 100
Europe
Kid
Grown-Up
Names in other languages
Language
Name
Meaning
 Dutch
Kind vs. Volwassene
Child vs. Grown-Up
 French (NOE)
Enfance vs. Âge adulte
Childhood vs. Adulthood
 German
Kindheit vs. Erwachsene
Childhood vs. Grown-Up
 Italian
Bambini vs. Adulti
Kid vs. Grown-Up
 Russian

Дети vs. Взрослые


Deti vs. Vzroslyye
Children vs. Adults
 Spanish (NOE)
Niños vs. Adultos
Kids vs. Grown-Up

Translation needed
The section or page is missing non-English translations or material from other localizations
edit
Private Battle
Language
Name
Meaning
 Japanese

子供/大人

 Dutch
Kind / Volwassene
Child / Grown-up
 French
Enfance/Âge adulte
 German
Kindheit/Erwachsene
 Italian
Bambini/Adulti
 Russian

Дети / взрослые


Deti / vzroslyye
Children / adults
 Spanish
Niños/Adultos
See also
External links