Knight vs. Wizard
From Inkipedia, the Splatoon wiki
Knight vs. Wizard​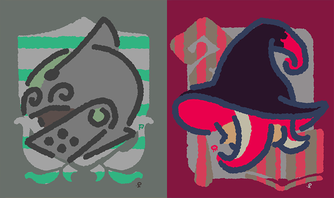 Team

 

Knight

 

Wizard
Region
North America, Oceania
Start

16 March 2019

, 04:00 UTC
End

17 March 2019

, 04:00 UTC
Score method
category tally
Result type
combined
Popularity
37.32%
62.68%
Wins
%
Expression error: Unrecognized punctuation character "{".%
Solo wins
%
Expression error: Unrecognized punctuation character "{".%
Team wins
%
Expression error: Unrecognized punctuation character "{".%
Normal clout
49.73%
50.27%
Pro clout
50.30%
49.7%
Score
1
2
Winner
Wizard
Region
Europe
Start

16 March 2019

, 12:00 UTC
End

17 March 2019

, 12:00 UTC
Popularity
%
Expression error: Unrecognized punctuation character "{".%
Wins
%
Expression error: Unrecognized punctuation character "{".%
Solo wins
%
Expression error: Unrecognized punctuation character "{".%
Team wins
%
Expression error: Unrecognized punctuation character "{".%
Normal clout
%
Expression error: Unrecognized punctuation character "{".%
Pro clout
%
Expression error: Unrecognized punctuation character "{".%
Score
Expression error: Unexpected < operator.
Expression error: Unexpected < operator.
Winner
Region
Japan
Start

16 March 2019

, 06:00 UTC
End

17 March 2019

, 06:00 UTC
Popularity
%
Expression error: Unrecognized punctuation character "{".%
Wins
%
Expression error: Unrecognized punctuation character "{".%
Solo wins
%
Expression error: Unrecognized punctuation character "{".%
Team wins
%
Expression error: Unrecognized punctuation character "{".%
Normal clout
%
Expression error: Unrecognized punctuation character "{".%
Pro clout
%
Expression error: Unrecognized punctuation character "{".%
Score
Expression error: Unexpected < operator.
Expression error: Unexpected < operator.
Winner
Knight vs. Wizard was a Splatfest event in Splatoon 2. It was held for all regions from 16 March 2019 to 17 March 2019. It was announced on social media and in-game on 8 March 2019. The results were given on 17 March 2019.
Details
The full name of each choice was "KNIGHTS" and "WIZARDS". The team name portion of Splatfest titles was "Knight" and "Wizard".
Knight vs. Wizard featured the twentieth Shifty Station layout, The Ink is Spreading, which features Spreaders that are controlled by Splat-Switches.
This Splatfest had a unique feature - when the player wore matching headgear and shoes from the Enchanted, Steel or Fresh Fish series, available through the Octoling Girl, Octoling Boy, or Octoling Octopus amiibo figures respectively, the look of their Splatfest Tee changed to the respective clothes during battles. This change was cosmetic only (gear abilities remain the same) and was applied only during matches, similar to the characters' species changing during Squid vs. Octopus.[1]
Gallery
Dialogue
Translation needed




Complete French (Canada), Italian and Japanese translations. edit
English
Knight vs. Wizard
Announcement
Pearl's Dialogue
Marina's Dialogue
Region
Pearl:
"-"

Marina:
"CHOOSE YOUR DESTINY!"
NOE, NOA

Pearl:
"Which would you rather be? A knight or a wizard?"
Marina:
"-"
NOE, NOA
Pearl:
"-"

Marina:
"The timing of this theme couldn't be better!"
NOE, NOA

Pearl:
"Uh... What are you talking about, Marina?"
Marina:
"-"
NOE, NOA
Pearl:
"-"

Marina:
"Seriously, Pearl? The new Fresh Fish game? EVERYONE is talking about it."
NOE, NOA

Pearl:
"Doesn't ring a bell."
Marina:
"-"
NOE, NOA
Pearl:
"-"

Marina:
"WE WROTE THE THEME SONG!"
NOE, NOA

Pearl:
"..."
Marina:
"-"
NOE, NOA
Pearl:
"-"

Marina:
"Anyway, in the game you can either be a knight or a wizard."
NOE, NOA
Pearl:
"-"

Marina:
"...Or you can multiclass by min-maxing your STR and INT stats in the skill tr—"
NOE, NOA

Pearl:
"Zzzzzzzzzzzz..."
Marina:
"-"
NOE, NOA

Pearl:
"Just gimme a sword and lemme slice dudes."
Marina:
"-"
NOE, NOA
Pearl:
"-"

Marina:
"So, you're team knight then?"
NOE, NOA

Pearl:
"Well, yeah. Knights are way cooler than some nerds doing magic tricks."
Marina:
"-"
NOE, NOA
Pearl:
"-"

Marina:
"Wizards are SCHOLARS. And they don't do "magic tricks"."
NOE, NOA
Pearl:
"-"

Marina:
"They are masters of the arcane arts, able to bend the elements to their will!"
NOE, NOA
Pearl:
"-"

Marina:
"But you knights have fun hitting each other with pointy metal sticks."
NOE, NOA

Pearl:
"Oh, we will! Have fun wearing your battle pajamas on the back lines."
Marina:
"-"
NOE, NOA
Pearl:
"-"

Marina:
"What about you at home? Do you like knights or wizards more?"
NOE, NOA

Pearl:
"Head over to the Splatfest terminal and pick a side!"
Marina:
"-"
NOE, NOA



Results
Pearl's Dialogue
Marina's Dialogue
Region
Pearl:
"-"

Marina:
"WIZARDS!"
NOE, NOA

Pearl:
"Ugh..."
Marina:
"-"
NOE, NOA
Pearl:
"-"

Marina:
"HA! I guess chivalry truly is dead."
NOE, NOA

Pearl:
"..."
Marina:
"-"
NOE, NOA
Pearl:
"-"

Marina:
"I'm proud of you, wizards! We live to cast another day!"
NOE, NOA
Pearl:
"-"

Marina:
"If you participated in the Splatfest, your prizes are waiting in the Square!"
NOE, NOA



Results if Knight were to win
Pearl's Dialogue
Marina's Dialogue
Region

Pearl:
"KNIGHTY KNIGHT, NERDS!"

Marina:
"Aww..."
NOE, NOA

Pearl:
"Team knight with the armor that gleam bright!"
Marina:
"-"
NOE, NOA

Pearl:
"We scheme right and bring the extreme might!"
Marina:
"-"
NOE, NOA

Pearl:
"BUH-BUH-BUH-BOOYAH!"

Marina:
"Good effort, wizards. I'm proud of you."
NOE, NOA

Pearl:
"If you participated in the Splatfest, your prizes are waiting in the Square!"
Marina:
"-"
NOE, NOA



Dutch
Knight (Ridder) vs. Wizard (Tovenaar)
Announcement
Lorelei's Dialogue
Mariana's Dialogue
Region
Lorelei:
"-"

Mariana:
"KIES JE LOT!"
(CHOOSE YOUR DESTINY!)
NOE

Lorelei:
"Wat zou je liever zijn? Een ridder of een tovenaar?"
(What would you rather be? A knight or a wizard?)
Mariana:
"-"
NOE
Lorelei:
"-"

Mariana:
"De timing van dit thema kan niet beter!"
(The timing of this theme couldn't be beter!)
NOE

Lorelei:
"Eh... Waar heb je het over, Mariana?"
(Eh... What are you talking about, Marina?)
Mariana:
"-"
NOE
Lorelei:
"-"

Mariana:
"De nieuwe game met de mascotte van Waterwonderland. IEDEREEN speelt hem!"
(The new game with the mascot of Wahoo World. EVERYONE plays it!)
NOE

Lorelei:
"Zegt me helemaal niks."
(Doesn't ring a bell.)
Mariana:
"-"
NOE
Lorelei:
"-"

Mariana:
"WIJ HEBBEN HET TITELNUMMER GESCHREVEN!"
(WE HAVE WRITTEN THE TITLE SONG!)
NOE

Lorelei:
"..."
(...)
Mariana:
"-"
NOE
Lorelei:
"-"

Mariana:
"Oké... In die game kun je een ridder of een tovenaar zijn."
(Okay... In the game you can be a knight or a wizard.)
NOE
Lorelei:
"-"

Mariana:
"Of je kunt ze allebei spelen door je STR- en INT-waardes zo te kiezen dat je..."
(Or you can play them both by choosing your STR- and INT- values like so that you...)
NOE

Lorelei:
"Zzzzzzzzzzzz..."
(Zzzzzzzzzzzz...)
Mariana:
"-"
NOE

Lorelei:
"Geef me gewoon een zwaard en laat me er lekker op los hakken."
(Just give me a sword and let me chop everything.)
Mariana:
"-"
NOE
Lorelei:
"-"

Mariana:
"Dus jij bent voor team Ridder?"
(So you are for team Knight?)
NOE

Lorelei:
"Tuurlijk. Ridders zijn veel cooler dan nerds met goocheltrucjes."
(Of course. Knights are way cooler than nerds with magic tricks.)
Mariana:
"-"
NOE
Lorelei:
"-"

Mariana:
"Tovenaars zijn geleerden! En het zijn geen goocheltrucs die ze doen!"
(Wizards are scholars! And it is no magic tricks they do!)
NOE
Lorelei:
"-"

Mariana:
"Het zijn meesters in geheime kunsten die de elementen naar hun hand zetten!"
(They are masters of the secret arts who control the elements!)
NOE
Lorelei:
"-"

Mariana:
"Maar ridders zwaaien alleen maar rond met puntige metalen staven."
(But knights just swing with pointy metal bars.)
NOE

Lorelei:
"Ja, echt vet! Hopelijk hebben jullie in de achterhoede plezier in jullie pyjama's."
(Yeah, really awesome! Hopefully you have fun in your pajamas as the rearguards.)
Mariana:
"-"
NOE
Lorelei:
"-"

Mariana:
"En jullie thuis? Wat vinden jullie leuker? Ridders of tovenaars?"
(And you at home? What do you think is more fun? Knights or wizards?)
NOE

Lorelei:
"Maak je keuze bij de Splatfest-stemmachine!"
(Make your choice at the Splatfest voting machine!)
Mariana:
"-"
NOE



Results
Lorelei's Dialogue
Mariana's Dialogue
Region
Lorelei:
"-"

Mariana:
"TOVENAARS!"
(WIZARDS!)
NOE

Lorelei:
"Bah..."
(Bah...)
Mariana:
"-"
NOE
Lorelei:
"-"

Mariana:
"HA! De ridders staan in hun hemd."
(HA! The knights are made to look like fools.)
NOE

Lorelei:
"..."
(...)
Mariana:
"-"
NOE
Lorelei:
"-"

Mariana:
"Ik ben trots op jullie, tovenaars! Jullie waren echt betoverend!"
(I am proud of you, wizards! You were really enchanting!)
NOE
Lorelei:
"-"

Mariana:
"Deelnemers aan het Splatfest kunnen hun prijzen ophalen op het plein!"
(Participants in the Splatfest can pick up their prizes on the square!)
NOE



Results if Knight were to win
Lorelei's Dialogue
Mariana's Dialogue
Region

Lorelei:
"DE RIDDERS HEBBEN HUN SPOREN VERDIEND!"
(THE KNIGHTS HAVE PROVEN THEMSELVES WORTHY!)

Mariana:
"Bleh..."
(Bleh...)
NOE

Lorelei:
"Team Ridder zorgt voor gesidder! Tegen het kwaad zijn we kordaat!"
(Team Knight causes tremble! Against evil we are stout-hearted!)
Mariana:
"-"
NOE

Lorelei:
"Onze uitrusting blinkt terwijl onze bard ons loflied zingt!"
(Our equipment shines while our bard sings our praise song!)
Mariana:
"-"
NOE

Lorelei:
"C-C-C-COOL!"
(C-C-C-COOL!)

Mariana:
"Jullie inzet was magisch, tovenaars. Ik ben trots op jullie."
(Your effort was magical, wizards. I am proud of you.)
NOE

Lorelei:
"Deelnemers aan het Splatfest kunnen hun prijzen ophalen op het plein!"
(Participants in the Splatfest can pick up their prizes on the square!)
Mariana:
"-"
NOE



French (France)
Knight (Chevaliers) vs. Wizard (Sorciers)
Announcement
Perle's Dialogue
Coralie's Dialogue
Region
Perle:
« - »

Coralie:
« La destinée frappe à votre porte... »
(Fate is knocking at your door...)
NOE

Perle:
« Si vous deviez choisir, vous seriez quoi ? Un chevalier ou un sorcier ? »
(If you had to choose, what would you be? A knight or a wizard?)
Coralie:
« - »
NOE
Perle:
« - »

Coralie:
« Ouah, j'y crois pas ! Ça, c'est un thème qui tombe à pic, pas vrai Perle ? »
(Wow, I can't believe it! This theme comes just in time, right Pearl?)
NOE

Perle:
« Ben, je vois pas à quoi tu fais référence, mais OK, si tu le dis. »
(Well, I don't know what you're talking about, but alright.)
Coralie:
« - »
NOE
Perle:
« - »

Coralie:
« Euh, tu rigoles ?! Le nouveau jeu de Mascotte Inc. dont tout le monde parle ! »
(Uh, you're kidding? The new game by Fresh Fish Inc. that everyone is talking about!)
NOE

Perle:
« Faut croire que je l'ai loupé. »
(Seems like I missed it.)
Coralie:
« - »
NOE
Perle:
« - »

Coralie:
« Perle, tu as cosigné le générique. »
(Pearl, you co-signed the opening theme.)
NOE

Perle:
« Lâche l'affaire, Coralie... »
(Quit it, Marina...)
Coralie:
« - »
NOE
Perle:
« - »

Coralie:
« Le jeu où tu choisis ta classe entre chevaliers et sorciers, ça te dit rien ? »
(The game where you choose knight class or wizard class, you don't recall?)
NOE
Perle:
« - »

Coralie:
« Enfin, le sorcier peut s'approprier les skills du chevalier s'il monte ses sta... »
(I mean, the wizard can get the wizard's skills if he increase his sta...)
NOE

Perle:
« Aaaah je savais qu'il fallait pas la relancer là-dessus ! »
(Aaaah I knew it was a bad idea to bring back that topic!)
Coralie:
« - »
NOE

Perle:
« Un chevalier, ça va droit au but. Et des fois, il faut savoir trancher dans le vif ! »
(Knight goes straight to their objectives. And sometimes, life needs you to take drastic actions!)
Coralie:
« - »
NOE
Notes: "trancher" means "cut" and also "take a decision"
Perle:
« - »

Coralie:
« Tu es pour les chevaliers, alors ? »
(You root for the knights, then?)
NOE

Perle:
« Je veux, oui ! Je vais pas voter pour des intellos qui font des tours de magie. »
(Of course I do! I'm not giving a vote to some nerds who play magic tricks.)
Coralie:
« - »
NOE
Perle:
« - »

Coralie:
« Les sorciers sont des érudits, Perle, et pour les tours de magie, tu repasseras ! »
(Wizards are scholars, Pearl, and you can forget about magic tricks!)
NOE
Perle:
« - »

Coralie:
« La maîtrise des arts occultes permet de plier les éléments à sa volonté. »
(Mastering psychic procedures makes you able to control elements.)
NOE
Perle:
« - »

Coralie:
« C'est quand même un peu plus classe que de se taper avec des bouts de bois. »
(It is slightly cooler that quarrelling with wooden sticks.)
NOE

Perle:
« J'avoue, le potentiel fashion de la robe de chambre de combat laisse sans voix ! »
(So true, the fashion potential of the fighting bathrobe is jaw-dropping!)
Coralie:
« - »
NOE
Perle:
« - »

Coralie:
« Et vous, les amis ? Vous préférez les sorciers ou les chevaliers ? »
(What about you guys? Do you prefer wizards or knights?)
NOE

Perle:
« Rendez-vous vite à la borne festive pour choisir votre camp ! »
(Head over to the Splatfest terminal to pick a side!)
Coralie:
« - »
NOE



Results
Perle's Dialogue
Coralie's Dialogue
Region
Perle:
« - »

Coralie:
« Et voilà, c'était pas sorcier ! »
(That's it, that was not rocket science!)
NOE
Notes: "ce n'est pas sorcier" : litteraly "it's not wizardy", french way to say "it's not rocket science"

Perle:
« Tu parles d'un coup d'épée dans l'eau... »
(What a waste of time...)
Coralie:
« - »
NOE
Notes: "coup d'épée dans l'eau" (sword hit in the water) is a french phrase that means a waste of energy
Perle:
« - »

Coralie:
« Qui c'est qui leur a fait un sort, aux gros barbares de chevaliers ? »
(Who's the one who threw them a spell, to those uncivilized knights?)
NOE

Perle:
« C'est bon, Coralie... »
(Enough, Marina...)
Coralie:
« - »
NOE
Perle:
« - »

Coralie:
« Bravo à tous, mes petits sorciers ! Vous avez été magiques ! »
(Congratulations to all my little wizards! You were magical!)
NOE
Perle:
« - »

Coralie:
« Si vous avez participé au festival, les prix vous attendent sur le square ! »
(If you participated to the splatfest, rewards await in the square!)
NOE



Results if Knight were to win
Perle's Dialogue
Coralie's Dialogue
Region

Perle:
« Et BAM ! »
(BOOM!)

Coralie:
« Oh non... »
(Oh no...)
NOE

Perle:
« Le triomphe est sans bavure pour les chevaliers en armure ! »
(The winning is clear for the armored knights!)
Coralie:
« - »
NOE

Perle:
« Les sorciers sont pas à la fête, ils en ont mangé leur baguette ! »
(Wizards are mad, they bited their own sticks)
Coralie:
« - »
NOE

Perle:
« Bien joué, les chevaliers ! »
(Well done, knights!)

Coralie:
« Vous vous êtes bien battus quand même, mes petits sorciers ! »
(You did well anyway, my little wizards!)
NOE

Perle:
« Si vous avez participé au festival, les prix vous attendent sur le square ! »
(If you participated to the splatfest, rewards await in the square!)
Coralie:
« - »
NOE



French (Canada)
Knight (Chevaliers) vs. Wizard (Sorciers)
Announcement
Perle's Dialogue
Coralie's Dialogue
Region
Perle:
« - »

Coralie:
« La destinée frappe à votre porte... »
NOA

Perle:
« Si tu devais choisir, tu serais quoi? Un chevalier ou un sorcier? »
Coralie:
« - »
NOA
Perle:
« - »

Coralie:
« Ouah, j'y crois pas! Ça, c'est un thème qui tombe à pic, pas vrai Perle? »
NOA

Perle:
« Ben, je vois pas à quoi tu fais référence, mais OK, si tu le dis. »
Coralie:
« - »
NOA
Perle:
« - »

Coralie:
« Euh, tu rigoles?! Le nouveau jeu de Mascotte Inc. dont tout le monde parle! »
NOA

Perle:
« Ça me dit rien du tout. »
Coralie:
« - »
NOA
Perle:
« - »

Coralie:
« ON A ÉCRIT LA CHANSON THÈME! »
NOA

Perle:
« ... »
Coralie:
« - »
NOA
Perle:
« - »

Coralie:
« Le jeu où tu choisis ta classe entre chevaliers et sorciers, ça te dit rien? »
NOA
Perle:
« - »

Coralie:
« Ou tu peux faire un mélange des deux si tu mélanges la force et l'intelligence... »
NOA

Perle:
« Aaaah, je savais qu'il fallait pas la relancer là-dessus! »
Coralie:
« - »
NOA

Perle:
« Un chevalier, ça va droit au but. Et des fois, il faut savoir trancher dans le vif! »
Coralie:
« - »
NOA
Perle:
« - »

Coralie:
« Tu es pour les chevaliers, alors? »
NOA

Perle:
« Je veux, oui! Je vais pas voter pour des bollés qui font des tours de magie. »
Coralie:
« - »
NOA
Perle:
« - »

Coralie:
« Les sorciers sont des érudits, Perle, et pour les tours de magie, tu repasseras! »
NOA
Perle:
« - »

Coralie:
« La maîtrise des arts occultes permet de plier les éléments à sa volonté. »
NOA
Perle:
« - »

Coralie:
« C'est quand même un peu plus cool que de se taper avec des bouts de bois. »
NOA

Perle:
« J'avoue, le potentiel mode de la robe de chambre de combat laisse sans voix! »
Coralie:
« - »
NOA
Perle:
« - »

Coralie:
« Et toi à la maison? Tu préfères les sorciers ou les chevaliers? »
NOA

Perle:
« Qu'est-ce que tu en penses? Va à la borne festive pour choisir une équipe! »
Coralie:
« - »
NOA



Results
Perle's Dialogue
Coralie's Dialogue
Region
Perle:
« - »

Coralie:
« Et voilà, c'était pas sorcier! »
NOA

Perle:
« Tu parles d'un coup d'épée dans l'eau... »
Coralie:
« - »
NOA
Perle:
« - »

Coralie:
« Qui c'est qui leur a fait un sort, aux gros barbares de chevaliers? »
NOA

Perle:
« C'est bon, Coralie... »
Coralie:
« - »
NOA
Perle:
« - »

Coralie:
« Bravo à tous, mes petits sorciers! Vous avez été magiques! »
NOA
Perle:
« - »

Coralie:
« Si tu as participé au festival, n'oublie pas de récupérer tes prix au carré! »
NOA



Results if Knight were to win
Perle's Dialogue
Coralie's Dialogue
Region

Perle:
« Et BAM! »

Coralie:
« Oh non... »
NOA

Perle:
« Le triomphe est sans bavure pour les chevaliers en armure! »
Coralie:
« - »
NOA

Perle:
« Les sorciers sont pas à la fête, ils en ont mangé leur baguette! »
Coralie:
« - »
NOA

Perle:
« Bien joué, les chevaliers! »

Coralie:
« Vous vous êtes bien battus quand même, mes petits sorciers! »
NOA

Perle:
« Si tu as participé au festival, n'oublie pas de récupérer tes prix au carré! »
Coralie:
« - »
NOA



German
Knight (Ritter) vs. Wizard (Zauberer)
Announcement
Perla's Dialogue
Marina's Dialogue
Region
Perla:
"-"

Marina:
"WÄHLT EUER SCHICKSAL!"
(CHOOSE YOUR DESTINY!)
NOE

Perla:
"Was wärt ihr lieber? Ritter oder Zauberer?"
(What would you rather be? Knight or wizard?)
Marina:
"-"
NOE
Perla:
"-"

Marina:
"Der Zeitpunkt für dieses Thema könnte nicht besser sein!"
(The timing for this theme could not be better!)
NOE

Perla:
"Äh... Wovon redest du, Marina?"
(Uh... What are you talking about, Marina?)
Marina:
"-"
NOE
Perla:
"-"

Marina:
"Ist das dein Ernst? Das neue Flosso- Spiel? Darüber reden doch jetzt alle!"
(Are you serious? The new Fresh Fish game? That's what everyone's talking about now!)
NOE

Perla:
"Sagt mir nix."
(Doesn't ring a bell.)
Marina:
"-"
NOE
Perla:
"-"

Marina:
"WIR HABEN DAS TITELLIED GESCHRIEBEN!"
(WE WROTE THE THEME SONG!)
NOE

Perla:
"..."
Marina:
"-"
NOE
Perla:
"-"

Marina:
"Na ja, jedenfalls kann man da entweder als Ritter oder als Zauberer spielen."
(Well, anyway, you can play as either a knight or a wizard.)
NOE
Perla:
"-"

Marina:
"...Oder beides gleichzeitig, wenn man seine ST- und IN-Werte richtig..."
(...Or both at the same time, if you get your STR and INT stats right....)
NOE

Perla:
"Zzzzzzzzzzzz..."
Marina:
"-"
NOE

Perla:
"Gib mir einfach 'n Schwert und lass mich loshäckseln."
(Just give me a sword and let me chop away.)
Marina:
"-"
NOE
Perla:
"-"

Marina:
"Du bist also dann für Team Ritter?"
(So you're for Team Knight then?)
NOE

Perla:
"Ja, schon. Ritter sind viel cooler als irgendwelche Nerds mit Zaubertricks."
(Well, yeah. Knights are way cooler than some nerds with magic tricks.)
Marina:
"-"
NOE
Perla:
"-"

Marina:
"Zauberer sind Gelehrte! Und die machen keine "Zaubertricks"!"
(Wizards are scholars! And they don't do "magic tricks"!)
NOE
Perla:
"-"

Marina:
"Sie sind Meister der arkanen Künste und machen sich die Elemente untertan!"
(They are masters of the arcane arts and control the elements!)
NOE
Perla:
"-"

Marina:
"Aber kloppt ihr Ritter euch ruhig mit euren spitzen Metallstäben. Viel Spaß!"
(But go ahead you knights and fight with your pointed metal sticks. Have fun!)
NOE

Perla:
"Ja, das wird super! Und euch viel Spaß mit euren Kampf-Nachthemden."
(Yes, it will be great! And have fun with your battle nightgowns.)
Marina:
"-"
NOE
Perla:
"-"

Marina:
"Was denkt ihr zu Hause? Mögt ihr lieber Ritter oder Zauberer?"
(What do you think at home? Do you prefer knights or wizards?)
NOE

Perla:
"Trefft eure Wahl am Splatfest- Wahlstand!"
(Make your choice at the Splatfest terminal!)
Marina:
"-"
NOE



Introduction
Perla's Dialogue
Marina's Dialogue
Region
Perla:
"Mögt ihr lieber Ritter oder Zauberer?"
(Do you like knights or wizards?)
Marina:
"Trefft eure Wahl am Splatfest- Wahlstand!"
(Make your choice at the Splatfest terminal!)
NOE



Results
Perla's Dialogue
Marina's Dialogue
Region
Perla:
"-"

Marina:
"ZAUBERER!"
(WIZARDS!)
NOE

Perla:
"Ach menno..."
(Oh dear...)
Marina:
"-"
NOE
Perla:
"-"

Marina:
"HA! Ihr wart einfach nicht gut genug gerüstet!"
(HA! You were simply not well enough equipped!)
NOE

Perla:
"..."
Marina:
"-"
NOE
Perla:
"-"

Marina:
"Ich bin stolz auf euch, Zauberer! Ihr wart einfach zauberhaft!"
(I'm proud of you, wizards! You were simply magical!)
NOE
Perla:
"-"

Marina:
"Wer beim Splatfest dabei war, bekommt seinen Preis auf dem Inkopolis-Platz!"
(Those who participated in the Splatfest will get their prize at Inkopolis Square!)
NOE



Results if Knight were to win
Perla's Dialogue
Marina's Dialogue
Region

Perla:
"Die Ritter waren besser gerüstet!"
(The knights were better equipped!)

Marina:
"Ach..."
NOE

Perla:
"Team Ritter hat die Zauberer gebannt! Wehenden Nachthemds sind sie gerannt!"
(Team Knight has banished the wizards! They ran in a waving nightgown!)
Marina:
"-"
NOE

Perla:
"Stolz stehen wir da... Das Schwert in der Hand!"
(Proudly we stand... The sword in our hand!)
Marina:
"-"
NOE

Perla:
"CO-CO-CO-COOOOOL!"

Marina:
"Ihr wart trotzdem zauberhaft, Team Zauberer. Ich bin stolz auf euch!"
(You were still magical, Team Wizard. I am proud of you!)
NOE

Perla:
"Wer beim Splatfest dabei war, bekommt seinen Preis auf dem Inkopolis-Platz!"
(Those who participated in the Splatfest will get their prize at Inkopolis Square!)
Marina:
"-"
NOE



Italian
Knight (Cavalieri) vs. Wizard (Maghi)
Announcement
Alga's Dialogue
Nori's Dialogue
Region
Alga:
«-»

Nori:
«SCEGLI IL TUO DESTINO!»
NOE

Alga:
«Chi vorreste essere? Un cavaliere o un mago?»
Nori:
«-»
NOE
Alga:
«-»

Nori:
«Questo festival non poteva arrivare in un momento migliore!»
NOE

Alga:
«Eh...? In che senso, Nori?»
Nori:
«-»
NOE
Alga:
«-»

Nori:
«Come in che senso?! Il nuovo gioco di Fresh Fish! Ne parlano tutti!»
NOE

Alga:
«Mai sentito.»
Nori:
«-»
NOE
Alga:
«-»

Nori:
«ABBIAMO ANCHE SCRITTO LA CANZONE PRINCIPALE!»
NOE

Alga:
«...»
Nori:
«-»
NOE
Alga:
«-»

Nori:
«Beh, insomma, in quel gioco puoi decidere di essere un cavaliere o un mago.»
NOE
Alga:
«-»

Nori:
«Oppure puoi essere un multiclasse per farmare esperienza e skillarti le tecn-»
NOE

Alga:
«Bla-bla-bla...»
Nori:
«-»
NOE

Alga:
«A me basta una spada e qualcuno da fare a fette.»
Nori:
«-»
NOE
Alga:
«-»

Nori:
«Dunque preferisci essere un cavaliere?»
NOE

Alga:
«Certo, è molto più forte di un nerd mantellato che fa giochetti di prestigio.»
Nori:
«-»
NOE
Alga:
«-»

Nori:
«I maghi sono STU-DIO-SI. E non fanno "giochetti di prestigio".»
NOE
Alga:
«-»

Nori:
«Padroneggiano le arti arcane e piegano gli elementi al loro volere!»
NOE
Alga:
«-»

Nori:
«Ma voi cavalieri divertitevi pure con quelle stupide spade arrugginite.»
NOE

Alga:
«Voi piuttosto, in bocca al lupo a difendervi con quei pigiami da battaglia!»
Nori:
«-»
NOE
Alga:
«-»

Nori:
«E voi da casa che ne pensate? Preferite i cavalieri o i maghi?»
NOE

Alga:
«Correte al terminal di voto e scegliete da che parte stare!»
Nori:
«-»
NOE



Results
Alga's Dialogue
Nori's Dialogue
Region
Alga:
«-»

Nori:
«EVVIVA I MAGHI!»
NOE

Alga:
«Uff...»
Nori:
«-»
NOE
Alga:
«-»

Nori:
«Si vede che la cavalleria non esiste proprio più, eh?»
NOE

Alga:
«...»
Nori:
«-»
NOE
Alga:
«-»

Nori:
«Avete fatto un vero incantesimo, cari maghi! Sono orgogliosa di voi!»
NOE
Alga:
«-»

Nori:
«Se avete partecipato al festival, i vostri premi vi attendono in piazza!»
NOE



Results if Knight were to win
Alga's Dialogue
Nori's Dialogue
Region

Alga:
«I CAVALIERI CAVALIEREGGIANO!»

Nori:
«Uff...»
NOE

Alga:
«♪I cavalieri di gran fama han battuto quei giocolieri in pigiama! ♪»
Nori:
«-»
NOE

Alga:
«♪Ci abbiamo visto giusto e abbiam messo tutto a posto! ♪»
Nori:
«-»
NOE

Alga:
«SIAMO GRANDI!!!»

Nori:
«Ci siamo battuti bene, cari maghi, sono orgogliosa di voi lo stesso.»
NOE

Alga:
«Se avete partecipato al festival, i vostri premi vi attendono in piazza!»
Nori:
«-»
NOE



Japanese
Knight (騎士) vs. Wizard (魔法使い)
Announcement
ヒメ's Dialogue
イイダ's Dialogue
Region

ヒメ:
「選ぶ道は ふたつにひとつ! どっちになりたい? 騎士 vs 魔法使い!!」
(There's only one way to choose! Which do you want to be? Knight vs. Wizard!!)

イイダ:
「きゃ~! 全世界合同フェス!! ファンタジーなお題ですね~!!」
(Wow~! Worldwide Splatfest!! It's a fantasy subject!!)
NOJ

ヒメ:
「対決するのは、 正義の剣で悪を断つ! 勇気と信念のシンボル! 「騎士」と!」
(The confrontation is to cut off evil with a sword of justice! A symbol of courage and belief! With "Knight"!)

イイダ:
「魔法のチカラで みんなを幸せに導く! 「魔法使い」になります!」
(Lead everyone to happiness with the power of magic! Become a "Wizard"!)
NOJ
ヒメ:
「-」

イイダ:
「ヒメセンパイ 今回のお題って かなりタイムリーですよね~♪」
(Pearl-senpai, this theme is quite timely, isn't it~ ♪)
NOJ

ヒメ:
「ん? 騎士と魔法使いが 話題になってんのか?」
(Huh? Are wizards and knights a hot topic?)
イイダ:
「-」
NOJ
ヒメ:
「-」

イイダ:
「この前 ワタシたちの曲が ひれおくんのゲームの テーマソングに 決まったじゃないですか~!」
(The song we had was decided to be the theme song for Fresh Fish's new game the other day~!)
NOJ
ヒメ:
「-」

イイダ:
「あのゲームの主人公って 騎士と魔法使いから 選べるんですよ♪」
(You can choose the main character from knights and wizards in that game. ♪)
NOJ

ヒメ:
「あー もうすぐ発売するって 発表してたやつかー」
(Ah, I announced it'll be released soon.)
イイダ:
「-」
NOJ
ヒメ:
「-」

イイダ:
「2人で 協力プレイも出来るから 発売したら いっしょにやりましょ~よ!」
(Two people can play together, so let's play it when it's releeeased!)
NOJ

ヒメ:
「お やるか! じゃーアタシは騎士でプレイすっかな!!」
(Do you want to do it? Well, I wonder if I can play as a knight!!)
イイダ:
「-」
NOJ
ヒメ:
「-」

イイダ:
「ヒメセンパイ 騎士を選ぶんですか?」
(Do you choose the Pearl-senpai knight?)
NOJ

ヒメ:
「だって 騎士のほうが だんぜんイカしてんだろ? みんなを守って戦うって感じが いーよなー」
(Because the knight is all the better? He feels like he's fighting to protect everyone.)
イイダ:
「-」
NOJ
ヒメ:
「-」

イイダ:
「エヘヘ じゃあワタシはセンパイに 守ってもらえるから 魔法使いにしますね♪」
(Ehehe, then I'll be a witch because I'll be protected by senpai. ♪)
NOJ

ヒメ:
「んだよー どっちも騎士にして ガンガン攻めたほーが 面白れーだろ?」
(It's fun to be a knight and attack strong, isn't it?)
イイダ:
「-」
NOJ
ヒメ:
「-」

イイダ:
「「エ~… 魔法使いの衣装ってカワイイし 魔法もキラキラするから こっちがいいです~」」
(Uh~... The wizard's costume is cute and the magic is shining, so this is good~.)
NOJ

ヒメ:
「魔法使いって 遠くからドカーンってやるだけだろ? じれったくて アタシは好みじゃねーんだよなー」
(A wizard just does magic from afar, alright? She doesn't like me because she wants to get aaaangry-.)
イイダ:
「-」
NOJ
ヒメ:
「-」

イイダ:
「ム~… き、騎士だって物理で殴ってるだけじゃ ないですか! スマートな感じしませんね~」
(Mmm~... Well, I think that knights are just hitting with physics! I don't feel smart~.)
NOJ

ヒメ:
「物理で殴るって何だよ… まー騎士と魔法使いなら バランスいっかー」
(What's the point of hitting with physics... Well, if you're a knight and a wizard, it's a balance.)
イイダ:
「-」
NOJ
ヒメ:
「-」

イイダ:
「そうですよね♪ 魔法でバッチリ サポートしちゃいますから!!」
(That's right. ♪ I'll support you perfectly with magic!!)
NOJ

ヒメ:
「おう まかせろ! ヨロイでバッチリ守ってやっからよ!! ガンガン攻めて クリアしよーぜ!」
(Leave it to me! Protect it perfectly with yoroi! Attack it hard and clear iiiit!)
イイダ:
「-」
NOJ

ヒメ:
「あれ… … …?」
(Is that...?)
イイダ:
「-」
NOJ
ヒメ:
「-」

イイダ:
「ど~したんです センパイ?」
(Whaaaat did you do, senpai?)
NOJ

ヒメ:
「ひれおくんのゲームのはずだよな…? どこで 出てくるんだ?」
イイダ:
「-」
NOJ
ヒメ:
「-」

イイダ:
「… … … … …」
(...)
NOJ
ヒメ:
「-」

イイダ:
「村人?」
(Villager?)
NOJ



Results
ヒメ's Dialogue
イイダ's Dialogue
Region
ヒメ:
「-」

イイダ:
「きゃ~! 「魔法使い」~~~!!」
NOJ

ヒメ:
「ゲッ?! まじかよーーー!」
イイダ:
「-」
NOJ
ヒメ:
「-」

イイダ:
「「魔法使い」派のみなさん、やりましたね! マジカルな立ち回り ワタシ、カンゲキしました~」
NOJ

ヒメ:
「「騎士」派もがんばったの、見てたからな! もーちょいだったかー!」
イイダ:
「-」
NOJ

ヒメ:
「今回のフェス なんかコスプレして バトルしてるやつを やたら見かけたなー」
イイダ:
「-」
NOJ
ヒメ:
「-」

イイダ:
「騎士と魔法使いと あと ひれおくんも たくさんいましたね~♪」
NOJ

ヒメ:
「カミさまのやつ しれっと何か仕組んでたな…」
イイダ:
「-」
NOJ
ヒメ:
「-」

イイダ:
「ウフフ そうですね~ でも おかげで面白いフェスでしたよね♪」
NOJ
ヒメ:
「-」

イイダ:
「そういえばセンパイ ひれおくんがゲームのどこに 出てくるか わかりましたよ!」
NOJ

ヒメ:
「お! 主役はどこで出てくるんだ?」
イイダ:
「-」
NOJ
ヒメ:
「-」

イイダ:
「それが… 主人公をナビゲートする 妖精役だそうです…」
NOJ

ヒメ:
「は?! 待てよ! ゲームのタイトルになってるのに ナビ役かよ?!」
イイダ:
「-」
NOJ
ヒメ:
「-」

イイダ:
「どうも ひれおくんのたっての希望により ナビゲート役になったらしく…」
NOJ

ヒメ:
「やっぱ ひれおくんは ひと味違うぜ…」
イイダ:
「-」
NOJ



Results if Knight were to win
ヒメ's Dialogue
イイダ's Dialogue
Region

ヒメ:
「「騎士」!!」

イイダ:
「う~ん… あと少しだったのに~…」
NOJ

ヒメ:
「「騎士」派のみんな、ありがと! 騎士道精神あふれるバトル イカしてたな!」

イイダ:
「「魔法使い」派のみなさんも とてもがんばってましたよ~」
NOJ

ヒメ:
「今回のフェス なんかコスプレして バトルしてるやつを やたら見かけたなー」
イイダ:
「-」
NOJ
ヒメ:
「-」

イイダ:
「騎士と魔法使いと あと ひれおくんも たくさんいましたね~♪」
NOJ

ヒメ:
「カミさまのやつ しれっと何か仕組んでたな…」
イイダ:
「-」
NOJ
ヒメ:
「-」

イイダ:
「ウフフ そうですね~ でも おかげで面白いフェスでしたよね♪」
NOJ
ヒメ:
「-」

イイダ:
「そういえばセンパイ ひれおくんがゲームのどこに 出てくるか わかりましたよ!」
NOJ

ヒメ:
「お! 主役はどこで出てくるんだ?」
イイダ:
「-」
NOJ
ヒメ:
「-」

イイダ:
「それが… ラスボスに囚われた お姫様役だそうです…」
NOJ

ヒメ:
「は?! 待てよ! 主役なのに助けられる側かよ?!」
イイダ:
「-」
NOJ
ヒメ:
「-」

イイダ:
「どうも ひれおくんのたっての希望により お姫様役になったらしく…」
NOJ

ヒメ:
「やっぱ ひれおくんは ひと味違うぜ…」
イイダ:
「-」
NOJ



Russian
Knight (Рыцари) vs. Wizard (Маги)
Announcement
Жемчик's Dialogue
Мариша's Dialogue
Region
Жемчик:
«-»

Мариша:
«ИЗБРАННЫЕ! ВЫБЕРИТЕ ВАШ ПУТЬ!»
(THE CHOSEN ONES! CHOOSE YOUR PATH!)
NOE

Жемчик:
«Так, что у нас тут на этот раз? «Кто круче — рыцари или маги?»»
(So what do we have here this time? «Who's cooler – knights or wizards?»)
Мариша:
«-»
NOE
Жемчик:
«-»

Мариша:
«Отличная тема! И так вовремя!»
(Great topic! And so on time!)
NOE

Жемчик:
«Э?.. Ты о чем, Мариша?»
(Uh... What are you talking about, Marina?)
Мариша:
«-»
NOE
Жемчик:
«-»

Мариша:
«Жемчик, ну ты что-о-о... Новая игра про Плавнишку! О ней все говорят!»
(Come o-o-on Pearl... The new game about Fresh Fish! Everyone's talking about it!)
NOE

Жемчик:
«Не, не слышала.»
(Nah, never heard.)
Мариша:
«-»
NOE
Жемчик:
«-»

Мариша:
«Мы же для нее саундтрек писали!»
(We even wrote the soundtrack for it!)
NOE

Жемчик:
«...»
Мариша:
«-»
NOE
Жемчик:
«-»

Мариша:
«В общем, в этой игре можно играть за рыцаря или за мага...»
(Anyway, in this game you can play as a knight or a wizard...)
NOE
Жемчик:
«-»

Мариша:
«Ну, или можно мультикласснуться, прокачав силу и инту, а скиллы...»
(Or, well, you can multiclass by upgrading your power and intuition, and skills are...)
NOE

Жемчик:
«Мариша, я ни слова не понимаю, йо!»
(Marina, I don't understand a word, yo!)
Мариша:
«-»
NOE

Жемчик:
«Зачем такие сложности? Берешь меч и кромсаешь злодеев в капусту, йо!»
(Who needs such difficulties? You take a sword and shred the villains like a cabbage, yo!)
Мариша:
«-»
NOE
Жемчик:
«-»

Мариша:
«Значит, ты за рыцарей?»
(So you're for the knights?)
NOE

Жемчик:
«А то! Не за магов же, с этими их фокусами-покусами...»
(Of course! Obviously not for wizards with these hocus-pocus tricks of theirs...)
Мариша:
«-»
NOE
Жемчик:
«-»

Мариша:
«Жемчик! Маги — это ученые! И их заклинания — не фокусы!»
(Pearl! Wizards are scientists! And their spells are not tricks!)
NOE
Жемчик:
«-»

Мариша:
«Древним силам магов подвластна даже природа!»
(Even nature is subject to the ancient forces of wizards!)
NOE
Жемчик:
«-»

Мариша:
«А вы, рыцари, можете и дальше лупить друг друга железяками!»
(And you, knights, can continue to beat each other with some iron junk!)
NOE

Жемчик:
«И будем! Зато мы в бой хотя бы не в халатах и колпаках идем, йо!»
(And we will! At least we're not going into a battle in robes and caps, yo!)
Мариша:
«-»
NOE
Жемчик:
«-»

Мариша:
«Вот пусть в бою все и решится! Кто круче — рыцари или маги?»
(Then let everything be decided in battle! Who's cooler – knights or wizards?)
NOE

Жемчик:
«Скорее к терминалу и выберите сторону!»
(Hurry to the terminal and pick side!)
Мариша:
«-»
NOE



Results
Жемчик's Dialogue
Мариша's Dialogue
Region
Жемчик:
«-»

Мариша:
«ФАЙЕРБОЛ! КРИТИКАЛ ХИТ!»
(FIREBALL! CRITICAL HIT!)
NOE

Жемчик:
«Опять я тебя не понимаю...»
(Once again, I don't understand you...)
Мариша:
«-»
NOE
Жемчик:
«-»

Мариша:
«ХА! В общем, можете свои доспехи в металлолом сдавать!»
(HA! In general, you can hand over your armor for metal scrap!)
NOE

Жемчик:
«...»
Мариша:
«-»
NOE
Жемчик:
«-»

Мариша:
«Молодцы, маги! Всем левел-ап!»
(Well done, wizards! Level up for everyone!)
NOE
Жемчик:
«-»

Мариша:
«А участников Сплатфеста на площади ждут призы!»
(And prizes await Splatfest participants on the square!)
NOE



Results if Knight were to win
Жемчик's Dialogue
Мариша's Dialogue
Region

Жемчик:
«ОП! ОТДЫХАЕМ, КОЛДУНИШКИ!»
(OP! REST WELL, PITY WIZARDS!)

Мариша:
«Эх...»
(Oh...)
NOE

Жемчик:
«Суровые рыцари в крутых доспехах поступью железной пришли к успеху!»
(Severe knights in cool armor have come to success with iron steps!)
Мариша:
«-»
NOE

Жемчик:
«Маги посохами крутили-вертели... А вот нет, по полной пролетели!»
(Wizards twisted and twirled their staffs... But no, they're totally out!)
Мариша:
«-»
NOE

Жемчик:
«ЙО-ХО!!!»
(BOOYAH!!!)

Мариша:
«Молодцы, маги. Жаль, что под конец маны не хватило...»
(Well done, wizards. Too bad that we didn't have enough mana at the end...)
NOE

Жемчик:
«А участников Сплатфеста на площади ждут призы!»
(And prizes await Splatfest participants on the square!)
Мариша:
«-»
NOE



Spanish (Spain)
Knight (Caballeros) vs. Wizard (Magos)
Announcement
Perla's Dialogue
Marina's Dialogue
Region
Perla:
«-»

Marina:
«En esta ocasión os traemos un duelo... fantástico.»
(On this occasion we bring you a fantastic duel.)
NOE

Perla:
«¿Qué tipo de personaje os parece más épico: los caballeros o los magos?»
(What kind of character seems more epic to you: knights or wizards?)
Marina:
«-»
NOE
Perla:
«-»

Marina:
«¡Qué oportuno que celebremos este festival justo ahora!»
(It's so appropriate that we're celebrating this Splatfest right now!)
NOE

Perla:
«¿A qué viene esto ahora, Marina?»
(Where is this coming from, Marina?)
Marina:
«-»
NOE
Perla:
«-»

Marina:
«Pero Perla, ¿no has probado el último juego de la mascota de Pirañalandia?»
(Hold up, Pearl, have you not tried out the latest game of Wahoo World's mascot?)
NOE

Perla:
«Ah, ¿tiene un videojuego nuevo?»
(Ah, it has a new video game?)
Marina:
«-»
NOE
Perla:
«-»

Marina:
«¡Pero si compusimos la banda sonora!»
(We wrote the soundtrack!)
NOE

Perla:
«No esperarás que me acuerde de todo...»
(You don't expect me to remember everything, right...?)
Marina:
«-»
NOE
Perla:
«-»

Marina:
«En fin, en el juego puedes decidir entre dos clases: caballero o mago.»
(Anyways, in the game you can decide between two classes: knight or wizard.)
NOE
Perla:
«-»

Marina:
«También puedes mezclar ambas ramas en el árbol de habilidades, pero es...»
(You can also mix both branches of the ability try, but it's...)
NOE

Perla:
«¡A nadie le interesa la parte técnica!»
(Nobody cares about the technical part!)
Marina:
«-»
NOE

Perla:
«Yo lo que quiero es pillar una espada y repartir mandobles a diestro y siniestro.»
(What I want is to get a sword and hand out slashes left and right)
Marina:
«-»
NOE
Perla:
«-»

Marina:
«Ya sabía yo que te pegaría más el estilo de los caballeros.»
(I knew that you'd be more of the knight style.)
NOE

Perla:
«¡Claro! No me iban a gustar los flipados con varita, albornoz y trucos baratos.»
(Of course! I was not going to like the craziness with wands, bathrobes, and cheap tricks.)
Marina:
«-»
NOE
Perla:
«-»

Marina:
«¡Oye! Los magos son eruditos. Lo que hacen no es magia de tres al cuarto.»
(Hey! Wizards are scholars. What they do is not cut-rate magic.)
NOE
Perla:
«-»

Marina:
«Dominan las artes arcanas y pueden controlar los elementos a su antojo.»
(They rule the arcane arts and can control the elements as they please.)
NOE
Perla:
«-»

Marina:
«Pero siempre habrá quien prefiera pelearse a lo bruto...»
(But there always will be those who prefer to fight like barbarians...)
NOE

Perla:
«¿Ah, sí? Estoy deseando veros luchar vestidos como si fueseis en pijama.»
(Oh, yeah? I'm looking forward to see y'all fight dressed as if you were in pajamas.)
Marina:
«-»
NOE
Perla:
«-»

Marina:
«¿Y vosotros qué opináis? ¿Vais con los caballeros o con los magos?»
(And what do you think? Are you going with the knights or with the wizards?)
NOE

Perla:
«¡Pasaos por el terminal de voto y elegid vuestro bando!»
(Head by the vote terminal and choose your side!)
Marina:
«-»
NOE



Introduction
Perla's Dialogue
Marina's Dialogue
Region
Perla:
«¿Qué tipo de personaje os gusta más, caballeros o magos?»
(What kind of character do you like more, knights or wizards?)
Marina:
«¡Elegid un bando en el terminal de voto!»
(Pick a side at the voting terminal!)
NOE



Results
Perla's Dialogue
Marina's Dialogue
Region
Perla:
«-»

Marina:
«¡Magia potagia!»
(Hocus pocus!)
NOE

Perla:
«Qué mal...»
(Too bad...)
Marina:
«-»
NOE
Perla:
«-»

Marina:
«¡Nos hemos alzado con la victoria como por arte de encantamiento!»
(We've risen with the victory as if through the art of enchantment!)
NOE

Perla:
«Qué actitud más poco caballerosa...»
(That's quite an unknightly attitude...)
Marina:
«-»
NOE
Perla:
«-»

Marina:
«¡Habéis luchado bien, equipo! Los hemos hecho sucumbir bajo nuestro hechizo.»
(You've fought well, team! We've made them fall under our spell!)
NOE
Perla:
«-»

Marina:
«¡Acordaos de recoger en la plaza los premios por participar en el festival!»
(Remember to collect your prizes for participating in the Splatfest at the Square!)
NOE



Results if Knight were to win
Perla's Dialogue
Marina's Dialogue
Region

Perla:
«¡Aquí llega la caballería!»
(The cavalry's here!)

Marina:
«No puede ser...»
(It can't be...)
NOE

Perla:
«¡Hemos venido con nuestras brillantes armaduras al rescate!»
(We've come with our shiny armor to the rescue!)
Marina:
«-»
NOE

Perla:
«¡A poneros entre la espada y la pared!»
(To put y'all between sword and wall!)
Marina:
«-»
NOE

Perla:
«¡Aprended lo que es luchar a capa y espada!»
(Learn what is to fight with a cape and a sword!)

Marina:
«No han caído bajo nuestro hechizo, pero habéis combatido muy bien, equipo.»
(They have not fallen under our spell, but you've battled very well, team.)
NOE
Notes: An equivalent of luchar a capa y espada in English is "to fight tooth and nail."

Perla:
«Ya sabéis: si habéis participado en el festival, ¡id a la plaza a por los premios!»
(Y'all know already: if you've participated in the Splatfest, go to the plaza for your prizes!)
Marina:
«-»
NOE



Spanish (Latin America)
Knight (Caballeros) vs. Wizard (Magos)
Announcement
Perla's Dialogue
Marina's Dialogue
Region
Perla:
«-»

Marina:
«¡ELIJAN SU DESTINO!»
(CHOOSE YOUR DESTINY!)
NOA

Perla:
«Si tuvieran que elegir, ¿preferirían ser caballeros o magos?»
(If you had to pick, would you prefer to be knights or wizards?)
Marina:
«-»
NOA
Perla:
«-»

Marina:
«¡Este festival no podría haber venido en mejor momento!»
(This Splatfest couldn't have come at a better time!)
NOA

Perla:
«Este... ¿De qué hablas, Marina?»
(Umm... What are you talking about, Marina?)
Marina:
«-»
NOA
Perla:
«-»

Marina:
«¿En serio, Perla? ¿El nuevo juego de Pececito? ¡TODOS lo están jugando!»
(Really, Pearl? The new Fresh Fish game? EVERYONE is playing it!)
NOA

Perla:
«No me suena.»
(Doesn't ring a bell.)
Marina:
«-»
NOA
Perla:
«-»

Marina:
«¡COMPUSIMOS LA CANCIÓN!»
(WE WROTE ITS SONG!)
NOA

Perla:
«...»
Marina:
«-»
NOA
Perla:
«-»

Marina:
«En fin, el caso es que en el juego debes elegir si quieres ser caballero o mago.»
(Anyways, the point is that in the game you have to pick if you want to be a knight or a wizard.)
NOA
Perla:
«-»

Marina:
«O si cambias los puntos de FUE por INT en el árbol de habilidades, puedes obt...»
(Or, if you exchange STR points for INT in the ability tree, you can g...)
NOA

Perla:
«Zzzzzzzzzzzz...»
Marina:
«-»
NOA

Perla:
«Nada más dame una espada para que pueda machacar a los malos.»
(Just give me a sword to slash up bad guys.)
Marina:
«-»
NOA
Perla:
«-»

Marina:
«¿Vas con el Equipo Caballeros entonces?»
(You're going with Team Knights then?)
NOA

Perla:
«Claro. Los caballeros tienen armas. Los magos solo hacen trucos de magia.»
(Duh. Knights have weapons. Wizards only do magic tricks.)
Marina:
«-»
NOA
Perla:
«-»

Marina:
«Los magos son ERUDITOS. Y lo que hacen no son "trucos de magia".»
(Wizards are SCHOLARS. And what they do are not "magic tricks.")
NOA
Perla:
«-»

Marina:
«¡Dominan las artes arcanas para someter los elementos a su voluntad!»
(They rule the arcane arts to summon the elements at their own will!)
NOA
Perla:
«-»

Marina:
«Pero está bien. Que los caballeros se diviertan peleando con palitos de metal.»
(But alright. May the knights have fun fighting with little metal sticks.)
NOA

Perla:
«¡Y ustedes diviértanse combatiendo en pijamas desde la retaguardia!»
(And you guys have fun battling in pajamas in the reargard!)
Marina:
«-»
NOA
Perla:
«-»

Marina:
«¿Y ustedes? ¿Qué prefieren? ¿Caballeros o magos?»
(And you? What do you prefer? Knights or wizards?)
NOA

Perla:
«¡Vayan a la terminal de voto y elijan un equipo!»
(Go to the vote terminal and choose a team!)
Marina:
«-»
NOA



Introduction
Perla's Dialogue
Marina's Dialogue
Region
Perla:
«¿Les gustan más los caballeros o los magos?»
(Do you like knights or wizards better?)
Marina:
«¡Vayan a la terminal de voto y elijan un equipo!»
(Go to the voting terminal and choose a team!)
NOA



Results
Perla's Dialogue
Marina's Dialogue
Region
Perla:
«-»

Marina:
«¡MAGOOOOOS!»
(WIZAAAAARDS!)
NOA

Perla:
«Bah...»
Marina:
«-»
NOA
Perla:
«-»

Marina:
«Parece que la caballerosidad SÍ ha muerto. ¡Ja!»
(Looks like cavalry HAS died. Hah!)
NOA

Perla:
«...»
Marina:
«-»
NOA
Perla:
«-»

Marina:
«¡Estoy orgullosa de ustedes, mis magos! Aún nos quedan hechizos por lanzar.»
(I'm proud of you, my wizards! We still have spells to cast.)
NOA
Perla:
«-»

Marina:
«¡Si participaron en el festival, recojan sus premios en el centro!»
(If you participated in the Splatfest, collect your prizes at the Square!)
NOA



Results if Knight were to win
Perla's Dialogue
Marina's Dialogue
Region

Perla:
«¡VICTORIA A ESPADAZOS!»
(A SLASHING VICTORY!)

Marina:
«Noooo...»
NOA

Perla:
«¡Somos todos caballeros! ¡Honestos y sinceros!»
(We're all knights! Honest and real!)
Marina:
«-»
NOA

Perla:
«¿Creen que pueden derrotarnos? ¡No sean embusteros!»
(Think you can defeat us? Don't be liars!)
Marina:
«-»
NOA

Perla:
«¡VAMOOOOS!»
(LET'S GOOOO!)

Marina:
«Bien luchado, mis magos. Estoy orgullosa de ustedes.»
(Well fought, my wizards. I'm proud of you.)
NOA

Perla:
«¡Si participaron en el festival, recojan sus premios en el centro!»
(If you participated in the Splatfest, collect your prizes at the Square!)
Marina:
«-»
NOA



Top 100
North America and Oceania
Knight
Wizard
Europe
Knight
Wizard