List of composers and arrangers for the Splatoon series
From Inkipedia, the Splatoon wiki

The real world!
This article or section discusses subjects found
in real life
.
Tetsuya Oyama
Tetsuya Oyama​
Tetsuya Oyama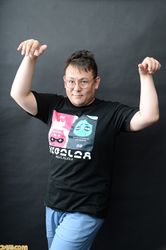 Born
1 July 1974 (age 46)
Hamamatsu City, Japan
Real Name
Tetsuya Oyama
Native Name
大山徹也 (おおやま てつや)
Gender
Male
Instrument(s)
Bass
First Game
N/A
Latest Game
N/A
Occupation
Arranger
Role(s)
Arranger for live concerts
Current Location
Japan
Tetsuya Oyama is a Japanese bassist and music producer who has been the arranger for all of the live concerts. In addition, he also arranged the music for Wet Floor Shibuya.