Mario Kart 8 Deluxe
From Inkipedia, the Splatoon wiki
Mario Kart 8 Deluxe​
Mario Kart 8 Deluxe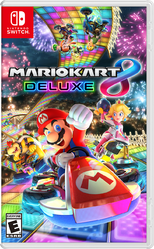 The box for the game; a female Inkling is featured towards the top.
Developer(s)
Nintendo EAD
Publisher(s)
Nintendo
Producer(s)
Hideki Konno
Kosuke Yabuki (Deluxe only)
Yasuyuki Oyagi
Director(s)
Kosuke Yabuki
Platform(s)
Nintendo Switch
Release
Worldwide:

28 April 2017

Genre(s)
Kart racing
Mode(s)
Single-player, Multiplayer
Media
Game card
Digital download (Nintendo eShop)
Game size(s)
10.2 GB
Age rating(s)
NA: Everyone by ESRB
Mario Kart 8 Deluxe is a kart racing game released for the Nintendo Switch. The game was first revealed through a trailer as part of the Nintendo Switch Presentation on 13 January 2017 in Tokyo, Japan and is an updated port of Mario Kart 8 on the Wii U.[1] The game is the first in the Mario Kart series to include references and content from Splatoon. It is the best-selling game on the Nintendo Switch, with 55.46 million copies sold.[2]
Splatoon references
Mario Kart 8 Deluxe introduces Splatoon characters and other references to the Mario Kart series. Both male and female Inklings are introduced as playable characters, with three different variants each. A new battle mode course is introduced named Urchin Underpass based on the original Urchin Underpass stage from Splatoon, as well as two Splatoon-themed ATVs, the Splat Buggy and the Inkstriker (heavily based on the Inkstrike). A new Inkling-themed amiibo costume unlocked by placing any Splatoon amiibo is also added.
The selectable costume variants for the Inklings are as follows:
Inkling Girl:
Orange ink, orange eyes, light skin, Studio Headphones, White Tee and Pink Trainers.
Green ink, pink eyes, pale skin, Studio Headphones, Black Tee and Black Trainers.
Pink ink, cyan eyes, dark skin, Studio Headphones, Sky-Blue Squideye and Cyan Trainers.
Inkling Boy:
Blue ink, blue eyes, light skin, Pilot Goggles, Zink Layered LS and Purple Hi-Horses.
Purple ink, orange eyes, tan skin, Pilot Goggles, Choco Layered LS and Gold Hi-Horses.
Cyan ink, brown eyes, medium skin, Pilot Goggles, Yellow Layered LS and Zombie Hi-Horses.
Gallery
The Inkling racer on a Splat Buggy using a Blooper, which is also a squid.

The same image, featuring Mario.

A sheet from the first set of Window Stickers on My Nintendo

The amiibo costumes, including the new Splatoon themed costume.

Another GIF of an Inkling Girl in Big Blue
Trivia
Inkling Girl is one of the game's fastest characters.
External links
References